Dominic Howard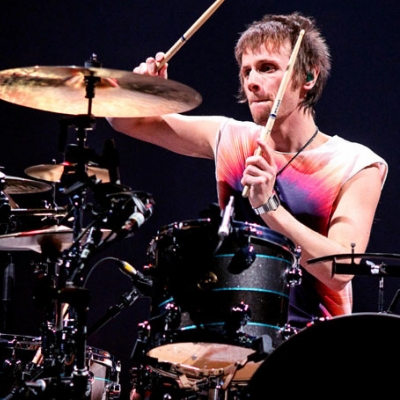 Found on equipboard.com
Info
Dominic James Howard is an English musician, best known as the drummer, percussionist and co-producer for the alternative rock band Muse. He also contributes to the synthesized and electronic-based elements found in their music.
Comments
Top
Popular
Newest
He makes Muse as a three piece work. He's the kick for that entire band. He's such an underrated drummer too. Stockholm Syndrome, Map of the Problematique, Knights of Cydonia, Starlight... even songs like Do We Need This, he just makes them fantastic songs. Plus Helsinki, MK, and Osaka jam. He's incredible. Watching him drum live is fantastic especially on songs like Resistance and Exogenesis part 1. Plus, as mentioned before, he never had any lessons. He's just incredible. And he rocks at playing bones too ;)
Dom is a fantastic drummer and is probably the key component in Muse's awesome sound. His rock solid beats (whether they be in the studio or live) gives Matt the freedom to pretty much do whatever the hell he feels like! Not only that but for songs like Map of the Problematique, The Resistance and Knights of Cydonia you can really see his skill. I also thought he did a great job covering U2's Where the streets have no name a few years ago... Maybe he didn't quite have the same precision that Larry Mullen possesses but hey, he hasn't been playing the song his whole life!
He's the best... He has been showing his magnificent drumming skills for at least the last 15 years... He has created even some beats that were the origin of some of the best Muse songs. Just vote for Dom
He's a great left-handed drummer. I love him! At live, he's very energetic, I love his style. Energetic, amazing, creative... and well, he's the happiest drummer in the world! He must be in the Top five :D Anyway, he's the FIRST for me. And the FIRST for all Musers. Hey, come on! Dom, you rocks all the time ;-)
Muse fan or not, you can't go past Dom's unbeleivable ability to come up with something new and original for each and every song! All of the drummers on this list are right up there, but very few can diversify the way Dom does. So different every time! Rob Bourdon is another of the best "new age" drummers, but doesn't have the same skill set as Dom. Vote 1 Dominic Howard! (By the way, has everyone forgotten a guy by the name of Peter Criss? 100, 000 years is still the best drum solo of all time...by a long way! )
Why is such an amazing drummer so down here? That is sad. Shannon Leto considered the best drummer... Along with all of those classic drummers, Dominic Howard should be up there. I admire his skills, just listen to Map of the Problematique (EPIC), Hysteria, Glorious, The Groove, Hyper Music... they all make you happy!. A LOT of songs have his touch of excentricism in the drums. This guy, is very underrated.
He really seems to be more then just a drummer yet he is and he brings the whole stage alive with his emotions and excitement for his drumming and everything else. Though on his drumming alone it is very clear and adds the quality and compliments the other music/lyrics/guitars/basses etc. Just perfect, very good.
He is beyond amazing behind the kit, but all I have to say is, Stockholm Syndrome before the first vocals are even uttered. He has three, yes 3, variations of the drum beat before Matt even sings the first note. Enough said! Even my friend who's a drummer and doesn't care much for Muse (he's a metal head) says Dom is a VERY good drummer.
In a 3 piece band, drums are essential in creating a greater sense of ambience, and with 2 distinct members (Matt and Chris) with their own cutting, almost percussive sound, he really does well to stand out. He also has a seemingly endless reserve of energy. He once said that he hates the fact that Muse always finish a show with
Muse are huge rock band! And you just can't imagine them without Dominic Howard. He's very talented drummer, started playing drums when he was a child, reached mastery level and still is improving his skills. Dominic is definitely one of the underrated drummers. He's in fact much better.
I'm not a drummer but, when I listen to Muse, my heart starts beating as the beat of Howard's drum. I can feel every single touch of his drumsticks on drum. Dominic Howard is not only a simple drummer, is a composer: if you don't believe me listen to Citizen Erased! First was composed on drum by Dominic and after was composed music and lyrics!
Muse without Dominic on drums would be like a cake without eggs. It would not stick together and it would be useless. But Dominic is my favourite drummer because of the unusual beats that he is known for and the fact that as big as muse are he is still a down to earth normal nice and charming guy to everyone.
Dominic James Howard is not only a self taught drummer. He's not only the greatest drummer of all time, he's the happiest drummer I've ever seen. The way he smashes the drum sticks against the drums, his energy on stage is just amazing! Plus.. He spins around on stage while drumming that must be a plus point
Dominic Howard is by far one of the best drummers on Earth-and is probably the happiest drummer on this planet, too. You know he's awesome when you hear a Muse song in studio or live, and when you see the drum and bass jams.
Dom is the only drummer that smiles in a believable, passionate, playful style while beating the tar out of something that's never hit him. His eccentric style passed him by the learners and lets him wear the gloves of legends.
Dom Howard is truly a great Drummer. he might not go extremely technical but he is amazingly groovy and when need be, he can be very fast and heavy. listen to "stockholm Syndrome" and "Assassin" and see his crazy skills.
Dominic Howard is the most talented drummer I've ever seen! His feeling of rhythm with his friends from band Muse of course is just unbelievable! I think that even one time he have to get the title of the best drummer. (I would write much more but it will take a lot of space and time, cheers! )
He has to be higher than 20. I mean, come on. He has one of the most recognizable styles in music. Ask any drummer and they will tell you how genius and complext some of his fills are. Doubters? Check out Assassin, Helsinki Jam, Exogenesis Part 1, plus more. Sure, he's no Buddy Rich (don't get me going on how he's only 21) but he's better than 20.
I love Muse because they are really talented and not getting famous because of their parents or weir competition (x-factor etc. ) and youtube... and Dominic Howard is probably the most talented drummer in the whole world... and also the happiest one too :D
VOTE FOR GOOD MUSIC
Dom is basically MUSE's frontman... and he plays anything from dance beats to METAL, or BOTH. And he knows how to warm up to an audience.

Oh and two words: Spiderman-Suit.
Truly a fantastic drummer, when you see the passion in his eyes and after he played when his father passed away it was just beautiful. You could see the pain in his expression that gave a rousing performance.
I've seen Muse live many times, and Dom's the man to watch. With Chris, the tight rhythm they produce is the best in rock. He may not be Bonham- we had one already. He is simply a great drummer, funny, unafraid of new technologies and part of a new generation.
In my opinion Dom is an amazing drummer, who makes Muse whole. He might not have the best technique out there but playing music is not just technique! He makes the music enjoyable and makes it all very cool and smooth.
This ain't right. Dominic howard is the best drummer, to me, better than shannon leto. He's good, but I can't compare him to dominic, dominic is beyond awesome. He's one of the reasons muse's music is awesome.
What? Dom's number 14?! I can't believe thisHe's oe of the best drummers ever! Come on! Have you heard those drums on Knights of Cydonia, Hysteria? This really makes me sad, people don't appreciate good music, plus this can't be real Keith Moon is number 17, are you mad?