Ian Paice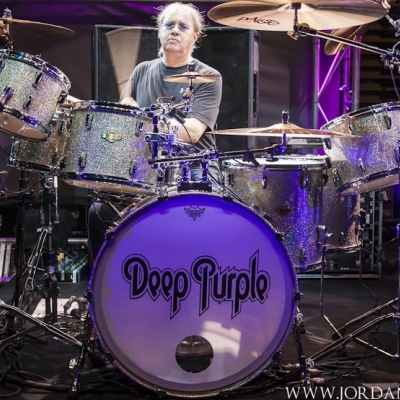 Found on jordanshields.com.au
Info
Ian Anderson Paice (born 29 June 1948) is an English musician, best known as the drummer of the English rock band Deep Purple. He has been the band's only constant member since its foundation.
Comments
Top
Popular
Newest
Ian can do more with his small kit than most drummers with their outrageous kits. Ian Paice should definitely be in the top ten. Lars shouldn't even be near the top ten. Most people that vote just like certain bands and have no idea about playing drums. These list are always ridiculous!
Ian Paice has it all. Technique, speed, agility, swing and such confidence in his playing. The way he works a snare and single bass drum technique is fantastic. He should definitely be at or near the top of the list.
Ian is extremely talented as a drummer. He is able to perform a single handed drum roll which he in fact made famous/invented. Able to make brilliant drum solos even back in the day it surprises me on how talented he is. He is a major part to the success of Deep Purple.
I saw Deep Purple in the 2016 Rock And Roll Hall Of Fame Induction Ceremony. They got inducted by Lars Ulrich, a huge fan of the band. When I heard Ian, I was amazed and I never really heard how good he was until that moment. He is very underrated and should be near Top 10.
He is much better than Lars Ulrich, however, other drummers got skills but styles are different, buddy rich is below the Rev Sullivan, I love Avenged Sevenfold, but it cannot be real.
Ian should be near the top. He is amazing! Of course, there are a lot of good drummers, but listen to DP live and how he is pushing and interacting during the solo's from Blackmore and Lord.
When you start looking at lists like this it gets annoying because there are only 5 top 5 spots and theres so many people who should be filling one of those, Ian is definitely the man for one of those positions.
Best rock and roll drummer ever. IN 1978 HE WAS 20 YEAR A HEAD of his time. He play from the heart.
Listen to his solo intro to "Fireball"... if that were the only shining example of his talent it would be enough... but he is the core reason why Deep Purple rocked so hard on every song.
Fantastic drummer gives a lot above it a challenge not all cause lets face it some above are flawless. The style and skill of Paice should be noted and he shouldn't be 23 more like 12 at least. - heavymetalcat
I just found that every time I ask someone who playing the drum's in a this song or that song and it seem'this name keep's poping up so I did a little investagation I fould out he play for deep purple then thought to myself that all stand's to reason I ALWAY LOVE DEEP PURPLE and their drummer was I can. T think of word that fit's people over use awesome. Earthshaking is a little better. As a kid was'nt paying no mind to the name. S of the people in band. I was 16 yrs old and had my head under THE hood of big block camaro and if I took it out it was for a girl so I don. T no a lot list of drummer but it wrong that can tell as for niel peart it. S not how big the set is it's how you use them it nothing aginst NEIL PEART I. M not puting him down.
He's a killer dummer but he no IAN PAICE but that's my opinion I could be wrong erie pa. LOVE YA. IAN your best PAY NO MINED TO THIS LIST TILL IT. S FIX BECAUSE IT. S IS BROKIN,
I met Ian in 1996 at the Palladium a New York City he is unreal and I think one of the most creative drummers in the world
What, the best drummer of all time is ranked #53. Come on people bring it up. He should be at least in top 5. COME ON!
Underrated, just like Ritchie and Glover.
i dont think anyone recognizes what ian is capable of..i think he not only should be top 10 but also no. 1
Should be in top ten. Hear Speed King, Women from Tokyo and Space Trucking. Then jugde 4 yourself...
An underrated drummer from one of best rock gods. Paice needs more credit than what people give him.
Yes! Ian is sooooooo good! He is a heavy drummer.
Ian Paice is the only drummer Deep Purple has ever had. Since 1968! That tells who is the MVP of this band. - BobG
Deep Purple began in 1968 and Ian Paice is the only drummer they ever needed. Enough said. - BobG
The backbone of DP - even with such virtuosos around him like Ritchie, Jon, Roger, he still managed to shine through...I had always been wondering about the magic effect of this unique band, part of it is due to Ian's contribution
Ian should be in the first 5. He is one of the greatest and most influential drummers of all time
Highly underrated drummer, versatile and, at times, almost lyrical.
The best drummer of the history of the Rock!
He threw me his drumstick in 2007 in concert, he's awesome! Thanks, Ian