Joey Jordison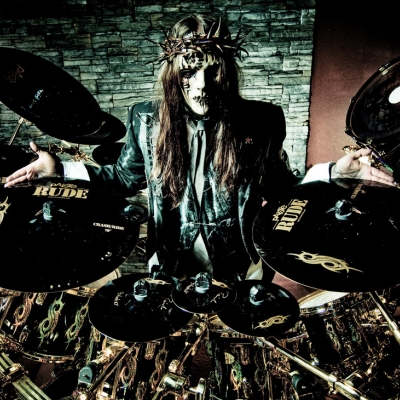 Found on metalinjection.net
Info
Joey Jordison, is an American musician, songwriter, and record producer best known for his work as the former drummer and co-songwriter for the heavy metal band Slipknot as well as guitarist in the Horror-punk band Murderdolls.
Comments
Top
Popular
Newest
joey is the world's fastest drummer. he should be #1. All the people who haven't seen his drumming should definetley listen to it. then they will realise what a cool drummer he is! He does not need to be compared with any other drummer in the world.
I don't know how did shannon lteo come at #2. he's nothing in front of JJ. Slipknot rocks!
- arjunblouria
Guys, the drummers that are in front of Joey are nothing compared to him... Listen to psychosocial, duality, dead memories, or before I forget and you will understand what I mean... he's just a level higher than all of them... the rest play good surely, but not even close to being as good or as fast as JOey... No one can beat him no matter what people say
There's no discussion, he IS the best drummer in the world. That's not just my opinion, it's a fact. He plays both super technical and fast as hell, and without mistakes even upside down! Shannon Leto is a good drummer but compared to gods like The Rev, Joey Jordison and Lars Ulrich he kind of sucks, he's just number one because a lot of 30STM fans voted for him.
Joey is the best drummer ever...there is no way that another drummer can get as him, i can bet that no one of these 10 drummers can play drums like him in his platform he is the best of all his drum solos are the best of all and the way he play too...thats all
Watched his drum solo on line. And that young man has talent, that only a slect few, can touch.
He has to be one of the fastest drummers I have ever seen or heard. Would love to see him on a simple four piece drum set.
Hats of for him. Slipknots is not in top 10 in any field but in this category they deserves to be no. 1. Joey rocks. No one looks like him no one can play drums while nodding there head. He is the best! - Slashhead
Can't believe that only 4% of people have voted for Joey. He is an amazing drummer with unbelievable speed and power. Without Joey, Slipknot wouldn't be half the band they are and nowhere near as successful. Just a combination of everything makes Joey the best drummer to ever live. Although, he is closely followed by Bullet For My Valentine's Michael "Moose" Thomas.
The guy is SICK! Have you seen how fast of a drummer he is? I think he is easily one of the best drummers in history... I personally think he is better than Travis Barker and John Bonham, and possibly Neil Peart.
This list is a joke. Neil Peart, John Bonham, and Keith Moon. They are all great players, some of the best of all time. But Jordison stands atop the foundations they built, and adds his own great style. It's sad that he's so underrated, because he definitely is the best drummer of all time. And he gets no. 9 spot? No, Jordison is no. 1, the best of them all.
Being a drummer I know a lot about skill in drums, Joey has it all. The complicated patterns and drum licks he pulls of are unbelievable. I am only drumming today because he inspired me from the start.
No way should joey be this far down. The sheer complexity of his drumming destroys the field, I mean what has Shannon Leto ever done or the rev, and Gustav, why is he even in the top 10? Joey should be number 1 or 2 possibly with Keith Moon as number 1 then have Travis Barker as 3.
Joey is insane when it comes to drumming. Like that other guy said. There is no competition when joey steps in. He has the fastest feet on the earth. Just standing in the crowd at a slipknot concert hearing him play will make your anus bleed.
one of the best drummer on the face of the earth he plays whit lots of power and has his spirit in it he is one of my favorites and if you see one of his solos you'll know what I'm talking about
Dude, joey jordison is a beast! I wish I could use the foot pedal as fast as he can drum with his hands! Laugh out loud he is just simple amazing! And deserves to be up there man!
I mean come on number 9 joey deserves to be at number 1. He is the best drummer in the world alive today. Listen to his solos and then you all Will know how great he is. If not 1 then he should at least be in the top 5. Joey rules he is better than others no doubt
the only reason the rev went up is becuas he died, thats not fair, jordison is way better than him, all he could do was play SEMI fast, jordison was creative and fast - zombie13
Never seen a drummer with a speed like him before. He's without question the best drummer ever, I just love how Joey plays. He's also not an arrogant drummer unlike Portnoy. Wish he could teach me his style of drumming
Joey Jordison is an amazing drummer and I have seen him live and he was so amazing!

But yes is his a very fast drummer though. I knew that he has to be the best or the fastest drummer of all time.
Joey Jordison is like the FASTEST drummer on earth, and he can keep great rithim while being fast, he is definitely the BEST drumme on the face of the planet
Whats there to say he is in fact he is in fact one of the greatest drummers to ever pick up a pair of sticks bottom line he should have been at the top 3 that's all I have to say about that.
Hey, you should vote fair, I mean who is the best drummer? It is totally clear that it's Joey. listen to his solo's the blow away, god damn people who doesn't agree.
For sure there are other drummers who deserve to be on this list. Some technically better than Jordison. However, I've yet to see or hear ANYONE come close to his accuracy, speed and all out impressive beats in the history of music. Hands down this is the greatest drummer there is. Slipknot, Murder Dolls and Rob Zombie(now), all show and sound with the proof of this statement.
He should be 1st.

Why?

He's the best solo drummer and knows how to use drums better than the most of the other drummer exept lars Ulrich. - Santh
blister exists drum solo no blast beats but still friggin awesome..... also kick ass guitarist for da murderdolls... maggot 4 lyf..
- Milan
joey can do so many things with drums. to the coolest 1 note things to a s!@# load of different notes he makes it work with micks guitar - numetalhead