Keith Moon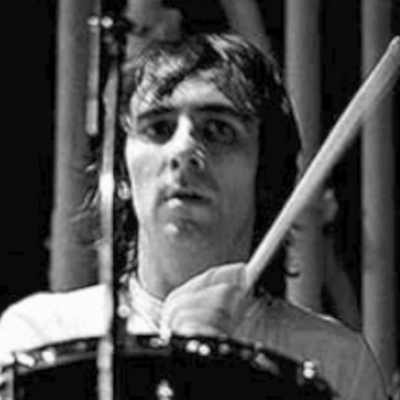 Uploaded by zxm
Comments
Top
Popular
Newest
Keith Moon had more raw energy and talent than others. Seems like he's not "#1" because he was around the shortest amount of time. Maybe Neil Pert got better with experience, but I heard them all in the 1970's, and I honestly can't recall ANYONE who would argue that Keith Moon was the best. At the time, Rush was a great live band... but Pert was basically an unknown (except perhaps to drum enthusiasts? ) I only knew a very few decent, serious drummers then, and Keith Moon was always their "hero"...the challenge being to get through songs like "Won't get Fooled Again" without a break (or having the sticks fly out of your hands from too much sweat! Tennis wrist sweatbands were very popular.) Whatever. Kids today. Huh.
He made the drums more than a background instrument he is the reason people smash their equipment contrary to popular belief that it was pete townshend (it was really both) he came up with the name led zeppelin and he is the most influential drummer of all time whoever said that neil peart influenced everyone has no clue what he's talking about because rush came along well after the who and led zeppelin both with incredible drummers however I give the crown to keith because his work was incredible and he was the most influential. whoever put tre cool over him is retarded and doesn't know what music is - rjwarshaw
The Who are part of the Holy Trinity of Rock (and perhaps all music) along with the Stones and the Beatles. Their drummer does nothing to hold them back from that title. Along with ol' Thunderfingers, Keith is one of the all time best of category musicians to come out of the Who. Plus, has Shannon Leto ever driven a Lincoln Continental into a swimming pool? I think not. He deserves MOST UNQUESTIONABLY to be sitting at the throne of this list, with Bonzo and Peart his princes. His crazy, uncontrollable, rapid-smashing style is the textbook definition of Rock God of Drumming. Rolling Stone said, "What Jimi Hendrix is to guitar, Keith Moon is to the drums. " That should be proof enough!
okay Keith Moon should be number one for many reasons. 1) he duck taped the earphones to his head 2) he always played with a LOT more then one drum set 3) listen to barbara ann. he always wanted to sing, they even had to take out his microphone because he would sing when he wasn't supposed to and 4) watch him drum, its hilarious
and of course, he is a CRAZY DRUMMER. my dad once said that the whole song is a drum solo for him. he is amazing, in both personality and skill. its only a sad he was so destructive
The Who... Roger's tonsils bled, Townsend's fingers bled, John played lead guitar on the bass, Moon thought he was playing all the instruments. Bonham was great, but Moon amazingly went beyond drumming. Moon was an orchestra unto himself with all the woven effects and making the drums a primary instrument. His drumming was equally in the forefront of the Who's performances. All Moon on the Who is outstanding. Quadrophenia is a good example of Moon's fully integrated performance. Moony was the best, even without taking himself seriously at all.
Keith Moon left us before he should have that's for sure. The first drummer that I know that made the drum kit a lead instument by following the vocalist. Drum fills? My God, he could pound out the beats faster than Pete could riff! He had days in which no one could even imagine how fast that he played. Other days... well... let's just agree that Keith liked his medicine. Too many rock stars die of alcohol & drugs... let's all learn form it.

Peace to all!
.....when I was 18 I said Keith is the best....when I was 30 I still said Keith is the best.....I'm almost 50 and I still say Keith is the best.....when I'm 70 I'll still say Keith is the best....and when I'm gone.....people will still be talking about how Keith is the best.....and opinions will always vary....but for me, Keith is the best. period.
His personal reputation only echoes his pure drumming talent. Quirky fills, amazing cross-sticking, and infinite energy. The Hendrix of percussion He pre-dated Bonham and though the two had unique styles of playing, Keith laid down a challenge for future generations to aspire to... hands down... no questions asked. When I watch him play I love it so much I want to break his wrists in sheer envy.
Keith Moon drummed from somewhere outside his conscious mind. Just listen to his manic style on "My Generation" and his incredible, polished dynamics on "Dr. Jimmy"--the man was a one-piece orchestra. Nobody could attack the way he did, machine-gun you like a Spitfire, and back off so as not to interfere as much as a single lick with the vox or bass line. Crazy, not from this world, damn I miss his energy! - Norapisgoodrap
In the early days of The Who Keith Moon did not mic up his drum kit as his drumming was so loud and over powered the band. He was a heavy hitter for an average sized guy. How he performed with that level of intensity for the duration of their long shows is a major achievement in itself. You have to remember this is the 60's and 70's when the equipment was light years away from the current drums available. His drumming technique has not been matched by anyone since.
While so many bands were boasting the 'best' lead guitarist, The Who were the band that played off a 'lead drummer', and that says it all!
Not surprised he's down this low as it's been a long time since he banged his sticks and is is true "How quickly we forget" but no one before or since can hold a stick to Kieth as all you gotta do is listen to the pre Moon's death "The Who" again and it all comes rushing back how really good he was. I'll say it again "NO-ONE"! Rest in peace Kieth I still miss you!
Awesome, unique, one of the best and entertaining drummers of the rock genre, but Not one of the best drummers in the world at all! Lacked feel and finesse. Your not cage fighting you are supposed to be subtle, supportive and on occasion unobtrusive in music as a drummer. Name me one song the late and great Keith Moon had any of those qualities?! And smashing your drums up? What is that all about?! What? , you don't hit them enough as it is?!
Something that makes keep them stand out above all the rest is how he would swing the sticks at imaginary drums even though there was no need for drumming. Also I'd like to mention to all those basement rush fans who have nothing better to do than to vote online if Neil Peart where to play with the same power as Keith Moon he would only be hitting the drums half the time. Keith Moon THE drummer!
Keith is THE best on this list. He had the energy to play the drums literally to pieces every night and then party like a maniac, whilst throwing T.V. sets out of windows, driving cars into swimming pools and blowing up toilets with dynamite. The drummer who replaced Keith after he collapsed said that he was exhausted after playing only a few songs. A genius and a madman, and a bloody good drummer.
I am a bass guitarist so I understand the importance of percussion. Nobody, I repeat NOBODY has ever done close what Moon accomplished. Nobody. He was beyond a drummer, he was something else entirely. Charley Watts? Ringo? Are you kidding me? The only reason they are on this list is because of the success of the Stones and The Beatles. Bonham? He was a great but he'd be number two or three on my list.
Yeah kieth may not be the most complex drummer ever but what he lacks in complexity more than makes up for in power and endurance. Kieths drums
Needed to be buffered so not to diminish his bandmates. He played a drumstick so thick they called them trees when playing in concert cannot be controlled I was just kind a drummer he was his riffs ran together so much on recordings it would seem like one long drum solo. Unless I'm mistaken animal from the Muppets I think was portrayed to be Keith Moon. Do I need to mention I'll powerful and long his drum solo was the song my generation. You must remember rock represents power and emotion first and foremostnot over rehearsed songs like the band from Canada. Rock shouldn't have poise. it's raw that's the way it was and that's the way should always be. If you want complicated call on buddy rich he would put Neil Peart to Shame. Keith Moon first followed by Ian pace and John Bonham and Mitch Mitchell
I've heard that Roger Daltrey once had a scientist friend of his listen to Moon's drumming and then declare that was not humanly possible to drum that fast. Not only fast, but great rhythms and everything always right in its place. I'm a guitar player and admittedly know nothing about drumming, but he was always my favorite.
No one will ever be as creative and unique as Keith Moon. He is the drummer that showed the world that drumming could be progressive and powerful, not just keeping the beat. He broke all the rules and opened the door for all the other drummers mentioned here, who, while also great, were able to follow in Keith Moon's drumbeats... Another genius gone too soon.
One day, the detours were playing a gig when a bus boy came up to them and said "Well, I hear you're looking for a drummer. I'm much better than the one you got. " With Keith Moon everything just clicked. He played at twice the speed which took some of the pressure off Townshend and let John Entwishlle do his thing. Keith played with such an eagerness that electrified many who fans. I'm not saying he should be #1, but how can guys like Jimmy the Rev Sullivan be ahead of him. - jarjar36
The greatest live rock drummer in history, hands down. If you go to a concert, you want to see Moon! Along with Entwistle, he combined for the greatest rock rhythm section in history. His unorthodox style has never been duplicated. He brought energy and artistry to the songs that was groundbreaking to this day.
He is the person who turned the drumming world upside down he started the evolution of hard rock drumming and he inspired many and him staying on tempo with the complex way of drumming the achieves in every single song is unbelievable and he is a person that is way better while performing live.
The Best.
Know one comes close to the 'Loon.
Not only was he immensly skilled and talented, he was so damn funny and helped create loads of stories that have been entered into Rock & Roll Mythology.
Vote for Keith, you know it makes sense.
pure energy, almost as though he was born knowing where to put the sticks without even thinking about it. Watching him drum is watching someone who was purely a natural and who's sole purpose was to beat the skins.
Listen to him, but look really carefully at his drumming pattern. Snares to bass drum to crash cymbals and so on all in one second. Obviously the number 1. 'i hope I die before I get old' works really perfectly on him.
Related Lists

Top 10 Keith Moon Solo Songs