Ringo Starr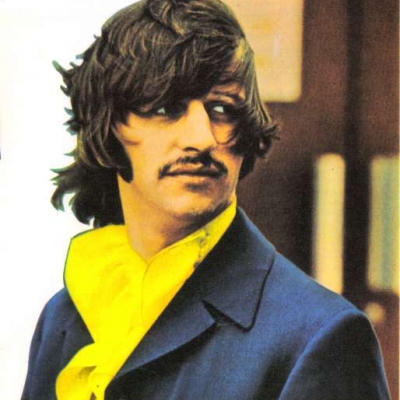 Uploaded by kaitlynrad11
Info
Richard Starkey known professionally as Ringo Starr, is an English musician, singer, songwriter and actor who gained worldwide fame as the drummer for the Beatles.
Comments
Top
Popular
Newest
I am happy to see that, over the past several years, Ringo is finally getting the credit he is due. I always hugely respected the fact that he hated drum solos and saw them for what they were, a display of ego, and what they not: a substantive display of any kind of musicianship. A drummer, especially a rock and roll drummer, should be judged on two things: how well he keeps time and his fills. There may be some who equal Ringo in these categories. You will have to do some serious talking if you want to convince me that there is one who was or is better.
RINGO STARR IS ONE OF THE BEST DRUMMERS IN ROCK HISTORY! THAT'S WHY THE BEATLES ARE SO AMAZING, THAT'S WHY THEY SOLD SO MANY COPIES OF THEIR ALBUMS! EVEN IF ONE OF THE BEATLES WEREN'T IN THE BAND, IT WOULDN'T HAVE BEEN THE BEST BAND IN HISTORY. THE FIRST BAND EVERY BABY LEARNED WOULDN'T HAVE BEEN THE BEATLES. SO LET'S RETHINK WHO THE BEST DRUMMER IN THE HISTORY OF ROCK IS.. RINGO STARR ALL THE WAY
Ringo Starr little technical skills. He played for a band that is equivalent to the NSYNC of the era. They were popular, but not one member was really great at their instrument. - RobinHoodAZ
Ringo's amazing talent is often overshadowed by the songwriting amazing-ness of Lennon & McCartney. But Ringo is the man. I read about an anecdote where he was keeping track of a beat he'd heard on a song. He and the rest of the Beatles went out to lunch. When they got back to the studio, however, Ringo still had the beat, spot on.

Crisp and clean and no caffeine.
Ringo is a drummer's drummer, in many ways, but he is also the greatest ensemble drummer. Even his solo in "The end" is more of a duet between himself and the listener. That's a concept many drummers including the great Buddy Rich only begin to comprehend beginning late in their life. may not notice him, constantly, that wasn't his intention. He knew that exactly what to do for every song, impressive considering The Beatles' range, and did it without wasting a single stroke. People harp on his speed, but you only need a few strokes, if you know how to use them. The rest is noise.
Not only did Ringo's drum excellent keep the beat - it added a certain life to the music that is rare in any genre of music, including rock and roll. The Beatles were the greatest rock band in history and are still loved today. Ringo's drum excellence was the beat that completed the magic.
I'm not an educated musician, but I followed the musical career of the Beatles, and Ringo was a chameleon playing the songs of Lennon, as well as McCartney's and Harrison's. They never had to tell him how to play their songs, and the drums on each and every song sounds magnificent!
While it's true that nothing Ringo ever played required a high degree of technique, he was extremely innovative in developing drum patterns that were unique in rock at the time: "Ticket to Ride," "Tomorrow Never Knows," "Come Together." He also played one of the most sampled/influential drum beats of all time: Sgt. Pepper's Lonely Hearts Club Band.
Andy Hermann, Music Editor at LA Weekly
Any criticism against Ringo's work is relative --
it should go without saying any other drummer would give front teeth for his legacy. Just listen a first pure rock drumming at "A Hard Day's Night" or" You Can't Do That".. Have you heard something similar before? No way! by the way Mike Portnoy is a diehard Beatles fan! he asked Tama to make him a replica of Ringo's Classic 1960's Ludwig drum kit!
Ringo is the best ever. He even made a drum company become one of the most popular drum companies in history, which was Ludwig. He also popularized match grip. And, the best part, is that Ringo had perfect tempo. The Beatles could record anything an t anytime and mix and match parts, and they would always stay in time because Ringo was always in beat.
Ringo starr may have started off relatively poor, but he has gotten progressively better (Just like George harrison with singing! ) with his drumming skills. I give him kudos for working so hard at playing a right handed kid while he's actually a lefty and he worked hard to get over this
Ringo is totally respected by great drummers. What he added (and most importantly, didn't add) to a song was his genius. He was the perfect man for the job of helping to illuminate the work of the two greatest songwriters of the century.
Everybody thinks it's because of Paul and John, but it's not! Ringo was the best drummer himself, Paul said the same. The Beatles let him play in the group because he WAS the best drummer then, and became much better from that time.
Listen to "Strawberry Hill" and "A day in the life" Ringo is not just playing the drums - He is playing music! He is the best rock drummer ever.
The most perfectly timed drummer I have ever heard. He evolved a tremendous amount during the Beatles years, and is able to provide solid rhythm on all of his instruments, whether they are bass, snare, cymbals, or toms, he always transitions perfectly and plays right on the clock.
The more one knows about drumming, the more one recognizes what a great drummer Ringo is. It's about feel and time and playing to the music. It's not just about how fast you can play triple paradiddles.
There are all sorts of different opinions about Ringo's drumming, but he and Phil Collins are the only drummers I know of to have a solo career. Granted, it was mainly because they were in great bands and could sing, but a fact is a fact...
Okay, everybody seems to hate Ringo's drumming. But please just look up these songs and then you'll think twice. "Tomorrow Never Knows", "Rain", "The End", "Sgt. Pepper (reprise)", "Something", and "Paperback Writer"
All the non-drummers saying "All he did was keep a beat blah blah blah". Yeah, that's what the drummer is there for! That's what all drummers do! The fills and fancy triplets and stuff are just kind of a bonus haha
Ringo is great because he is not a complete douche like literally every other drummer I have met in my life. Note to all drummers: learn how to play with dynamics. You don't have to play ALL THE TIME children.
He is and will be for ever the best drummer of the world! He was a Beatle and he's the greatest! I love him and he's a part of rock and roll story! no one can overcome him!
If it wasn't for Ringo, the Beatles may have never had some of their best songs. A Hard Day's Night, Eight Days a Week, Magical Mystery Tour. Those were phrases he said and influenced the others.
Imaginative and inventive. Listen to Strawberry Feilds, Yer Blues and many other songs. Hey, the one who made the most money doing it should be number one.
Ringo is the only drummer that shows the drummer can be just as or more important than the guitarist. He also always new the perfect beat for any song.
Ringo is quite a simple drummer, but the drums is always an important part of a song, and to make beats to go with the best song writing partnership ever, it takes some talent - gemcloben
I can't believe he's the 33, come on guys he's the best drummer ever. The Beatles are gods, they have amazing songs and without Ringo maybe they wouldn't be anything. JUST SAYING.
He is nowhere near being the best drummer ever. Just because he was in The Beatles doesn't mean he's the best drummer. - Jaymuhs
Related Lists
Best Beatles Songs With Ringo Starr In Lead Vocals

Best Ringo Starr Songs

Best Drum Songs by Ringo Starr With the Beatles
Best Songs from Ringo Starr's Postcards from Paradise