Shannon Leto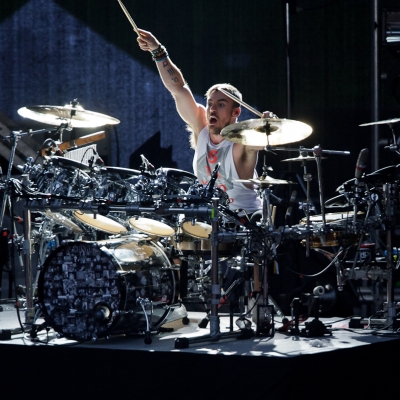 Uploaded by CastlevaniaFanboy128
Info
Shannon Leto is an American musician and songwriter best known as the drummer of rock band Thirty Seconds to Mars.
Comments
Top
Popular
Newest
Shannon feels the music when he plays. He doesn't need to think about the song, he hears the rhythms that make it. Drums are often under appreciated but Shannon works to make every 30 Seconds to Mars song creative and moving. There is no other drummer I would rather watch live because no one else has such energy and heart when playing. From the way he pours himself into each song and hammers every beat, it's no wonder he's so toned and that he rightly earned the nickname Shanimal. From capturing your attention whenever he plays to giving you a smile and just being an overall easy-going guy, Shannon Leto definitely deserves the title best rock drummer!
Shannon was born with pure talent and no one can play drums as epicly as he can! There is no other way to describe it. The way he plays is so out of this world you can't help but just stare.. as I am learning to play drums, I aspire to be as good or even half as good as Shannon Leto, he is honest to god, my idol :P
Watched him live! His energy is contagious! Every beat, every rhythm is pure in every sense of Shannon Leto! I was so lucky to actually see him do what he really loves to do in life. He is such and inspiration to all.
Proud Echelon. He's not perfect. That's why I love him even more.
Not because he's the brother of Jared, or that he was once an actor. (still is but now he's a rockstar! ) I love him because he is just being Shannon.
You shouldn't just hear Shannon play. You should watch him play. Shannon Leto on the drums is ridiculous because once he starts, you can't stop watching. Leto's rhythms are such an essential part of 30 Seconds to Mars's songs - they'd sound so empty if Shannon hadn't invented the drum parts. He's truly one of the most influential drummers there is.
When he plays drums is like is walking, it's natural for him.. he's very talented and everytime I listen to him my heart beats fast because I can see and listen how he's trying to do his best and thanks to him I fall in love with drums! there's no perfect words to describe why he's the best rock drummer, but I think that my emotions help to understand what I feel when he plays in a concert!
I Think his one of the greatest drummer ever. His style is amazing, his music... everything is so incredible. When I hear at "stranger in a stranger land" I love the part played by him... kinda incredible! The rythm of my heart gose with the one of his drum... love it!
Only one thing I can say- the shanimal is a beast an amazingly talented beast that has a passion for drumming ever sense he was 5 years old, him combined with the amazing strength of his brother(jared leto) and tomo milicevic make truly the best band IN THE UNIVERSE.

30STM forever

Ever since I began listening to 30 Seconds to Mars in 2006 I fell in love with their sound. Shannon is not just a drummer, his personality radiates to the crowd, his drumming is an element like air and water. Yes he's a rockstar but he's so much more than that. Whether he's recording in a studio or with monks across the world or playing club show or arenas, Shannon is passionate about his art. He is the thunder behind Mars. The last thing I will say is that Shannon is a well respected drummer who loves his fans and returns to the echelon all the respect and love they give him.
His passion is so addicting and infectious I personally think he somehow passed it on to Jared. & He is a beast whenever its him and his drums. Shannon is big, adorkable, fun-sized, and talented human being with a big heart. But, FAMILY, comes first. You mess with his baby bro, Tomo, the Echelon... Prepare to meet, Shanimal.

Shannon isn't just a drummer. He is one with his drums! He has passion for this! He plays like he has nothing else in the world to do! He plays for fun and Loves what he does. To see him play live is like being reborn! And hearing him play is like seeing the light for the first time!
The best drummer of the best band ever! He's so passionate!
When you start watching and listening him play, you'll want more of him, more of his/their music.
He may play like a beast but he still looks humble and down to earth.

I love him so much! I love 30 Seconds to Mars!
Shannon has always been the one drummer I can spend an entire show watching. When I listen to their albums, I happily tune out everything but the beat, at times. He has a passion unlike almost any I have seen out there, and I think that, combined with his originality and talent easily make him the best currently in the business.
I don't have anything to write about. All who know the music well know that Shannon is the best drummer in the world! And 30 seconds to mars is the best band in the world! :) ECHELON-YOU ARE THE BEST FAMILY, THE BEST FRIENDS IN THE WORLD! I don't know what I'd done without you! LOVE YOU!
Shannon is a phenomenal drummer. I saw 30 Seconds To Mars a few years ago and he was playing at full tilt for 2 hours straight. His parts aren't the most complex or the fastest, but what he plays fits the songs perfectly, and the amount of energy he puts into every beat is incredible. Even at the end of a 2 hour set he's still playing as hard as he did in the first song. - DopeWithABass
One of the best drummers, what's he doing with the drums is awesome.! Definitely one of the better guys, drummers and crazy.. I love it.! )
August reflects his passion completely so definitely worth it to pay the voice.. And it is not a wasted vote.! Do not look here for a beauty (though it is handsome), but it is what a man and artists.! )
He's the most powerful Drummer I've ever watched live. His Energy is insane! Can't take my eyes off of him.
He is the only person with a simple drums, he causes emotions that can not be explained by ordinary words.
Shannon Leto plays with such passion and energy, he is just amazing! Everyone who saw him in concert will agree with me! He is a very talented drummer, for me the best I've ever seen! I could write about Shannon for hours, but I'm not English-speaking, so it's a little difficult for me! And anyway, I think that the best thing you can do is to listen to 30 Seconds To Mars, and then you will understand what I'm talking about! Shanimal, you're the best, you deserve to win!
I've never had the pleasure of watching him perform live but from what I've seen in videos, I've got to tell you this. He is truly an animal. He has an amazing vibe and he really, REALLY knows how to bang those drums! Even though he is behind his kit, he interacts with the audience in a very unique way, thing that only few drummers do.
His playing is.. Indescribable. Hearing him can do crazy things to you. Like your heart beats in his rhythm. I can never get tired of listening to him!
He ALWAYS amazes me with his drumming ability... So entertaining to watch and listen to... Total legend
He is the best with that whole rack of drums... He literally is so creative and right on time, every time, and he hits them drums so hard, and pops that stick on the rim of the snare drum every time too, the most awesome drummer I've ever seen or heard! And all I can do is hope that my drummer will be one sixtenth of Shannon LETO! He is so amazing, it can't be put into words... Its not just the actuall drumming that I am comparing him with! He is so intune with his band, and that is also what makes a great drummer! I hope you win LETO!
Well, despite all the criticism about 30 Seconds to Mars, mr. Leto conquers a lot of respect for himself. Just a real grounded musician, with impressive skills when he plays. I vote for him because of my love for his cleanness in playing. He he is really creative, he's like always searching for perfection. This impresses me twice, being him part of a live band that... well... I'd better not express myself. His brother does not know what a frontman is supposed to do. Anyway, "best drummer" cannot be said of anyone but, if it has to be, it should be some legend like John Boham. Because without musicians like him, there wouldn't be half of the new ones we love. By the way, it's all for fun. Travis Baker is enlisted, Steve Gadd is not. come on people, a good musician is not someone playing in a mainstream band of some kind. Let's listen to some serious music. And remember: Neil.
There's something about Shannon Leto's drumming that puts you in a trance. It's like being high, you start to get all warm and happy. I've never had the pleasure of seeing him live, but even with headphones in and the sound vibrating though your body not only can you hear the emotion in his drumming- you can see it. I don't know how, but I guarantee if you close your eyes while listening to him play you can see it. Shannon isn't perfect, but in his imperfectness there is something amazing. I literally owe my life to Shannon, Jared, and Tomo. I was feeling really down, and just didn't want to live. 30 Seconds to Mars saved me from myself. They mean everything to me, and Shannon should definitely win this.
He's the most dedicated and talented drummer ever. I'm 100% sure of that. and he's 41 years old man! and he's still the best. <3 I went to a 30 seconds to mars concert last december, and I got surprised when he was on the stage with him HUGE drum and with all him's talent. I'm sure, he's the best.
Shannon is so full of passion and heart with everything he does, especially playing the drums. He is genuine with everything he does. His very essence bleeds through when he is on stage. There is no persona with him, he is who is and that's it. He'd much rather show you his talent than tell you about it... And believe me, if talking to the countless he's inspired is not enough, just watch one video or show with him. You'll be blown away.