Hollywood Undead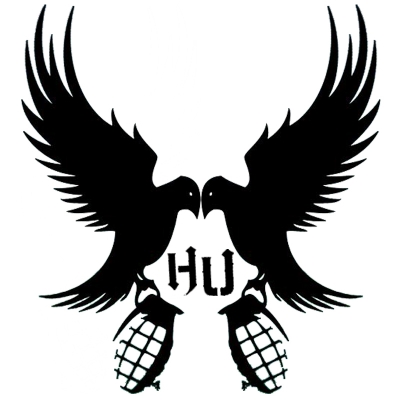 Found on deviantart.net
Info
Hollywood Undead is an American rap rock band from Los Angeles, California, United States. They released their debut album, Swan Songs, on September 2, 2008, and their live CD/DVD Desperate Measures, on November 10, 2009. Their second studio album, American Tragedy, was released April 5, 2011. All of ...
read more
.
Comments
Top
Popular
Newest
Oh... it seems a lot have been wrong here for example I saw a comment on slipknot... slipknot best metal/rock band ever... yes they are my favorite metal/rock band but.. they are not rap... only spit it out and people=s***... and a lot others like papa roach... great bands but not rap... linkin park are rap but have made without rap... hollywood undead are such an underrated band in the whole world... they have about 4 rappers and they re all great especially charlie scene and j3t... they have a great singer danny and an old deuce they are the best metal/rock rap band here because they use rap and rock and pop... rap rock is their genre and they sound very good...
Taking this genre to a whole new level babe! Linkin Park is nothing compared to Hollywood Undead
Hollywood Undead is obviously the best band on this list. Their music is unlike anything else and they actually speak their voices in their music & say whatever they want; not caring what other people think. - undeadforlife
They have a huge variety, let's face it they have probably the 5 best rappers ever in this group, J3T has amazingly brutal lyrics, J-Dog is great all round, his party attitude and his serious, same with Charlie Scene, he has some fairly funny lyrics but he is serious when he needs to be, you can tell by listening to Mother Murder, or Been To Hell, Then you got Funny Man, the party man, he has funny lyrics as well, he is very unique to the band, which I love. the Kurlzz has outstanding screams and puts a good beat into the song, but we can't forget Danny, he has such an outstanding voice and fits perfectly into the band, these blokes together create something special, and there will never be a band like them. They are an only band of their kind, unique, outstanding, they all suit each other, and they know what they're doing, they have songs for everyone, they really should be number 1
No doubt whatsoever.
These 6 crazy insane persons are the future.
Linkin park was best but it's now H. You. Time
Listen their songs because of their humour and meaning in lyrics
Love you J3t, CHARLIE, J-DOG, DANNY, DEUCE, FUNNY MAN, the KURLZZ
Listen city, undead, young, black dahlia, paradise lost, and the whole american tragedy album.
Hollywood undead and linkin park are the only 2 that fully combine both elements of rap and rock together, overall I picked Hollywood undead because they rap and sing in every song, rage against the machine sucks so much it's not even funny, they repeat the same line over and over against bull guitars while the rest of the bands on this list shred it up and scream, and rap much faster
Hollywood Undead is the best band in the world! I've seen both HU and Linkin Park live and HU has way more raw talent than them. Also, they're not grounded at all. They say whatever they want in their song, which makes their stuff so easy to enjoy. If it wasn't for HU, music would be dead instead of UNDEAD!
Hollywood Undead are simply the best rap/rock band I would reccomend to everyone, This is coming from someone who vlikes every type of music. Hollywood Undead are my favourite over everything else
They are a great and extremely talented band the way they can change the way they sound from soft rock to funny to serous then hard Rock earns a lot of respect these guts are legit and you guys should check them out when you get the chance worth the time
I just started listing to these guys a few days ago and I already know their good. Imagine a mix of Linkin Park, Eminem, and Rage against the machine. that's pretty much what these guys are ( except a little more electronic, which isn't that bad. )
These guys are the best. They are original, have meaning in their songs, and got the beat! You can feel the emotion in their voices. The only band that I can't resist singing too. HU4L!
Hollywood Undead is truly amazing. They have diversity in their genres, such as rock, hip hop, rap, and occasional electronic (Levitate Digital Dog Club Mix, Party by Myself, War Child), they also wear masks, which are all unique to the owner of the mask. I believe they are a truly amazing rock band.
They can out rap Eminem and out rock shinedown best band ever! They are original every song is a breathe of fresh air and be it party music with big bass or emotional rap rock they deliver!
its just everything there is to it! everything they sing are just perfect for what they do. they are really the true king of rap rock :) there isn't a song that is not actually perfect
These guys are so good at singing I like the whole band but funny man is the best and my favourite song I actually don't know all there songs are amazing
Hollywood Undead has some of the best rappers out there, and some of the best beats I've ever heard. They're way past regular recognition. They're wonderful!
Undead makes you feel pumped full of energy, along with brilliant lyrics and a kick ass band. Gotta love the masks. Awesome stuff.
They are the kings of rock/rap the first time I heard their songs I was in love with them Danny is a rapper Kurlzz is the best drummer player Charlie Scene is the best when I'm trying to say that the Hollywood Undead should number one not two ONE
Linkin Park sucks Hollywood undead is way better than them Hollywood undead could out sing them any day and there songs are ten times better
Hah Hollywood undead is awesome and is the best rap rock band ever I used to like Linkin Park but this band is better
American Tragedy is one of the best albums ever from this genre... The Undead army is in full force and this band doesn't get the recognition they deserve

These guys are the best I like the whole band but funny man and my favourite song would have to be California
Hollywood undead has the best vocalist ever. Danny evens charlie scene and Funny Man's voices making their music smoother. Cause I didn't like rap or hip hop till I listen to them. They make me feel like my friends are a gang but in reality were a squad. But yeah, their songs make my day much better because, they have/are going throw the stuff that I'm going throw with broken dreams and depression and all. So yeah, I'm glad Hollywood undead is 3rd. bUT IN MY BOOK, it's first. Always first.
Certainly deserve 1st place, best rap/rock band ever. Hollywood Undead is composed by 6 excellent and talented MC's and is worth to listen to. HU4L!
Hollywood undead made me switch from country to rock there awesome
Charlie and funny are the best tear it up and city will instantly get you hooked