Elton John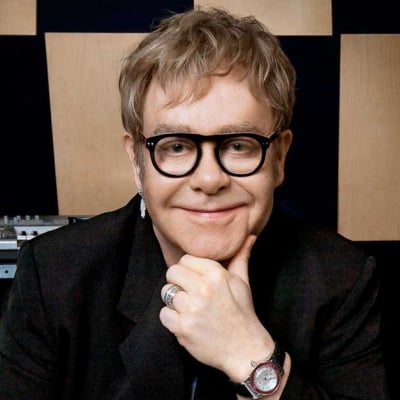 Uploaded by kaitlynrad11
Info
Sir Elton Hercules John CBE is an English singer, pianist, and composer. He has worked with lyricist Bernie Taupin as his songwriting partner since 1967; they have collaborated on more than 30 albums to date.
Comments
Top
Popular
Newest
From Joel to Roy Bittan( Springsteen), Leavell, ( Allman Bros. ), Ian Stewart ( Stones ), Steve Winwood ( Cream/Traffic ), Bruce Hornsby, Barrelhouse Chuck, Pinetop Perkins, Piano Red, Rick Wakeman, Jerry Lee, Ben Folds, Dr. John, Stevie Wonder, James Booker, from Blues to Rock to Jazz, each has had their own style.

But for me there are only 3 Genius's who rose above this: because they could play ANY style.
Elton John, Ray Charles and Leon Russell. Ray has passed away, Leon although still great is slower and older now. So Elton John deserves his place. He has earned it. A true genius in every sense of the word, and the hardest working piano player in rock music. One problem, he will still need to live up to this on future studio and concert performances. For me he is "The King" of The Keyboard".
Thanks for recognizing Leon. Others are obviously great choices but I think he's often overlooked - Billyv
A lot of people have the impression of Elton John as just crazy glasses and Crocodile Rock, but under the glam, he is the best pianist pop music has ever seen. When he was young, his singing voice was untrained, and while he had a great voice naturally, it wasn't very strong outside the studio at first. He grew into his voice quickly, but it was his skill as a pianist and composer that made him an overnight success at the Troubadour. While it is true that there are others that play and sing at the same time (such as Billy Joel who is a truly brilliant pianist and musician as well) nobody matches the complexity of the playing Elton does while he is simultaneously singing. He can carry a solo show with just his voice and the piano better than anyone with just an instrument and the band. And he can play any style of music; he has played versions of Madman Across the Water and Take Me to the Pilot with solos so complex, the chord structure and rhythmic improvisation was more at home with ...more
Elton has so much versatility as a pianist. I've never heard any of the other players on this list have such a control over dynamics to really strike the emotions. There is a lot to be said for impressive virtuosity, and most of the players on this list have that. Elton can play very demanding piano solos up there with the best of them, but, he surpasses all of them when it comes to playing sensitively. That shows his real skill. It can be far more difficult to play with such sensitivity and depth than it is to master some tricky licks. Elton can do both, and while there may be others that can rock as hard, Elton whips everyone when it comes time for the slow songs. His harsh electric piano sound these days masks it a bit, but his playing is so exceptional, you can still hear that touch. Back when he played acoustic Steinway pianos (not that white one with a weird sound though), you could really hear that phenomenal touch.
Elton John's piano playing deserves to be described as outstanding. He is able to put the right feeling into everything he plays, from a sensitive and subtle delivery of an emotional and melodic ballad to a solid and rocking boogie solo. Especially through his musical work of the 1970ies he created a perfect fusion of versatile songwriting, a flexible voice able to display the emotional depth of his songs and an equally astounding and virtuosic talent to play the piano. But also on his current, more mature albums his talent still clearly shows. I am very fortunate to say that I have seen him ten times in concert and that I own virtually every album this great artist has ever recorded (studio and live).
Elton John is the best rock and roll pianist of all time!
If you've ever watched Elton play, you know why he is the top of the crop. He simply is like no one else, the power, the passion he is playing with, still making it look so easy. The instrumental parts he's usually adding to songs like "Rocket Man" or "Levon" are straight from another dimension and always a little different to the open ear... Someone mentioned in the comments that he they consider Billy Joel the better musician, because, unlike Elton, he is also writing his lyrics. That would make beady-eyed booze-bird also better than Mozart who also got his libretti from others? Yeah sure. Elton's music will survive the times just like Mozart's did.
I am 17, I've always LOVED Elton John. This man can tickle the ivories like no other! He's truly incredible, gifted, talented, and massively good-hearted. I'm also a Little Richard, Jerry Lee Lewis, and Billy Joel fan, but what made me pick Elton was his huge catalog of hits and catchy tunes. He can also improvise spectacularly on anything, any words, and any song. He is so iconic, you know his songs just by the first few notes!
If you have ever seen Elton John live you will understand (I'm about to for the first time soon). Look at his hands up close, and even at his age (nearly 70) he can do trills that thrill the audience and play licks that'll get any girl (and man) to swoon! He's incredible, one of a kind, unique, original, and simply kicks ass. The way he jumps, jives, swivels and kicks on that piano, that's only something that would give Jerry Lee Lewis a slipped disc. Go watch this man perform live, even better solo, and see pure magic and talent for yourself. This man is ...more
Elton John is the greatest "piano man" I've ever seen and heard. His music makes my life. Me too, I've learned in the music school some years on the piano class, but I left this doing and it's so bad, that in there times, Elton wasn't in my life. Because now, I feel that I want to play and I'm trying, I'm trying to play his songs on piano, and I unnderstand, that it was a mistake to left the music school. But in spite of it, Elton is my inspiration to play on piano, and I'll can, with "his help".

His playing is genious and inspired!
All anyone has to do is listen to Funeral For A Friend/Love Lies Bleeding from Goodbye Yellow Brick Road or Tonight from Blue Moves or I Don't Wanna Go On With You Like That from Reg Strikes Back or numerous other songs where he lets the piano tell the story, and you will know that Elton is #1. And if you have seen his live performances of Rocket Man and Border Song, where he will play piano solos at times exceeding 15 minutes covering and blending all styles of music within the same song, you will have experienced a true artist and master pianist.
Elton John's lifetime of work says it all. He has a gift like no other. He is loved like no other Pianist/Artist History of all time by people of all ages. He is timeless and ageless to his fans. No one could ever come close to being like him. He is an Artist that has changed with the times as well but only to his liking. Some artists always sound the same and their songs sound the same. Elton John's songs cover several music genres not just pop like some people say. His range is far wider if you listen to his music, not just his radio hits. Elton John is number 1.
Elton John is the world's greatest pianist. He has the greatest piano playing range. He plays music from all genres including rock, pop, classical, R$B, Gospel and everything in between! He not plays the piano wonderfully. He makes the audience feel that he is playing without effort when in fact, it is very difficult to play, sing and perform. He has been doing this professional for over 45 years!

I have seen him live in concert over 20 times, watched hundreds of videos and viewed videos of his live concerts. He is a master pianist, song writer, performer, producer.. a musicial genius!

I must also mention Billy Joel but he is number 2 behind Elton.
If you want to hear Elton's real abilities, you should listen to some solo concerts like Syracuse (2000) or Naples (I believe 2009) and you know why Elton is number one. Almost all the songs he plays with the band also work when he plays them alone - only he and his piano. There is nothing missing. He kind of supports his singing best on the piano, when playing with the band he sometimes seems to drown in drums and guitars. He also does the songs faster with the band which is not always advantageous - neither for the song nor for Elton's voice. But in his solo concerts he is in perfect voice, playing very concentrated and absoluteley amazing. Advisably number one - who else?
I'm mainly into heavy metal, but I can always take time out to watch old clips of Elton John. Footage of him live is just astonishing. Nothing puts him off the beat, his left and right hands seem to be under their own independent control. Any style, any tempo, barely glancing at the keys, improvising, bashing, gliding, pecking, precise and fluent.

A man in total command of his piano.

I really like Billy Joel also, but Elton John blows my mind. It's a shame his voice hasn't lasted, but he can still play a storm.
Elton is a prodigy who, starting at age 4, could play any music back he heard from memory. His classical training at the Royal Academy of Music was instrumental in teaching him the mechanics of piano and music theory. But what truly made him great was immersing himself in American Music of all types: Blues, Jazz, Soul and especially Rock N Roll. Add in the traditional hymns and pub favorites of his English home, and the mix is unlike any in the history of piano playing. One piano teacher recently broke down his song &quotAmoreena&quot and determined it to be a mix of classical, blues, and hymns. When it comes to this depth of technique, no one is on Elton's level.
I've always loved the way he possesses his piano, and not the just for the way he attacks the keyboard ("Live in Australia" or "Ballad of Danny Bailey" for instance) or his ability to navigate through every key (the solo at the end of "Sweat it out" for instance). I just saw him in concert and he did some amazing things, just out of this world. At the beginning of the concert, he did something... I'm still trying to figure out what it was: it was like he was opening a book and turning pages on the piano.
You must be hard-hearing to not hear that Elton is a wizard on his piano. No one plays like him, not only the notes he's playing, but also the ones he isn't playing. How many songs do you recognize by ONE note? Bennie And The Jets and what else? Nuffing!
Elton John is the greatest musician that has ever lived. He is a true musical genius. His ability to play beautiful melodies is obvious, but if you analyze his work you'll discover that those melodies are made up of very complex rhythms and an utter mastery of dynamics. When most bands attempt this, it feels disjointed and forced. When Elton does it, it feels smooth and glorious, and literally sends shivers up my spine. He is the king.
Elton's music - and piano playing - encompass all that is excellent in the contemporary music of the last 60 years, be it jazz and its numerous subparts, as well as ARE & B, gospel, soul, country, rock, and folk. The classical references also abound. What's especially exciting about Elton's musicianship is you never know what you're going to get from him, until you get it!
Elton's various shows are absolutely amazing! One time just solo for 3 hrs with his piano, another evening together in a 2-man-show with percussionist Ray Cooper, another show featuring his 5-man-band, then we have those flamboyant Vegas-Shows (Red Piano and the upcoming Million Dollar Piano) and last but not least he plays concerts with orchestras... Genious!
Sir Elton, is without a doubt the premier rock & roll piano player and singer of our time. With his supreme ability to craft many types of songs, he will capture your heart and soul and you will feel the meaning of his music throughout your entire body. Even after all these years, I still love the feelings the his music evokes chills and tears even when I least expect them. After 42 years of devotion and about 35 live concerts, I'm certain of what know Elton John reigns Supreme!... Gigi Corpening, Los Angeles, California. 10/8/15
There are lots of extraordinary, talented players on this list, but having seen Elton live so many times, and hearing him through the years on so many albums, his range, level of skill and seemingly effortless delivery are simply unmatched. He's taken the piano to a whole new level of entertainment and is a showman without peer. The guy is, quite simply, a genius.
Elton John, a magnificent artist with almost no flaw. He released some of the best albums of all time and in my opinion, he is the best musical artist to ever walk this earth. To add to all of that, he is also one of the current best piano players around. He expresses himself through his piano and music. You hear his soul.
Elton is the most emotive piano player alive. His style is a mixture of rock, classical, gospel, southern boogie and traditional pop. Elton's percussive style of playing makes for a dynamic quality that most keyboardists do not possess. His classical training allows him to use chords that other players don't even know exist.
Hard to believe a more handsome player gets put before Elton, whose priority is not only obvious in terms of raw talent, creativity, hard work, influence and longevity, but whose ascent to the top despite being portly, bald, somewhat bull-doggy in face and awkward in manner, shows forth the genius all the more.
You get glimpses bof his talent on 11/17/70, Tumbleweed and "Sweat It Out" from The One... go to one of his shows... you will 100% most certainly agree that he is the most talented Rock Pianist ever. You don't hear a lot of it on his albums but you will most certainly hear what he is capable of in concert.