Motionless In White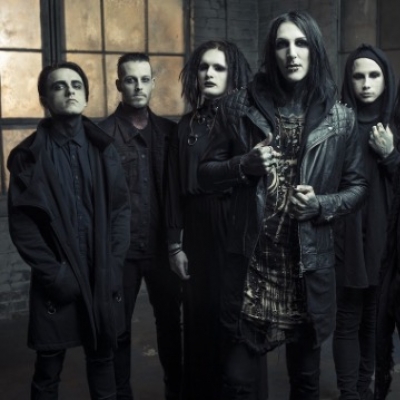 Uploaded by SYLFan1234
Info
Motionless in White, often abbreviated MIW, is an American metalcore band from Scranton, Pennsylvania.
Comments
Top
Popular
Newest
Motionless in White is absolutely amazing. Their lyrics actually mean something unlike quite a few bands these days. They take the things in our society and in today's world that people would preferably just ignore, and "shove them in peoples faces" as Chris would say. Which I truly think is genius, if we just ignore all the bad things going on, how do we expect them to stop? They'll just continue to go on. Not only are their lyrics great and meaningful, but so are their vocals, bass, drums, guitar, their sound in general. I don't know. If you are wanting a badass Deathmetal/"Screamo" band to listen to, who are not a waist of time and put in the time and effort to write great things and who really care, I'd say Motionless In White is the band for you...
Chris Motionless is the best singer ever, but hey I like Asking Alexandria though but I do think it should be at least in the top 3. I mean they sing about getting through to people and let's them know it's cool to be different and says that you shouldn't care what people think of you because you are your own person and you should be proud and not sorry! GO MIW! LOVE YOU GUY!
Yes, MIW might not be well known, but if you listen to songs like Devil's Night or Immaculate Misconception, you'll notice that they do their best to make people fell better about themselves and if people treat you like crap, just don't care. They talk about getting through to people and that if you're different, you're amazing! If Motionless in White aren't in the top 10 for this reason, some people need to have a serious word with themselves!
What? Motionless in white should be in the top 3 not number 29 I mean really this is the best band I have ever listened to and I can't listen to any other band as many times as I have for this one. So every one should vote for motionless in white and just like these other guys LONG LIVE MOTIONLESS IN WHITE!
33 place? Come on guys lets vote for motionless in white they gotta be the top 3! For Pete sake! Do you know how hard and much Motionless IN White do to make fans happy?! NO! So Lets grab our mouse and click vote for Motionless In White and make them the top 3! What Do You Say? Are You Gonna do it? Heck yeah Your Gonna Do It! LONG LIVE MOTIONLESS IN WHITE
I discovered Motionless In White when Reincarnate had recently come out, and all I could think was, they sound so different. I listened to some more of their music, and slowly grew to love them. Chris Cerulli sings about things that MATTER. He doesn't just sing about being pissed cause he can, he sings about what's wrong in our society, the judgement handed to people who are different everyday. This band will be a legend years from now, up there with Marilyn Manson, and Black Sabbath.
I don't really enjoy this genre and always refrained from watching anything remotely sounding Screamo. But Damn, These guys are on a whole different level. I like their "In Your Face" attitude. Aggressive but Meaningful lyrics. Chris Motionless is Mind Blowing, with an amazing vocal range.
Motionless in whites is the best band out there. This band deserves to be number one not asking Alexandria who by the way has a terrible example to follow if you want to scream. Vote motionless in white up to the top of this list people!
This band is amazing. Their music is addicting to me. The anger towards people who think they own everybody is what got me hooked. I love all the members and I LOVE this band. Now, I cannot go a single day without listening to them.
Motionless in white is one of my favorite bands the music is what it's about and they understand that more than other bands they will always be my favorite band no matter what.
This band has moved up to number one on my list and I've only started listening to them last year! Chris's vocals, screams and their style is all great, this band should be in the top five AT THE LEAST
I don't see why they are rated 18. They are amazing. One of the best screaming bands
Deserves a #1 position they are the best if you haven't hear them you gotta hear "santa's pissed"
Such a great band, saw them a couple days ago and they were brilliant live, definitely one of me favourite bands
I personally think they shoul be higher but everyone has different opinions. But good choices, I love motionless in white. Their lyrics are meaningful. If you listen closely to the lyrics you can hear messages such as "don't be afraid to be yourself" and such.
Chris Motionless is my idol. I mean I love everyone in the band. I look up to them for my style and everything. They are my favorite!
This band is awesome. There's no other way to describe it. Just awesome.
Their first album is the perfection but the other 2 while they are still awesome aren't as good as creatures.
I love how all their songs have a deep meaning (except some of them but it wouldn't be awesome otherwise)
I love this band it's teaching. You that differenrent is good and don't be afraid to show people who you are you your own person you live life as you please and that is all the members of the band wants to tell you so don't be afraid to be yourself
This brings memories of Marylin Manson this is true music
All the members are sweet, kind, funny, fabulous and at times creepy. But they are themselves never copying. Original. And amazing. #getthemhigher. I love them. They are the reason I am singing and being happy. They make me happy even when I'm sad.
MY favorite band should at least be top 10
Dirty breakdowns make this bad supper epic you need to listen to their whole album
These guys should be at least top ten! Seriously not 23
MIW should be more higher then just 13! They should be in the top 5. And I never, ever hated or didn't like a song by them because evey single song is just so great and they make me feel happy with there awesome fantastic songs! I'm only 11 and I love them. I've been into ROCK since I started school. I LOVE THEM they should be higher! And CHRIS makes me so happy everyone makes me happy!
Motionless in white need to get higher.