Atif Aslam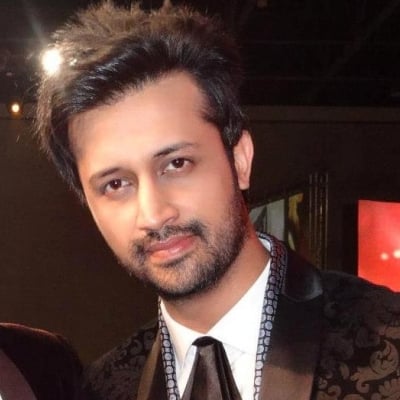 Found on shortday.in
Info
Muhammad Atif Aslam is a Pakistani singer and film actor. His movie debut was the 2011 social drama Bol.
Comments
Top
Popular
Newest
He is my favourite singer because I like his voice. I'm saying that sonu nigam can sing much better then Atif Aslam but can you see sonu nigam is singing more songs which are hit in 2013? No because today Atif Aslam songs are hit then anyone. Like be-inteha, jeene laga, janam janam, main rang sharbaton ka etsectra-etsectra.I know that some of you people will not like these songs and tell"bekaar gana sab to hai" and if you will say that, then you don't know any thing about music. if you think that "chhodo paisa kum leta hoga isliye sub ishiko itna gana gata hoga"but these is not true guys lata mangeshkar sung more then 1000 song. Then what it means that she is not a good singer? Guys it not true that good singers sing few songs only that's why Atif Aslam is hittest singer of these period (2013) and atif means hit & hit means atif. Please don't sing for time pass, before releasing your song know from sinior singers that it is good or not because your some songs are ...more
He is the best singer according to me because I had won so much praises in singing and I always sings only atifs song and his hard song according to me is KINARA of meri kahani album. First of all, his sound is unique and sweet. He can sing sad song, mostly romantic songs, rocking songs because he is rockstar, happy songs, etc.But many people don't like his songs because he also sings besura songs but they don't see that also sings hittest-hittest songs. That's why senior singers also don't like his songs but his ranking in Indian singers is 18th if we will count Rafi, Kishore, Asha, Lata, etc. Whereas very good and popular singers is 20 or below like Mohit Chauhan's rank is 20 and Sunidhi Chauhan's rank is 19, etc.So, think about it.Bye and thanks for reading my comment.
ATIF ASLAM NOT ONLY POP SINGER HE WAS WORLD'S NO. 1 SINGER AND HIS ALL SONG FAMOUS AND WORLD NO. 1 SONG HE SUNG LOVE SAD ROCK POP ALL TYPE SONG SO ATIF ASLAM NOT 13 NO. SINGER ATIF ASLAM NO. 1 SINGER
MOST FAMOUS SONG
TU JANE NA
TERA HONE LAGA HOON
PIYA O RE PIYA
WO LAMHE
AADAT
PAHELI NAZAR
BE INTEHAAN
TU MOHABBAT HAI
BAKHUDA
DIL NA JANE KYO AND MANY OTHER SONG
Atif you are Wonderful and No 1 Singer of the World... your voice is Awesome and I want to see you most successful in my life... GOD BLESS YOU Honey
Because I love his voice and I think he will be a very great singer he is good and nice song creator because he is very extreme singer and many people like his voice and in feature he will be a famous singer in whole world and I love his voice he is a real singer that's it
As 4 me... He is "the" best singer... And I hate the Indians who is against giving a Pakistani an award... I would'nt have enjoyed songs if it wasn't for him..
Before you I like sonu nigam but you had killed him. Your voice is really superb, it is refreshing. I like your all songs.
I LOVE YOU...
Atif your real rockstar your voice are great you are superb your song teri yaade is outstanding and aadat woh lamhe are superb I love you atif aslam please perform the surkshetra in teri yaade

Your voice is so good I have no words for Atif because my heart is good feel when I play Atif songs and you are the best singer in the world. I am a big fan of you.
Well, I don't really think that this ranking here is correct. Kishore Kumar at no. 11 is shocking. Anyways, Atif Aslam has to be in top 10. He's a young talent and must be appreciated.
No body has a voice quality like atif
If you will listen to his songs you will know that he doesn't need anyone support to sing that's why he is the best and I love atif
M the biggest fan of him... Actually met him nay times... But he didn't noticed personally.. Want to get close with him.. Please help
A Pakistani is always a musical legend and AADEE's song THE the imagination of a better world in every of his fan's mind
Tif Aslam a wonderful singer... Unique voice... Even a very poor song ll be beautiful when atif executes it... That is the quality of his voice and singing.. Really worried about why he is getting insulted by other senior singers in many stages.. And I strictly believe that best singers are chosen by the people.. None else can do that... And this poll result is an absolute reply to all those who insults Atif in many stages.. Atif is the best singer in this generation and he has his own identity, that is his unique voice.. We all with him... Love you Atif...

He should number 1 not no-2. He is the best singer in Asia. His voice is too exceptional. I like him most. (Michael Ashraful). I am the biggest fan of Atif Aslam boss! Because of best voice and singing style anyway keep this on top according to my suggestion
Atif is the best singer ever... There should be no any comparison of atif aslam in these seniors, they aren't deserve to compare themselves with atif.. He is the really big star.! "HATS OFF TO ATIF" ATIF YOU ARE THE BEST...
His voice is outstanding he is not an Indian but his voice is more sweet than kishore the I am greatest can of him I like his song tu mohabbat hai
He must be in top 10.. He is one of the best singers... Singing with full emotions
I think you are awesome. I love your songs. I hope you to be the number 1 singer. Your songs are just mindblowing. You sing from the debt of your heart and your voice is just that nice I can hear them all day. Thanks for choosing your carrear as a singer. Please sing more such songs making us happy.
He's the fabulus singer and a rockstar there is magic in his voice he's multi talented a guttarist a rockstar an actor.
The singer with unique voice... The most beautiful voice. May song poor in lyrics, tune, etc... ,but his voice makes the song beautiful and perfect - ahiwale725
He is the best singer... He moulds every song in a very soothing manner... With voice belting technique... Vry talented and exceptional artist of dis generation...
Atif is such a superb singer.. The way he sings in Higher notes is awesome. He has got the best voice in this contemporary world. The delicacy in his expression of all kinds of feeling is mind-blowing. He is rated the most famous celebrity from the sub-continent, second only to Shah Rukh Khan. Wishing Atif more and more success
Aatif aslam you are a yound amazing singer in Indian and Pakistan history your voice quality is good aatif aslam was started singing career with jal band and sang aadat song is a very populer songs list.
He should be number 1. A wonderful singer in India, I like him most (MOHD Aman).
Those who are saying that he can't sing they are just jealous of his voice.
The most versatile singer India has ever produced, sang each song with such distinction, that left the listeners spellbound. The effortless transition across the entire range without any strand of strain, flawless emoting made him the king of playback singing... No doubt his humility, unassuming attitude, soft spoken nature, and reverence for mankind produced such a voice which came direct from heart... It's true that music is about emotion and not only technicalities, and he was master of both