K.S. Chithra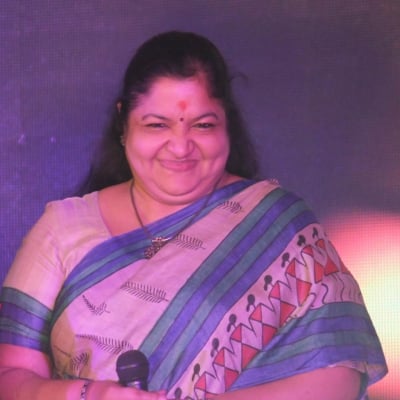 Uploaded by yaygiants16
Info
Krishnan Nair Shantakumari Chithra, often credited as K. S. Chithra or simply Chithra, is an Indian playback singer from Kerala. Chithra also sings Indian classical, devotional, and popular music.
Comments
Top
Popular
Newest
K. S. Chithra is the best female singers that I have ever heard. She manages to put all the technical things into singing yet draw so much emotion out of a song. Many female artists are great in the sense that they have a huge vocal range and are able to sing everything in tune, but a truly great singer is someone who is able to make the audience feel what the song is about, at the same time. I have never seen anyone who can sing live like her, she sing with such emotion. I absolutely love her. She never needs to do a sound check as practice on perfection. Absolutely beautiful voice... she's cute with those glasses too She is amazing live and interacts with the fans as a lot of singers do not. So that alone should give her the #1 spot - clinten
Only one best singer in the world that is our chithra. She is god"s daughter. I have no words explain her voice, sound, good music every thing. When we compare other singer she is very high from all. Her smile is very sensitive. India' vanampadi is chithra not sarogineenaidu. God'nest my life please give her voice to me
Chithra has the most incredible voice EVER. She can sing anything from folk to rock, pop, ballads and opera. And excels in all! Her range and clarity are unbelievable. ""The spectacular Indian singer..
SHE HITS SONGS HIGH N0TES LIKE N0 0NES ELSE, and TRANSITIONS FROM HIGH T0 L0W S0 SM00THLY. Definitely. 1 OF THE BEST. A GREAT RANGE
She is very wonderful singer in world wise. She's songs is amazing she is very great singer. She is singing world QUEEN
CHITRA IS VERY GREAT IN WORLD
No doubt she is a fantastic singer. Beautiful voice. Also very nice person, I have watched her conducting super singer in vijay T.V. her way of commenting is so good, she does not hurt any contestants, always give them positive feed backs. Tries to correct their mistakes without hurting the participants.
She is versatile and Her rendition of romantic, soft and sweet and chill
Greatest singer that Indian sub continent has ever produced to the world.
She sings very beautiful. Her voice sounds like nightingale. She is also beautiful
No one can be better and greater than her.. She is the ANGEL OF MUSIC... She can sing all kind of songs...
She is the best female singer in who have born in India. Really she has to top the list she is best singer and her songs are the evergreen hits. So how can she be 11th
She gets involved to the best when she sings... It is from the bottom of her heart where each of her vocal feeling arises...
She is versatile... Amazing singer... Her songs for AR Rahman... Still unbeatable.. Down to earth... Humble.. Wonderful singer
Most sweetest voice among female singers, and one of the most talented musicians India had ever seen. May god bless her.
She has got an amazing voice, only yesudas is above her, we are waiting for your come back,
I think she should be number 1.No one on the list can sing better than her.
she can sing all languages with depth - VKKLAW
K.S. chitra is a heavenly angel in the view of her fans and all the music devotees. My personal feeling is that she should stand in the first place in the list of top most female singers of south India. I prey the God to make her live for more than 100 years and make her fans let live with her melodious voice
Best singer in India, dedicated singer, she sing different type of song
She is one of the best singer all across the world can sing any type of song very easily
Her best voice and perfection in singing makes her the best.
She is the best singer in the world there is no second thought about it
She has won national awards 6 times, which is the most by any female singer, and more than 30 state awards. Chitra is the best!
Now, she is india's number 1 female singer, there are no doubt in anybody...
Best singer ever with passion and perfect