Sonu Nigam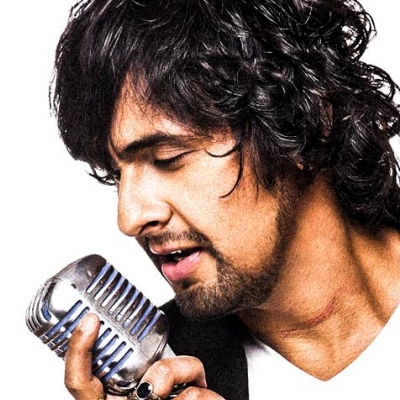 Found on saavncdn.com
Comments
Top
Popular
Newest
Sonu nigam is the greatest singer ever, well I tell you why -he has the most melodious voice my ear have heard, took a v. Hard challenge by singing songs of Md. Rafi to tribute him and some songs like 'tum mujhe yu bhula na'and many better than Rafi saab(sorry to rafi and his fans )this is itself a biggest thing, then now a days he sings that sort of songs as if those are made especially for him because songs are v. Hard and made me think if he had not present those songs would have not been so good. He has sung all the forms of singing present, better than the maestros present especially for that. This is a ridiculous thing. I wonder how one can do this, hats off to him he is a true legend if not more...
What a nice Singer, have good voice & pitch. And also can sing in many languages very nicely, we can say he is a same follow copy or following the same way of Mohamed Rafi the gold singer. If I comment & rating in this site Mohammed Rafi & Sonu Nigam will be the top one in the singer ranking. I really like a beautiful song in Sonu Nigam voice, that is Main Dunia Teri Shod Chala, Jara Soorat to Dikhla Jana. Please try to listen this song a once than go for ranking in the listed singers name or if your new or very less listener to Mr. Sonu Nigam Just try once then judge him. Really beautiful voice, I loved
Comparing Sonu Nigam and Atif Aslam is an insult to music and singing! Atif Aslam knows nothing about the music, never rate any one by the race country or anything except Talent. Atif aslam has a unique voice but it doesn't make him a good singer. I don't want to waste my time talking about him, sonu nigam is a God music in this era! after Muhammad Rafi he is the one! Respect and appreciate the real talent please!
Sonu Nigam is the best singer ever born. He is my all - time favorite And also he is the best live performer. Love him a lot He is the best Thank you God for giving us Sonu Nigam May he keep on singing forever
Hahah. Atif is good than sonu... Great comedy... TO hell... Sonu is magical singer... He can sing all type of songs... He sing numerous various languages include english, dutch, spanish...
sonu nigam is the best singer of india. his all songs are really awesome, and give freshness to heart. he is evergreen singer in india. his voice like as honey. I can't live without sonu songs. he is the all time best singer. no one can beat him. he was born to make an history in music. we love you sonu
He has such a sweet voice! Also he sings in various languages! When he performs stage shows, he enjoys show also he entertain the people! We can say, He is not only a Singer, But also a complete entertainer! Love you SONU!
I say that sonu nigam is the best singer of the world, Because such a voice and such a talent no one has I believe that sonu nigam in all type of songs is perfect. Above than percentage if I would be judge I would give him percentage, 10000000000000000... %
He is the one who can sing any kind of song that too beautifully... His voice quality is just awesome... Listening to his songs one can actually feel the vibes... He is the ultimate... N gonna win for sure...
He is number 1 singer in india, people says mohd. Rafi is number.1, but quality wise if you check you will find sonu is number.1, not because I like sonu, but actually singing talent and quality which he got, its a god gift. Keep it up sonu, this is our bad luck that our bollywood does not give any special attention on singer like a hollywood. Singing and movie are two different things. But in india, its totally a different, but never mind sonu, your voice is superb
Never ever heard a singer who can not make faults... But the real strength that Sonu posses is that he can sing a classical song as if a classically trained voice is singing.. Then if you see the transformation from Eastern to western that is again just too good, one may get an impression that he is a western singer.. Similarly be it dance, pop, ghazal, qawalli, romantic, bhajan, naat, songs in different languages, rock, jazz etc etc.. What ever genre you may hear you will be bound to believe that he is the singer of only that genre! In short the real meaning of VERSATILITY is SONU NIGAM!
I think he is the best in his profession.
As much he knows I don't think so that no man knows singing n all the languages and voices.

He is the best singer ever. No can beat him as he is such a singer who can sing any type of music from devotional to remix perfectly.
Most Versatile singer. He Can Sing all types of songs. Blessed By classical, semi classical, western, Pop, Rock And Many, He Has sung in 20 Different Languages and over 10000 songs. He is also a good live singer. He sings With the soul Without a break for 2 and a Half Hour. He is Concentrating more Doing Live Shows as he had 1500 concerts till the date. Great, For me He Is in top 10 Global singers.
He is all time best singer in the history of Indian music... Amazing voice quality and maturity! No one can beat him...
Mukesh, rafi, kishore etc became legends in a monopoly market... While sonu nigam has reached that same level or even exceeded in a perfectly competitive market where there are more than 1000 singers tryn to step into his shoes...
He is very versatile singer of not only India he is not comparable in world. He can singing any any voive of big singer like rafi kumar sanu udit narayan shaan kishore kumar so I love him very much he is god of vocal
Sonu nigaam is a complete package, he can sing in 54 different voice and he will be in the top 10, he is best playback singer.
Sonu nigam is perfect singer in Bollywood. He sung many songs in any languages so he is my all time favorite. Singer and also no one singer at this stage.
Another I have taking about shreya ghoshal is also good singer. Sonu & shreya both are good for Bollywood playback singing

Keep it up
The most versatile singer in the world.. Best voice ever.. He's the only one who can sing both Indian and western songs so beautifully.. Love him to infinity.. Sonu ji should be no1..
He is my god... What can I tell about him.. He is just godgious.. Love you very much sonuji.. You are amazing... Mesmerizing... You are the real icon of the youths.. When I hear your songs I feel better.. Your voice is heart touching.. I feel my love in your extraordinary songs.. I saw you once.. But I meet you once in my lifetime... Lovely... Sonu roccxx my world.. Sonu rocks the world... Love you forever.. And ever...
He is perfection itself.
A flawless voice, a beautiful heart with the talent of a genius.
BEST. SINGER. EVER.
it. is. a. perfect. singer. indian. powerful. greatest talent. playback. singer. sonu. nigam. is. album. very. butiful. songs. sonu. nigam. is. my. favarate. singer.
Obviously people voting here either don't know much about music and singing or they haven't heard good singers much that atif aslam is above sonu nigam on this list.. Altough most of the people know that atif aslam dosen't even know how to sing.. - anuragjain
I love him very much. What can I say about him? He is my musical guru & he is my jaan. I was a big wish that if I could learn sing from him & if I could see him. But one day I will be will be a good singer of him. Last talk he is my jaan jaan only jaan. I love him very much
No one is better than sonu nigam. He is the greatest singer in the world. He can sing everything without error. And for me he is like a god. And we love him a lot.
Related Lists

Best Sonu Nigam Songs