Apple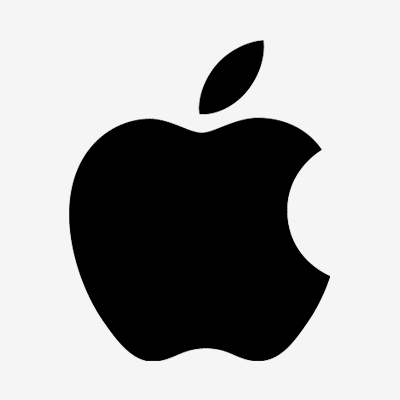 Uploaded by anonymous
Info
Apple Inc. is an American multinational technology company headquartered in Cupertino, California, that designs, develops, and sells consumer electronics, computer software, and online services.
Comments
Top
Popular
Newest
Samsung is great, I must agree but they clearly stole Apple's ideas. Overall, Apple is only second because of their price and maybe a few technical specs. In my opinion IOS is way better than Android, because you are safer from viruses and of course, Android is too complicated to use and can crash very easy. If Apple reduces their prices and improves those few technical specs, they will beat Samsung and be second to none. And also, to those who reckon Samsung is stylish and nice, watch an unboxing video or buy any Apple product, you will change your mind. *I am no Apple fanboy, in fact I much rather Microsoft over MAC but in phones and tablets, Apple rules.
iPhone has the best touch screen in the world... very sensitive not like others... especially blackberry... it sucks and ugly
iPhone makes the same phone with same features only the difference I saw was it was getting bigger
Apple is much ahead than Samsung... I personally do not like Android layout at all, and the only good part in it is the part they copied from Apple... They may have many kinds of phones but iPhones are classic and much better. Other Samsung products are amazing is a different thing but iPhones have better quality better apps. Plus Samsung phones are too huge and their outer design is also not too attractive. iPhone 5c has a lot of colours but samsung wont improve at all... We just have a perspective that they rock. I believe Apple is the best and after that comes Nokia Lumia... Have you noticed the amount of improvement they made. I don't think you should judge Smartphones by their quality but about the scope of improvement they make after every version. Well in that case Nokia will be the best but even after judging quality Apple is before Samsung! I am sorry if I hurt anyonnes opinions about these phones but this according to me is the truth! I suggest you should vote for Apple ...more
How are they much ahead? Samsung actually has more market share and they are much more innovative than that crappy iPhone
Apple is the best there is... I don't see why Samsung is king and not Apple. Everyone that I know would much rather an Apple phone than a Samsung phone. I would prefer an Apple phone as in my opinion is easier to operate then a Samsug. Yes Samsung has lots more apps but no one uses them and it's just a waste. At least you can download the apps that you want. Yes Apple is expense but what would you rather? A phone that is expensive but does exactly what you want or a phone that is cheap and has all these unnecessary apps that you don't need and also confuses you and others.
Apple is the best! It is to believed that samsung has copied many of the iPhone features. Samsung is good but Apple is more popular and more premium. The design is awesome and the app store is amazing too! It is really secure. There are many cool features and it cannot be noted down here because there are many. Apple truly is the best!
Not only does Apple have the best software, but it has one of the most powerful ones as well. The reason Apple is doing so well, is because their phones are user friendly. The success to selling a phone, is to create an OS that everyone can operate. The iPhone has one of the most user friendly OS's in the market.
I am iPhone user and I simply love to use this brand although Samsung is at the top of the table but still love apple no one can mess with this brand... And I want that apple should improve move in order to beat Samsung
Apple is not just inventive but also simply innovative.. They focus more on functionality and not just on interactive purposes.. They also has their own identity.. Love their one of a kind concept design and fine detailed precision.. Keep it up Apple!
Apple is clearly the superior brand. Steve Jobs created the future and Tim Cook picked up that torch and carriers the company onto the future of technology. Years from now when we look back, the whole world will know why Apple is superior and why no-one can do what they do. Apple dominates.
Apple is the best. Steve Jobs is amazing. iPhones are graceful and perfect. Samsung and other phones just lack of that quality. It makes sense that Samsung ranks first here since a lot of people can't afford apple and thus buy samsung, convincing themselves that samsung is better... WELL. I would say that EVERYONE WHO CAN AFFORD APPLE WILL BUY APPLE INSTEAD OF SAMSUNG/HTC/ETC.
Samsung is only first because they copied Apple STEVE JOBS was brilliant better than anyone at samsung. The quality is way better anyways Apple has way more money if you like Samsung you wasted your money Apple is way more easy to use to, Samsung is extremely SLOW.
Come on, it's Apple that we're talking about. Premium product with premium brand. Previously I tried Samsung Galaxy Tab 7.0 Plus and I was very disappointed in many aspects, so yeah Apple should be the winner.
Apple is the Most powerful Smartphone making companies of the world because of its touch and camera and everything its added are stronger then all other smart brand Samsung is tough I considered it the 2nd best but no. 1 is and was always be apple
The company that started the smartphone craze. Apple is amazing. Samsung can be quiet, Without apple you wouldn't be here.
Yes Apple is really fantastic. I love it. I don't know others opinions but for me apple is the greatest brand in the world.
Apple has a much nicer design samsung in my opinion. Apple is also really high class and when you hold an iPhone you just feel really classy and stuff. Apple has improved a lot. I mean they have made everything much easier on the phone with iCloud and all that. In my opinion apple is the best
I have no problem with apple, Steve jobs is like one of my favorite person ever. But I don't like the people who think apple is superior than any other smartphone.(which it obviously isn't)
iPhone is the world's smartest lightest and simplest phone
Many people think that the Galaxy S2 is superior to iPhone 5. It doesn't even beat the iPhone 4s at that time! The screen was horribly saturated, the camera is gross compared to even the iPhone 4s. The iPhone 5 was also WAY faster than the S2. I migrated to apple since the S2 I've never regretted.
The solid brand apple is synonym to quality and perfection. Apple stable is always for those who want to sure that they get the best.
Just feel with your hand the un matched quality and perfection... Rest of the phones feel like a plastic toys... Simply awesome...
I like apple products than the samsung products. I can't believe that apple is in second position...
I am an apple user now when I purchased apple and used it then I relased the qualities it has a smooth touch very attractive display better than any smart phone brand in the world it has a faster internet, the camera resolution is better than samsung..., it should be no1 in the world... I don't think that samsung should be given number 1 brand in world.
It's the best ever because it simply got made first and they come up with the ideas with get copied by the samsung losers!
I was a Apple fan till Steve jobs existed. I have a MacBook pro, iPad mini and I used to have iPhone4s very back. But after Tim cook took the command, Apple sucks now, iPhone 5 was last product on. Which Steve actually worked. Now I am no more Apple fan. But I still love OLD Apple and jobs. I have all products designed by him
Related Lists
Top Ten Reasons Why Apple Sucks
Top 10 Types of Apples

Top 10 Favourite Apple Personalities
Best Songs from the Tragically Hip's Road Apples