Best Soccer Players of 2010
The best 10 players in the world in the 2009 / 2010 season.
The Top Ten
Lionel Messi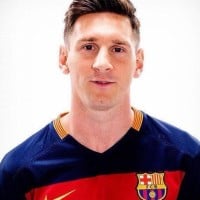 Lionel Andrés "Leo" Messi is an Argentine professional footballer who plays as a forward for Spanish club Barcelona. He is also known as one of the greatest football players of all time. He was born in Rosario, Argentina on June 24th, 1987.
Messi is not only hott and nice he's for me the best soccer player in the world I don't care what other people say I know that what I'm saying is true what I also love bout him is that he has the most adorable face in the whole world such a kid face love it and I hope your dream is still alive messi cuzz ever since maradona left uve seem down and it make me feel really bad and sad that your not playing how you used to so plz hope your still happy love ya
Here's the lowdown. Messi is a supremely skilled dribbler who can dribble around defenders in tight spaces.C. Ronaldo is a sprinter who can dribble aggressively and vertically; he can exploit space well. Messi scores creatively, a wide variety of shots.C. Ronaldo has a much stronger shot that dips. Messi is uncomparable when it comes to control and technique, especially when the ball is on the ground.C. Ronaldo is a huge aerial threat. So who's the better player? I'd go with Messi.
He is the greatest player in the world he has the most ball control unlike. Cristiano Ronaldo he cannot dribble he only does the step over every single match and that's weak. All the best to messi
Messi has an amazing ball control and speed when dribbling. Ronaldo can't control the ball as well as Messi does. Also Messi has better accuracy of shooting the ball around the penalty box
Cristiano Ronaldo

Cristiano Ronaldo dos Santos Aveiro is a Portuguese professional footballer who plays as a forward for Italian club Juventus and the Portugal national team.
ronaldo IS SICK SO EVERYONE WHO THINKS MESSI IS COOL IS MESSED UP AND ZLATAN SHOULD BE 2 WHILE RONALDO SHOULD BE ONE AND TO THAT VILLA COMMENT RONALDO WAS NAMED MAN OF THE MATCH ALL OF HIS GROUP STAGE GAMES AND VILLA IS A HOG AND I HATE VILLA, INIESTA, XAVI, PEDRO, AND ESPECIALLY MESSI AND BARCELONA STINKS
The world hasn't seen much set piece takers like Ronaldo for a long time. Possibly the greatest freestyler in history, he is only matched by Brazillian Ace Ronaldinho. He is a Wing Forward (WF)
The best all round player, free kick, striking, midfield, crossing, passing, speed.
The player with the biggest flex and swag;
"the special one"
he is fast, good on the ball, got more skill and not afrade to use his tricks to pass people not a ball hogger unlike messi
Xavi
Greatest holding midfielder of recent times, he has, in one of his matches, reached a passing success rate of 92. He is a Central Midfielder (CMF)
He is the best midfielder in the world. He has already surpassed many but, he will soon surpass all.
Superb passing skills and excellent dribbling skill
THEY SAID IT, HE PASSED MESSI NOW. - skullgangjewelz
Wayne Rooney

Wayne Mark Rooney is an English professional footballer who plays for and captains both Manchester United and the England national team.
rooney's simply the best. there was no match he didn't perform up to expectation. ronaldo didn't play well in the 2 el-classicos, messi played woful against inter and who can tell me a match rooney dint play well? bayern's defenders were so afraid that they were goin for rooney's injured ankle... y? because he is d best. evri 1 waz afraid of ronaldo when he waz world's best nd ronaldinho... itz rooney's tym... watch out 4 him during the world cup

First began to shine in the 2009-10 season, as he wasn't able to reach his full potential until Cristiano Ronaldo left for Spain, and in 2010, he was almost crowned Top Scorer of the FA Premier League, though his injury towards the end of the season gave Drogba the award. He is a Center Forward (CF)
the best didn't geet the golden boot cause of injurys or he would have got it easily
He is a boss best at offense
Kaka

Ricardo Izecson dos Santos Leite, commonly known as Kaká or Ricardo Kaká, is a Brazilian professional footballer who plays as an attacking midfielder for Orlando City SC in Major League Soccer and the Brazil national team.
Won the prestigious FIFA World Player of the Year in 2007, along with the UEFA Champions League, finishing the tournament as Top Scorer. He is an Attacking Midfielder (AMF)
Absolutely great great great great great player of world I have ever seen seriously he is just awesome with exceptional technique accurancy and vision - satyaki75
Amazing, he's way underrated.
David Villa

David Villa Sánchez is a Spanish professional footballer who plays as a striker and also serves as captain for New York City FC in Major League Soccer.
Argentina Loses in WC Coz oF Messi, Portugal Coz Of Ronaldo, England Coz Of Rooney. But, Villa Will Win WC For Spain.
Villa has to be in second
Cesc Fabregas
he is better than ronaldo and messi. he is the best player in the world


he is an awesome player! thats all!
Zlatan Ibrahimovic

Zlatan Ibrahimović is a Swedish professional footballer who plays for an English club Manchester United and the Sweden national team for which he is captain.
my favorite soccer player and he should be number 4 at least

Fernando Torres

Fernando José Torres Sanz is a Spanish professional footballer who plays as a striker for La Liga club Atlético Madrid, on loan from Serie A club Milan.
A prolific goal scorer, Torres is one of the best strikers in the Premier League. Noticeably scored the winning goal against Germany in the Euro 08 Final. He is a Center Forward (CF)
Torres rocks to the core the beast the best
Andres Iniesta

Andrés Iniesta Luján is a Spanish professional footballer who plays for FC Barcelona and the Spain national team.
He is a great all-around player, as he is able to dribble, pass and shoot equally well. He is an Attacking Midfielder (AMF)
The Contenders
Javier Hernandez

Javier Hernández Balcázar is a Mexican professional footballer who plays as a forward for German club Bayer Leverkusen and the Mexico national team.
age 22= amazing
age 23= superly amazing
age 24= world superstar
age 25= pele younger version - egillaxelsson
Iker Casillas

Iker Casillas Fernández is a Spanish professional footballer who plays for Portuguese club Porto and the Spain national team as a goalkeeper.
Steven Gerrard

Steven George Gerrard is an English professional footballer who plays for Major League Soccer club LA Galaxy.
One of the greatest Englishmen in recent years, he was part of the supposed Golden Squad for England in the World Cup 2006, though they crashed out of the quarter finals to Portugal, he also captained Liverpool to their first Champions League victory in 21 years. He is a Central Midfielder (CMF)
Steven gerrard rules that is my best player
Frank Lampard

Frank James Lampard is an English professional footballer who plays as a midfielder for New York City FC in Major League Soccer.
Gianluigi Buffon

Gianluigi "Gigi" Buffon is an Italian professional goalkeeper who plays for and captains both Serie A club Juventus and the Italian national team.
no lose
Wesley Sneijder

Wesley Sneijder is a Dutch professional footballer who plays for Turkish club Galatasaray and the Netherlands national team.
He's the best, he played like a beast in South Africa. He was the best goaller in 2010 South Africa
Diego Forlan
He won the golden ball in FIFA 2010 he was one of the best player in 2010 and should be in top 5 at least.
HE SHOULD BE IN THE TOP 5
Miroslav Klose

Miroslav Josef Klose is a German professional footballer who last played as a striker for Serie A club Lazio.
He has named in history
Robin Van Persie

Dutch footballer from Rotterdam born on August 6 1983. Currently plays for the Turkish club Fenerbahçe S.K and The Netherlands national football team as the number 11. Robin Van Persie is known for playing for Arsenal and Manchester United, though his most notable goal was his header against Spain ...read more.
Luis Fabiano
Rio Ferdinand

Rio Gavin Ferdinand is an English former professional footballer who played as a center back, and current television pundit for BT Sport.
Mehdi Rahmati
The king of soccer
Nemanja Vidic
In my opinion, the greatest defender of the season, even better than John Terry. He is a Center Back (CB)
Edwin Van Der Sar

legend
Alessandro Del Piero

Alessandro Del Piero Ufficiale is an Italian former professional footballer who played as a deep-lying forward.
It was the best player of the world it should number 1
PSearch List