Gareth Bale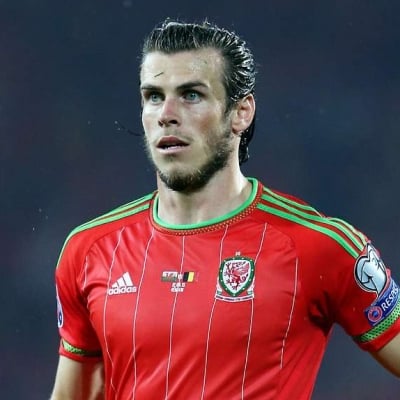 Found on cachefly.net
Info
Gareth Frank Bale is a Welsh professional footballer who plays as a winger for Spanish club Real Madrid and the Wales national team.
Comments
Top
Popular
Newest
He is much better than RvP and Rooney
And Neymar and Falcao and all the
Others except for Ronaldo and Messi.
But I like Bale more.
It's loads of children's hue loves
Barcelona (Messi) and
Real Madrid (Ronaldo) just because
They win each year but there not real
Fans because they just vote for the best.
Like Neymar is not worth to be near 1-2-3-4-5 in the world. because he hasn't Shoad that
He's Ben good in Barcelona.
Santos isn't in a great league so the
Have no pro aponens so it's easy to
Break throw all the players in the
Other teams.
If you hold in a club do it for your hole life,
Don't pick the ones who win because
Any team can win the league.
Top 10 should have Falcao and Cavani.
Football is not made for the best it's
Made for having fun watching it and
Hold on a team for life.
I always say: TO DARE IS TO DO, because
I'm an spurs fan for life. I've hold for Spurs
All my life and i
Did anyone watch this man play? As a winger, Bale destroys defenses and manages to get back on defense. Bale is one of the fastest players on the world with a ball at his feet and has the best shot outside the box than any player in the world. Bale is one of the strongest players in the world, as well. Right now, Bale is playing better than Ronaldo did at age 23... Bale deserves to be in the top 5 on this list, withouts a doubt. Torres shouldn't be in the top 5. Neymar, Rooney, Ozi shouldn't be in the top 10
Gareth Bale is the best player in the world in my opinion, if spurs sell him who will they get in return. Spurs can win without him, Bale is Definitely NOT 16th world ranking. He's way better than Torres, Better than Ozil and Rooney. For me Gareth Bale is 5th and higher.
Bale is pure class.
He is on a similar level to Messi and Ronaldo with the added bonus of being versatile as when joing Tottenham he played left back.
If you don't agree on how talented he is, just watch some of his goals.
I think bale should be in the top three because his won player of the year and he has been best player for spurs. He is a quality player for what ever team he plays for and my opinion I think he should be remembed
Gareth bale should be the second or third because he's better than rooney, neymar and Messi by miles maybe Messi is like Gareth bale what I think is next season Gareth bale will be the footballer of the year in real Madrid
Gareth Bale definitely in the top 3 I think because he shows great skill from Tottenham and now at Real Madrid. He is super fast and has an unbeatable left footed kick. Watch videos on YouTube of him if you doubt his goodness
Gareth Bale is the future #1 of the world he is an all round player with speed, dribbling, strength and talent for free kicks he should be on the top 3 players of this and will be a amazing in Real Madrid
I think bale is one of the best players not just in the united kingdom but the whole world, he has all around ability in the game, and I think he will make a great addition to real madrid
There is a reason Bale won all those awards and its not because he is overrated he is a great winger he is way better than Neymar although Neymar has more skills Bale is was stronger and quicker Bale easily deserves top 3 he is the best player in the premier League which means he is better than RVP
He is such a complete player and basically carried Spurs last season. Bale is a lot more consistent than Neymar and whoever gets him in the summer will be very lucky.
He's a great player the range he can score from and the quality of his runs the defenders stand no chance against him he deserved the PFA young player of the year he will be in the top 5 within a few years and if he does move to Real Madrid he will become unstoppable
Bale has had a sensational season! He's made spurs one of the best teams in the UK I would expect at least in the top 5, Ozil in front of Bale? That's not gonna work come on and Torres? Correct me if I'm wrong but I don't recall him being player of the tournament and scoring 26 goals, I know it's not necessarily the goals that count but they were absolutley outstanding and he's a playmaker at least top 5, even top 3.
If you agree thumbs up!
Gareth Bale should definitely be the number 1 soccer player right now! He's good with both feet left and right and his skills are really good and he can run really fast.
Best player, I've seen in the whole season is this man, Bale. Because Bale has single handedly brought tottenham to victory countless of times in the season.
Bale is a outstanding player he the best welsh footballer in the world I think he should be 3nd cause he noway near as good as Ronaldo or Messi
I think he has had a amazing season this year he's been outstanding and he bring light to tottenham hotspur football club
He is athletic and was signed with a record fee I believe he is top 3 and is my favorite player
No ronaldo no messi can ever be compared with a such skill. Only name and reputation doesn't mean everything sometimes you obviously have see a man practically on the screen how he is and how he plays and the bale played few last seasons for totenham it was unforgettable having one man show and winning games for his club which cannot be underestamated
Bale is as good as ronaldo or messi he is faster than both of them he can score from any where to me he is the best
Midfield maestro he is absolute legendary he should play for a different team like man city or man united.
Bale bale bale bale bale why can't I stop saying his name he is wonderful. Better than Messi beat Messi fans
How is the best player of the premier league 17th, should be at least in top ten. Keep up the good work bale.
Gareth bale is a scoring machine he should be ahead of rooney and van persie
Gareth Bale is in the top 3 right now. Much better than show-off skills Neymar as Bale is actually good.
Related Lists

Best Clubs Gareth Bale Has Played For