Lionel Messi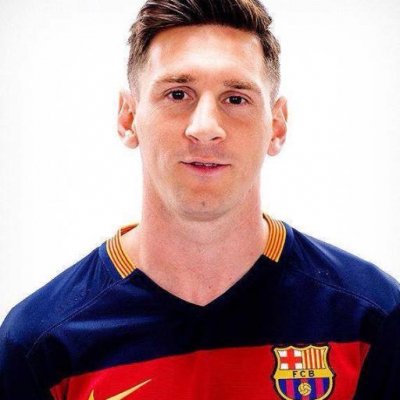 Uploaded by Milkshake
Info
Lionel Andrés "Leo" Messi is an Argentine professional footballer who plays as a forward for Spanish club Barcelona. He is also known as one of the greatest football players of all time. He was born in Rosario, Argentina on June 24th, 1987.
Comments
Top
Popular
Newest
I saw play pele, maradona, cruyff, gerd muller who was an amazing player, he made germany world champion, against cruyff in 1974, because he could put the ball in the right spot, and messi has that capacity, messi has an extraordinary dribbling, other great players are michell platini ronaldo, zinedine zidane and others, but personally I think lio messi is a player of a higher level, his vision of the game is different, to me he is the closest human being to god. To play at that level you has to be very, very closed to god no doubts about it. And the most amazing thing, he is not big, but his greatness comes from inside, he is mentally suit, he think fast, no other player in history could do what he does, not even alfredo distefano, very technical, like zinedine zidane, karim benzema or ronaldinho. I meant up to now lionel messi is the best in the history of football. Plus he is a great inspiration for youth people. Every young kid wants to be like him, and that is good for humanity. ...more
"Lionel messi is the best player of all time! He's the only player who can change the direction of game at such pace. " Arsene Wenger
Recently he scored his hat-trick against Brazil and unfortunately I couldn't find Xavi or Iniesta there! He only needs to win a World Cup and then he is the best player of all time which some people think he already is. Messi has more goals this season than any other player and more assist than any other player. He is the only player that starts from the middle of the ground and faces the goal keeper. If you honestly think, Messi is far better than CR7 or any other player in world. He is a team player and very humble most of all and never boast like Cristiano Ronaldo. Learn to admit the reality, that's what I wanted to say to fans of CR7.
Messi is the best ever! Most goals in a year, in La Liga (50), in the world (73), in Champions League History in a year (14) and in a Champions league match (5) and most assists in a year (29)! He can destroy 5-6 players, Ronaldo has difficulty with more than 2, and is just playing for himself, he did not even congratulate his teammates in Portugal when they scored in Euro this year! And if you see the statistics Ozil and DiMaria, with 30 assists last year make him look so good. He also tries much more shoots than messi. I have never heard of anyone saying Ronaldo is the best ever and he is 27, many say that for messi and he is 25! It is a disgrace to compare them, it is just the media who need a rival for messi who is three classes above ronaldo!
Well, people whom deny Messi's skills, and blind-fully perhaps because they hate Barca, mostly Real Madrid fans, are without a doubt either know nothing about this beautiful game, or drop dead stupid! :D Sissy boy Ronaldo, knows 2 things! One that most players do and have done before him, I mean Ronaldino did it a lot more better, and please, what free kicks, out f 10, he gets lucky maybe with one! :D Again Ronaldinho a lot better in that! And they other, this is cat walk, I dress well, and I am CR7, no one should touch me and let me pass by them.. Touch me, and I fall right away like a cry baby and a wuss! :d Messi, never dives, and arguably the best ever! I am a huge fan of usually Brazilian players, but Messi is out of this world! Undeniable for sensible and knowledgeable fans! :)
The fact that only messi's name in this generation of footballers is being compared with the legends such as pele, maradonna, cruyff, best is enough to show the class he belongs to. People talk crap about a world cup record. Well let them know that if he had chosen to play for Spain when offered, he would have got a world cup by now and be rooting for the second in 2014. 2013-2013 had one or two less than perfect moments for him, but this humble kid has smashed records that stood for years. He may not be your Adonis. He may not even have that six- pack. He's just that lad who plays football so well pele wishes he's Brazilian
He is a legend of all times. What skills would you think good player have? If we talk about scoring you will see that he have succeeded to achieve many records last year. He is a good team player as you see he can maintain his high playing level when he plays for Argentina or barca also a top scorer in the Spanish league, infect he is Europe Top Scorer at all times and he has amazing dribbling skills. You can't compare him to any player as some people do when the compare him to C. Ronaldo. I will just tell them if take the speed of C. Ronaldo which he will lose from injuries and age then he will have 0 skills because that what his skills based on. Messi have the skills, speed and vision and that what makes him a legend.
Everyone in the world who knows real football believes that Leo Messi is no doubt the Best player in the world, Messi has even won 3 Balon d'or while C. Ronaldo only 1. Messi has scored 73 goals in one season, that's madness while C. Ronaldo only 60. Sir Alex Ferugson who coached C. Ronaldo also believes that Messi is the best, NBA stars Lebron James, Kobe Bryant admitted that Messi is the best. Neymar, Ganso, Arsene Wenger, Pato, Robinho, Ronaldo(Brazil), Ibrahimovic, Riqueleme, Juhan Cryuff, they all believe that Messi is the best, while only C. Ronaldo fans say C. Ronaldo is the best, laugh out loud.


MESSI IS THE BEST PLAYER EVER NOT RONALDO. DID YOU SEE HIS FREE KICKS AT EURO CUP THIS YEAR! AND DON'T PRETEND THAT MESSI SUCKS AND THOSE PEOPLE SAYING RONALDO HAD NO PARTNERS 1 THING HE'S GOT BEST KEEPER OZIL PEPE DI MARIA BENEZMA I MEAN REALLY REAL MADRID IS AWESOME! AND ROLANDO CAN'T RUN AS FAST AS MESSI IF HE HAD 10 CUPS OF MONSTER! AND MESSI HAS PURE SKILL I will admit ronaldo is good but clearly didn't learn from the master MESSI.
Lionel Messi Might not have the height and might not be as fast as ronaldo but when messi plays he is a team player that gets the job done every single time. Ronaldo doesn't exactly know how to use teammates. Last year in the 2011-2012 season Out of 50 goals, 44% of them were assisted to messi. Out of 46 goals that ronaldo scored 80% were assisted. He might have messi and iniesta by his side but he creates his own plays he is a Complete player. Messi has unexplainable dribbling that even if your a world class defender its just ridiculously fast as in ronaldo goes fancy and doesn't get the job done as often. No matter what looks nicer its what is more effective. Thanks Marvin #10.
His Just Fantastic, He Keeps Going No Matter How Many Time They Wanna Drop Him Ronaldo On The Other Hand Is A Great Player But He Wines & Cries & EAsily Gets Mad Messi Is Calm Keeps Doing His Thing Does More Assist Den Xavi & Inesta Put Together, Messi Is The Best Player In The World His Proven & Always Shows It He Learned From One Of The Best Ronaldiho (: So Enough Said Messi Is The Best Player In The World & Still Is.
Messi is far more better because for one he passes the ball and is not afraid of giving up a goal for an assist. Ronaldo is way too cocky and brags about everything but on the other hand messi just loves the game. Messi does not need to do all these fancy foot work he can dribble past all these players if he wants to but instead he tries to play as a team, on the other hand Ronaldo just cares about being famous and good. Do not think that I am going for messi just because I'm a fan of his because I think Ronaldo is a very skilled footballer but he lacks the very skills of messi. You are hearing this from a real madrid fan.
Stop mentioning Xavi and Iniesta and them, have you seen the countless individual brilliant goals Messi has scored. A guy who could carry a whole team on his shoulder. Compare the number of assists Messi has created with CR7. He takes on 3 or 4 or 5 defenders to score, was it Xavi or Iniesta who was doing that for him. It is no fault of his that he plays in the same generation as CR7. Anyone who thinks he is better than Messi should please show it or sshh -ONI
Lionel Messi has no rival in the history of football in dribbling, in defense braking, in placing of passes and he is a ramble player that you can not stop. Cristiano Ronaldo is also good, he dribbles and could not pass through most atime, he is always angry and transfers direct aggressions at his inabilities to make it or pass through. Messi takes all his inabilities in good faith, he has broken the FIFA record right from the institution of the constitution of world best in 4 consecutive seasons, above all he never gives up or gets tired until the end of the game, he doesn't play rough rather perfectly skilled and talented. Therefore he deserved to be the best this season.
Messi, Messi, Messi!
By far the worlds best! If Ronaldo was born 10 years ago, or ten years later, then he would of stood a chance. But right now Messi is footballs UFO! His style, his confidence, his mentality, his vision, his attitude, its all there where it needs to be, at the highest level. And he is still young, and younger then Ronaldo. When he retires he will definitely be THE player with the most achievements! Ronaldo fans need to accept that Messi is the best, and that doesn't make Ronaldo a rubbish footballer, he's just not better.
MESSI will always be The Best. Christiano Ronaldo is always complaining and stating that his supporting case is not good enough, well allow me to mention that Real Madrid a whole bunch of super-Stars that always help christiano Ronaldo score and of course every single penalty goes to him. So please come on, Chirstiano Ronaldo, accept your second best role and simply keep playing... You will never ever be better than MESSI
Messi is one of the best football player, and will stay number one for 2012 and 2013, because messi doesn't wait the ball from Axvi or Iniesta Messi is the one who passes the ball to iniesta or Axvi. In barca Messi is the one who creates chances to score goals he passes the ball more accurate he makes assist while cris Ronaldo doesn't. I think everyone is clear what's happening in la liga. You can tell the different between Messi and Ronaldo. I should say Messi is one of greatest footballer in the world.
Players like C Ronaldo comes every 3-4 year, the last one was ronaldhino, but player like Messi hardly comes every 50 years, the last Messi was Maradona. Messi can pass through 3-4 player with ease and can repeat that many times in just a single game.. I can show you 10s of solo goal that Messi scored similar to that of Maradona.. These solo goal is what makes one legend... I hardly remember Ronaldo scoring any solo goal, may be one or two... Ronaldo will always be second as long as Messi is there... Sorry dude
Lionel Messi is better than christiano Ronaldo because Messi can bend and maneuver the ball where he wants it to go. You don't need a bunch of fancy footwork to be a good soccer player. All Ronaldo can do is slow down to do a bunch of tricks that is only making him look cool and Messi doesn't that stuff to be good. And Messi is good because he passes and other team helping things Ronaldo thinks he is all that in a bag of chips but Messi is well rounded in being a team player and scoring goals and maneuvering a ball. I strive to be as good as him but it is hard to do that when he is so good Messi # 1 player in the world screw ronaldo
In very short words Messi he is best player in the world not because the goals he scores in every single critical match but because of his talent, they way he deals with the ball no one ever can expect what the genius player going to do. Messi shoes the susceptibility in scoring from very unexpected places and recently he prove his ability to be the best one in regards to free kicks. Moreover Messi enjoy the full of humble spirit that's rare other talented players have it.
I admire messi, his game, his attitude on the ground. How can a player play with such a cognizance. It's actually awkward to see messi dribbling even while being surrounded by whole opposition. You can't doubt that, you are actually disgracing your knowledge and feelings for the game if you are trying to ignore the man 's rhythm just to make your favrt player look equally good. From the first time I have seen football until now I have no one with whom I can compare with him. I won't compare him with Maradona and Pele but yes you actually don't need to when those legends who behold such an incredible legacy, have themselves confronted that he is the best footballer ever. I just LOVE to watch him play. I am proud to be a part of this generation where I can boast the one's in future about Messi breaking records.
Messi is fighting to be the all time best while C. Ronaldo is finding it very very difficult and fighting very hard to be the best of his time, you just need to use a little bit of your brain to get the better one now!
Messi and Ronaldo are both incredible on the pitch, but we have to draw our measurement with adequate parameters in order to form the right judgement. Messi is "mercury" while Ronaldo is "lightening" when it comes to speed, but look here, who holds the ball much longer in the midst of opponent players and either delivers accurately to the next team mate or scores the goal himself, that man is Messi. Who dives more for a cheap award of foul charge even where nothing has happened, that man is Ronaldo. Who has more aggression on the ball than the legs, that man is Messi. Who is more irritated when an opponent player goes rough on him, that man is Ronaldo. Who complains more to the center referee, that man is Ronaldo. Who smiles more for real and fake (confusion), that man is Ronaldo. Who has the highest price tag, I think Ronaldo (not too sure). Who features more in popular ads, I think Messi (not too sure). My final vote does to Lionel Messi.
Messi can dribble amazingly with fast pace and can be a very dangerous player in the field. Also Messi has very accurate shots way more accurate than Cristiano Ronaldo's shots. His skills are spectacular and with his speed Meesi has a better advantage than Cristiano Ronaldo to get through a opponent and scoring a goal. Messi is also very smart when he has a ball in a corner he sees whose in the box and crosses the ball in very accurately so a teammate can header the ball in or finishes the ball in.
Lionel Messi is an incredible player he has scored an uncounted number of goals he is so good. Someone I know really likes arsenal and he said that arsenal is better barca and that is not at all true, arsenal any chance they get the mess up and screw up. Any chance barca gets they get a goal. I am mostly talking about Lionel and other players. My friend told me that Leo got an injury and he scored 5 goals. That is incredible and unbelievable. Messi is one of the best players in the world it will be a extremely long time till somebody going to catch up with his soccer skills
Messi totally rules the soccer field, I am a young soccer player and I try to attempt his tricks and moves but alas I am not able to because they are extremely complex and frankly are just hard to do as an eighth year soccer player and I've been playing since the recreational years it has gotten easier but no matter how hard I try it's still very difficult to do some of Lionel Messi's moves and tricks!
Related Lists
Greatest Years of Lionel Messi's Professional Career
Most Interesting Facts About Lionel Messi's Personal Life
Greatest Facts About Lionel Messi

Best Clubs Lionel Messi Has Played For