Wayne Rooney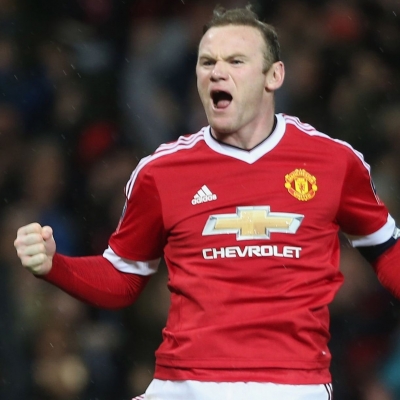 Uploaded by STANCAKE
Info
Wayne Mark Rooney is an English professional footballer who plays for and captains both Manchester United and the England national team.
Comments
Top
Popular
Newest
He has great form and gets a great strike on the ball. He also won a lot of Premier Leagues, League Cups, a UEFA Champions League and the 2008 Club World Cup which he scored the only goal in the final and won top scorer and Player of that Competition. Now all he needs is a league Top Scorer after being replaced twice behind Didier Drogba of Chelsea (Shanghai) in 2009-10 and Robin van Persie of Arsenal (now teammate at Man Utd) in 2011-12
He one of the King at Manchester United... He was a great striker and also a creator.. Who had been striker but got more assists on his game at United either England. Therefore, he will used to play all over the field in a game. He wont played in striker position but he also we will run down until defend position for save the team. He play well and also he do his job in best way. I think he should get ballaon d'or because he got the capacity. Like Messi he paly well but someone need create a chance for him but for Roo he will create for other and also for him. Thanks
Rooney is better at shooting than Messi and Ronaldo. At some point will be the best player. He has the best bike and the best free kick and penalty taker. He has great aggression and a great leader and perfect fit for mu. My favorite player by far.
He is strong in the stadium either at the forward as well as at the defending with his good stamina and good body balance skills besides his energy his power seems like manipulates the whole team. A leader also within the air))
"He's the team. He plays all around the field and he can run from a side of the camp to the other side to take the ball. Then I can't forget the goal against Manchester City in 2011 and that's another quality of this player he can shoot from long distances and it seems that when he wants do a goal he does
Wayne rooney is one on the best soccer player a life he can score goal he knows were is the goal he has better kick He is my favorite player. Everybody thinks Neymar should be the top Neymar he just a ball ball huger if he wont to be in top 3 he should pass the ball just say no heart feel
Rooney is the BEST PLAYER EVER! He has shown that he can take the soccer world by storm, every since he has 16. He has a deadly penalty and strike and can threaten and tare the defense into pieces. Right Now, he is working with van Persie for the Man Utd title
Rooney is a team player, he's the reason Man you can always score goals and he himself scores amazing goals. If he had someone as good as himself to give him the opportunities he would score amazing amount of goals just like Messi or Ronaldo.
Rooney deserves to be the third best player. Manchester United have made him a star. But still he plays well. He can attack plus he can defend. He and Ronaldo would have been great together.
Wayne Rooney is only 26 and has become the World's best striker. Of course he should be the world's best players. And he keeps Manchester United the best team in the world. So if you say if he is not the world's best player, then you are an idiot
I think this order is wrong apart from the top 3 this is the order 1 messi 2 ronaldo 3 rooney 4 xavi 5 iniesta 6 robben 7 ribery 8 van persie 9 neymar 10 casillas. I think Rooney is the best currently scoring.
Rooney is the best player in the premier league and rooney is a star boy not a golden boy she is a geat man it's a superstar go go go manchester United with the best player in the premier league and the 3rd player in the world go Wayne rooney
Wayne rooney is the best player I have seen! He is amazing skillful, powerful and very strong. I think he is in the top three for soccer and I would really want to have a game with him. I think he's the best player in the world and I have been loving manchester united for my whole life because I got a manchester united top and boots, gloves, hat, shorts, socks, book. When I was born
Rooney has developed into more than a world class striker, he is more dynamic than he was and without losing any of the passion or hunger that make a true competitor, a raw classic English player. For that he is the best of his school and therefore should be considered with Messi and Ronaldo.
Rooney is great football player an he can score in tough games. Rooney's shot is world class.
Wayne Rooney is the pride of Manchester United and a true Red Devil. I love to see when he shoots ball to the
Wayne Rooney is better than Neymar, messi, Ronaldo. He is the key and the star player of England and Manchester United. He is better than Ronaldo and Messi for all time. He has good skills to score goals and to keep his team at the number 1. His dribbling is awesome passing is perfect. He is the best player in the world.
He has the best headers and bicycle kicks in the world. He has good skills and passing. He always has an open space to shoot a goal. He is saving Manchester United from losing. Go Rooney!
ROONEY IS A HIGH CLASS PLAYER HE DESERVES TO BE IN THE TOP ELITE HE IS A KID WIT A GOLDEN FEET THOUGH SOME STUPID PEOPLE THINK HE sucks just CAUSE LAST SEASON HE DID NT PLY WELL BY THE WAY HE CAN PLAY ALL POSITIONS EXCEPT GK HE IS good AT FORWARD MID CAN definitely EXCEPTIONAL IN definitely HE IS WORLD CLASS NO EXCUSES WORKS EXTREMELY HARD HE IS ONE OF A KIND
Wayne Rooney entered foot ball when he was just 16. The only player to score a hat-trick on his very first appearance, this performance made Sir Alex Ferguson to consider him as a favorite and a hopeful player at critical situations. Also his over head bicycle kick scoring against Manchester City the evergreen rivals of Manchester United was announced as the best ever goal scored on the English Premier League history. Truely he deserves to be on top 3 place.
One of the best footballers ever and finished 2nd in top scorers last season after Robin van Persie with 30 goals.
Wayne Rooney and Robin van Persie will make a cracking strike partnership.
I think rooney is a great footballer and can score most fantastic goals as he wants. He is like a scoring machine and even can make a team grow. I think rooney should stay in man you because his feet on man U. To me I think he is better than robbin van persie.
Rooney is the best player in his position. He is just behind Ronaldo and Messi in terms of dribbling skills and goal scoring tally. Apart from that, he is head and shoulder above any other players and is on par with Messi and Ronaldo, too. The greatest footballer ever born. I don't know whether I will still support Man Utd if Rooney leaves to Chelsea.
3rd best player in the world look at how many goals his scored and look how world class he was at 16 years old and plus he don't play as well as he used to because of van persie and falcao are always up front and his always in cam so he don't get as much goals and look at him in world cup 2014 he scored his first ever goal but in international friendlies he scored most of the goals for england and plus he scored the penalty for england vs Norway and he is one of the top scorers for manchester united of all time and one of the highest scorers in all the English league put together
Rooney is one of the best strikers in the world. When he's not scoring goals for manu, he's setting up assissts for the players who are. Very consistent and also a very dependable player
When I play FIFA 13, I make sure Rooney is the only one to score. For me he is the best player I have ever seen. I don't care if messi pussi or what ever his name is, Rooney is the best. I fainted when he did that bicycle kick ( overhead kick). Rooney is the best player!...