Philippines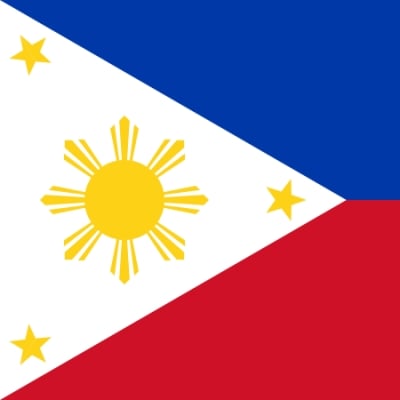 Found on wikimedia.org
Info
The Philippines was established in March 16, 1521 and named in honor of a Spanish King whose name is King Philip of Spain II. It is located at Asia, specifically at Southeast Asia. The capital is Manila. 89% of the people there currently are native, while 11% of people there are foreigners.
Comments
Top
Popular
Newest
Philippines, where to start? There are millions of good things to describe this country, but I will cut-short for the highlights and why "It's More Fun in the Philippines"

1. the Philippines was colonized from Spanish to Japanese, the America and the British, the outcome is a Diverse Culture resulting to very colorful traditions and influences, a very rare traits you only in the Philippines.

2. True, Philippines is classifies as a poor country, but Filipino's are Hard-workers and Best-Workers here or in abroad. Only Filipino population are in large numbers working overseas.

3. Philippines and it's people has a very close relationship to our Almighty GOD, almost of the population is catholic, and we are a Family-Oriented country and one of the World's most happiest people.

4. We have beautiful beaches, amazing islands, only-in-the-Philippine's Sceneries, overall we have very beautiful places and great landmarks where mother-nature is nurturing our land in ...more
Deapite the Philippines being not so wealthy and corruption of the economy, you will admire it's beautiful scenery. It is a free and democratic country. Here are some of the best places to visit in the Philippines:

1) Boracay Beach, Aklan (Visayas; Central Philippines)

It is rated as the 9th most beautiful beach in the world. It's pure white sand makes it look astonishing and it does not get hot despite the Philippines being in the tropics.

2) Hundred Islands, Pangasinan (Luzon; Northern Philippines)

Wild range of choices including island hopping. Hindred islands is a fascinating tourist attraction from people all over Asia.

3) Chocolate Hills, Bohol (Visayas; Central Philippines)

Chocolate meaning brown. A wide range of hills in Bohol that turns brown during summer. It's beauty will surely make you want to come back. Oh, and by the way, the tarsier is here which can ONLY be found in this country. One of the smallest type of monkeys in the ...more
Well, Philippines is indeed great. It has a lot of natural resources and natural wonders. Its big cities like, Manila, Cebu and Davao has many improved CBD's, parks, malls and other modern facilities. Actually, every big cities in this countries has at least one or more shopping centers.
Majority of the people are courteous, polite, happy,helpful, respectful and religious even though they have various cultures.People are also hardworking, industrious, and resourceful spite of some problems they encounter along their life. The Philippines is rich in natural resources like fishing, mining, and agriculture. There are many beautiful beaches and tourists spots to visit. There are many beautiful people. Many of its ladies won international titles in beauty pageants like Miss International, Miss Universe, Miss Earth, and many more beauty contests. Many people can speak good English because many schools, colleges and universities abound in every town, city and or province and because education is compulsory and because English is the medium of instruction.Most business communication is in English. Many people have much money but only they do not want to declare to avoid from criminals. The Philippines is unique place and it is the best place to stay or live. You can choose to ...more
Unlike other countries, Philippines houses one of the most adaptive people towards their environment, socially, economically, or geographically. It may be hard to supply the government's support to the remote areas due to it's geography (a 7107-island-archipelago), the faith, hope, and love for the country expressed by the people remains constant. I may be one of the Filipinos who almost lost hope on Philippines as a better country, I just realize that unlike Singapore, Philippines has "things" that Singapore can never have, like natural beautiful landforms, and naturally arranged forests. Another one is the vast area for improvement, due to the fact that Filipinos are open-minded to comments, and wouldn't raise themselves up high (unlike the Malaysians) and let themselves get consumed by their own temporary pride, instead, these people consume every negative and positive comments and be considered for improvement. The only element that Philippines would always lack will be a ...more
Philippines is not physically connected with other neighboring South East Asian Countries but still it oughts to do its best in making up the best of life. I bet you, if its physically connected with these other SEA countries, I may guess, Philippines would have grown faster. I have been to Thailand, Malaysia, Indonesia and Singapore all this time and I must say they are good places. But not much to my prejudice, I must also say that Philippines is the best place to live at.
Anyway, I agree with the comment here made by a Korean. All the things he said are facts about the Philippines. The Philippines offers you its delightful warmth and gentle caress. The breeze here breezes like the fountain of love. My country offers a lot of wonderful natural wonders of nature. You can feel the very soul of nature when you come- visit the Philippines. God Bless The Philippines!
I am Filipino, Chinese and Spanish origin. I believe that Philippines is the best country in southeast Asia. We are born very friendly and smiling people and hospitable. I have a Japanese friend who owns a big company in Japan but prefer to live in our country with a very simple life. He fell in love with the Filipino traits of being helpful and caring neighborhood. You will discovered so many beautiful places and for sure you will like to live here forever... Its for fun in the Philippines..
As a Filipino, I must commend you for your good narrative about the Philippines. Well-balanced and enthusiastic. Your publication does not suffer from bias by over rating Philippine neighbours, a practice common among many travel publications. Wholesome tourists normally leave the Philippines with lasting memories of our beautiful landscapes, rich culture and history, and more importantly our people.
The Philippines, Has a lot of world class tourist attractions. Boracay Island is one of the famous white sand beaches in the region. If you want a very cool climate, you just have to go to Baguio City because it's a highland area surrounded by a higher mountains. We have also Palawan underground river who have chosen as one of the 7 wonders of nature. Aside from friendly people, there's no communication barriers between the tourist and the peolple themselves because majority of the Filipinos can able to speak in english.
I'm a Filipino as I say it's my country. Philippines is a beautiful place to live and life in here is enjoying if you have such money for enjoyment. But still this is the best because even your poor you can still smile even you have a problem or a bad situation. Therefore, Philippines have been TOP 1 in Asia for being corrupt and now it's getting lower because of higher economy and can pay debt to other countries. Today, Philippines is still leaning but maybe tomorrow it will stand Straightly!
Among the South East Asian countries, Philippines is on the top. Even though it is classified as one of the poorest Asian countries, but it is highly notable because of its people and its natural resources.

People living in this country are known for their hospitable attitude. They tend to greet and welcome all the tourists whole heartily.

This country also is known for being great in speaking the international language which is English.
Best in Southeast Asia! Has the best and most unique beaches and shorelines. Delicious food and historical landmarks all over the country, each and every province. Has great skyline and gigantic malls to enjoy. You'll never be bored. This proves that IT'S REALLY MORE FUN IN THE Philippines!
I think the Philippines is the best country on southeast Asia.. because the Philippines is the third English speaking on the whole world and it have 7 107 island's and you find the best beach on whole Asia boracay... I love the Philippines do much!
Philippines is one of the leading countries in South East Asia and is considered as one of the fast growing economy in the world. It has many beautiful beaches and world class hotels. Philippines is the BEST.
Philippines is the most promising nation in Southeast Asia. It is a potential powerhouse in the East someday.
Its people are one of the nicest people I have ever met.

Philippines is also a great melting pot. The Asian, European, American and Native influences are all over in this wonderful country.
I am a Filipino living and working in Canada, a prosperous, peace-loving and richly multicultural country. I am not ashamed to say that there is no day in my life that I do not look forward to retire back to my native land. You may take the Filipino away from the Philippines, but you can never take the Philippines away from the Filipino.
Even though The Philippines is a poor country we have good people and we care for those in need, we never leave our families behind, and we keep on trying and trying until we succeed even though the Pasig River has no hope of being what it is before we still keep cleaning it. And we can express our thoughts in a very simple smile and our dark times in a tear from our eyes. Even though we're a 3rd World Country we will still be truly and forevermore a Proud Victorious Filipino.
Philippines is the best! From beaches to mountains to rivers, lakes, culture, people etc... Communication is easy as most people speak English (not fluent but good enough to converse with) too many reason why it is the best, so better try to visit and experience it
Philippines is the best country not jjust in Asia but in the whole Asia. It has the best beaches such as Boracay, Palawan, Palaui, Taclong island and many more!

Every Filipino has a pleasing personality! It's like everyone in the world knows about the famous "The Filipino Hospitality." Rude and arrogant Filipinos are pretty rare!

The Filipino cuisine also wins in International competitions! Most foreigners stay in the Philippines because of the very famous Chicken Adobo and Bicol Express! You get a taste of heaven as the food touch your tongue.

The Philippines also has a very rich culture and Marine Bio-diversity. About 50% of the world's coral reefs are found in the seas of the Philippines. Different species of fish can also be found in the marine life of the Philippines.

DON'T WAIT! SPEND YOUR SUMMER IN THE MOST BEAUTIFUL AND THE BEST COUNTRY IN SOUTHEAST Asia!
Filipino hospitality is the best in the world. The country is beautiful just like the other SEAsian countries but Filipino people are among the best people in the world. Here, people are always happy to serve unlike the people in other places where they don't even smile. Filipinos are happy people; despite the hard life they still smile. If you are a foreigner (actually even if you are a local) visiting a Filipino home, you will be given the best room in the house to sleep in. When Filipinos throw a party, expect that there will be more than enough food and drinks to feed the whole town.! Filipinos love to sing! And their English is the best in Asia!
Hospitable, peace, justice, friendly all of that is can be found in the people who live in the Philippines. Philippines also is the best friend of the U.S.A. Philippines is poor but they are very rich in natural resources. Its more fun in the Philippines
The Philippines rich in minerals biodiversity most people are friendly it is also preserved the traditional culture especially family close ties that symbol of respect to preserved a good relationship. The Philippines many beautiful beaches and mountains to be pride with other countries because it's more fun in my home country Pilipinas I love my country he also I'm proud a Filipino masarap maging pinoy.
I've been to Kuala Lumpur, Bangkok, Singapore and Jakarta but none of those compare to Manila. Manila is exciting and rich in culture. It's not your typical Asian country with temples. You'd see a melting pot of cultures in Manila and in the Philippines in general.
It's also very easy to go around because EVERYONE speaks English.
Its more to be a Filipino. I am thankful to God that I am a citizen of this country. Great culture, nice foods, beautiful women, highly educated people, very hospitable, peace-loving and most of all God fearing nation. I am proud to be a Filipino!