Hajime no Ippo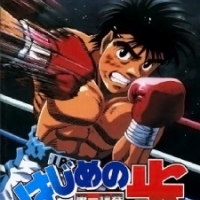 Found on cdn-dena.com
Comments
Top
Popular
Newest
The best anime I have seen because in this anime at starting the main character is very weak compare to other then he grows stronger & stronger as the anime goes on & how much hard work ippo had to do was fascinating. The punches landed on ippo so many time but still he won't give & he will keep fighting until there is no strength left in him or I say he will fight till his last breath. Overall this anime is the most awesome sport anime I have ever seen.

P.S.
When I saw the ranking prince of tennis was in the 1 rank is it a joke.
This is the only anime close to reality. not too many fancy moves, (i don't deny that there aren't any) but this is most motivational anime out there. No other anime has influenced me and many other people to work hard and become stronger. I've heard my friends saying," I started road work after watching this." I was no exception. This anime never gets boring, not too many fillers, lot of comedy and no less action as well as thrill. One of my all time favorites, this anime deserves first spot, straight. esp if you're a guy who wants to know "what it feels to be strong," let this nobody who got bullied by class mates figure the answer for you.
Why is this ranked so low? This anime has the combo of comedy, slice of life, and sports action! This anime has so many emotions and clinch to your seat moments, and it also makes you laugh so hard you are rolling on the floor. This should definitely be number one out of these listed. I think people are picking Kuroko because it's new and haven't taken the time to watch Hajime!
A must watch. A very inspiring and influential anime that'll make you motivated, and may also stir your emotions at times. The main character, Ippo, is very likeable so is the rest of the supporting. Seriously, it's a must watch. It's hilarious as well, and another thing is that this anime has heart, and is very well done.
Personally, this is a billion times better than Kuroko no Basuke in every single way. Of course, basketball is more popular than boxing but make no bones about which is better. Ultimate fighting, brilliant comedy and amazing characters is what Kuroko's Basketball can never hope to match Hajime no Ippo with.
Honestly this anime, will shock you in so many different ways, and really make you feel the "love" one can have in a sport or "passion" for life.
Hajime no ippo, what an amazing anime, if you didn't watch it, do yourself a favor, it's not only one of the best sports anime, but also one of the best anime out there, the only one that gets close to this is slam dunk, other than that there's no way this could be beaten by kuroko no basuke which I'm a fan of by the way.
This is an amazing manga/anime. The characters are funny. The plot is a classic but rich. It shows the cruel reality of what boxing can be but it also gives the viewer the sense of accomplishment the boxers feel after overcoming the many hurdles they face on the road to the top.
Best anime ever! Shows how dedication, hard work and passion really pays off! Hajime no ippo is the best anime and they need to continue it! 10stars hands down and if you like witty, funny and where all the characters get involved then this is the anime to watch! Go IPPO!
This should be number one, the animation for this is created so uniquely with great character development! Nothing quite touches home like this amazing anime. Heartfelt, growing-pains, passion, and endless unwavering un-vacillating determination.
Don't be silly everyone. This anime is perhaps one of the most personally influencial anime in the history of the medium. I've known of dozens who have ACTUALLY become boxers after watching this anime. After months of hard work and training I too became a boxer. This should be #1, nothing quite hits home like this Anime.
It's just hilarious! Seriously, Ippo, Takamura, Aoki, Kimaura are just great. And the fighting scenes are fantastic. The hole anime is quite motivating to watch proves that you can become anything if you're not giving up on your dreams. And in this case becoming a pro boxer. It's a little bit disappointing that it wasn't higher on the list. Seriously, it's totally badass! You really miss something if you don't watch this anime. And they are working on the third part/anime serie right now. So watch it.
One of the best anime in general, not just sports. The perfect blend of comedy and action, always keeping you on the edge and jumping to the next episode regardless of the time. Watched the whole series non stop for a week
The only anime that made me feel something deep in my heart. It helped me gain confidence and motivation to better my life. It will always be my favorite anime of all time and THEY RENEWED IT FOR A THIRD SEASON!
I've watched them all and ippo is the best. some of the fights were so epic that I would grimace at the impacts and worry about ippo, full well knowing it was only an anime.
Plus he is so likable and is well supported by a great cast of support characters. Add in some classic comedy and it rounds out hajime no ippo as my favourite sports anime ever. My second pick was Eyeshield. I don't get why Kuroros basketball is so popular. I like basketball but thought it was very inferior to ippo and Eyeshield.
Very action packed, an anime sports lover would love to watch. One of those type which has a humble weakling main character who possessed unwavering determination to reach the top kind of thing.
Watched it twice! Amazing story about wimpy kid who starts boxing and his way to the top. Drama was combined with comedy. It should be a lot higher in this list.
This show has always made me feel happy or laugh I like a lot of the other top ones but this was one of my first sports anime so It goes to this show
Inspiring and motivating tale of a normal guy who grows to become a champion. An awesomely written anime with very good character buildup
Love how the character develops throughout the anime. Watching this anime makes you feel like you can go and beat up everyone. Best sports anime and top 3 on my list
This anime is so good that it made me pick up the manga where the story left off. I've seen a lot of anime. This is the only manga I've read. Draw your own conclusions.
Very driven anime easy to follow story line so you can connect to the main character better and not have to think about whats going on and very motivational
It's an inspirational story, this anime deserves top #1 listed and its manga has expanded over 1000 chapters and still ongoing. Two thumbs up for Hajime no Ippo.
Seriously one of the best sports anime ever. I saw the first season and also challenger maybe 3 times. If you haven't seen this you are really missing out.
I've read and watched a lot of mangas and animes but "Hajime No Ippo" is by far the best/the most intense sports anime I've ever watched. I think it might be because of how it involves 'actual' fights, but I love the development and the almost none existent exaggerated supernatural qualities. I'm just glad there's still a long road left for "Hajime No Ippo".
I promise you that as you watch this anime (and I suggest anime because the boxing matches are surreal that way), you will feel like you are actually watching a boxing match, fighting with the character, feeling every power of the punch!