Best Sprinters of All Time
The Top Ten
1
Usain Bolt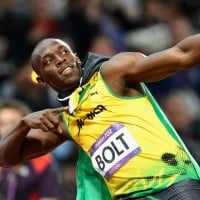 Usain St Leo Bolt is a Jamaican retired sprinter, widely considered to be the greatest sprinter of all time. He is a world record holder in the 100 metres, 200 metres and 4 × 100 metres relay. ...read more.
Usain bolt is amazing really awesome he can be a Olympic runner in any distance he is one of the most well balanced runners he is the fastest in 100m and 200m. Seconds best 300m sprint and his 400m time is sub 45 seconds. He can run a mile in under 4:20 in a marathon he sure could run under 2 and a half hours. He can only have the world record in short races still though all Of that is good. He has proper technique
Usain bolt ran 400 meters in 45 seconds and the thing about the 400 meter sprint is usain bolt doesn't go all out on that he went 28 mph in the 100m his record is 9.58 seconds so that makes sense because that's an average speed of 23.5 mph and it takes a while to accelerate so he had to get faster than 23.5 mph to go under 10 seconds in the race if usain bolt ran his top speed from start to finish than he would run 100m under 8 seconds in the 400m he ran the first quarter the race in 13 seconds and ran the last 300m in at a sub 11 pace 20 mph
Usain bolt is tremendous he really is one of the best sprinters that is because he as such a large combination and balance of many different physical advantages like size, race, age, gender, and training. Race is a slight factor in fast twitch muscle fibers and also with gender and age being a black jamaican man with tons of training and proper technique makes him run faster. He is 6'5'' and 207 lbs being bulky like a weight lifter does not help in speed but being skinny like long distance runners is not does not help sprinters either. Having long legs is great but also some tall guys can not run that fast. Justin gatlin at true potential is about the same speed as usain bolt. Justin gatlins fastest official time is 9.64 in the 100m. Bolt 9.58 so that would put him 2 and a half feet ahead of gatlin in the race. It is so common for good athletes to come from anywhere but especially in certain places depending on the sport. For example jamaica, new york, california, have more gifted ...more
His dominance speaks for itself. Jesse Owens got 4 gold medals in one olympics - but he did only one olympics, Bolt has done 2 so far with 6 medals and looks set to get 3 in Rio. Carl Lewis also got 4 medals in one olympics, but was not able to repeat in the 200 meters - which Bolt did, did not break as many world records as Bolt has already done - three alone in Beijing - 2 more in 2009 Berlin World Championships - 4 by 100 meters record in Daegu in 2011, new record in the 4 by 100 in London 2012. In addition, Bolt is quite simply more popular than Carl Lewis - who is not as comfortable around regular people - fans or not - is easily irritated by the press - and simply has not made as much money as Bolt. Although the american sprinter Bob Hayes was in many ways the best ' raw and physically intimidating ' sprinter ever to run the 100 meters, he did one olympics and then fizzled away. Bolt has done 2 olympics and is still around preparing for a third.
2
Michael Johnson

Had it not been for a bug from food in Spain Johnson would have won golds in Barcelona too thus reigning supreme over 3 consecutive Olympics in both 200 and 400 and everything in between. Johnson won his races apparently strolling hardly breaking sweat unless he was pushing to beat his own record. He was just way head of anyone else and also ran with a shocking leaning back style.
Bolt clearly has a huge physical stature but Johnson's secret was and still remains amazingly a total mystery. Even super Bolt manages only a few centimetres ahead of Johnson when breaking Johnson's record. One can only imagine them racing side by side.
Michael Johnson holding both 200m and 400m makes him the greatest. Those are the two most difficult sprints. By the way, what is Dwain Chambers doing in the list?
Smashed the 200m and 400m world records, and still holds the 400m record 14 years later. Still has 12/20 of the best ever 400m times.
Broke the WR in the 200 by.34 after braking it by.06 just a few months earlier. One of my favorite athletes of all time
3
Tyson Gay
Shouldn't be on this list due to being tested positive?
Tyson gay is more faster than Michael johnson. Watchout for tyson gay in rio de jeniero
Has the American record in 100 and tied for second fastest all time. Indoor 200 Wr
He could've beat Usain Bolt on that one race if he had gotten a good start
4
Asafa Powell
Asafa powell is a amazing sprinter if you compare him with tyson gay and usain bolt they are the comparetities and the pressure is always on. They have a lot of potential of getting a medal I rio 2016
He is the most complete sprinter of all time. He has the best start and the best form. He just needs to believe in himself
Amazing Sprinter, sucks that he got injured in london.
Also shouldn't be on this list for testing positive?
5
Maurice Greene
He changed the sprinting style.
6
Carl Lewis

Frederick Carlton "Carl" Lewis is an American former track and field athlete who won nine Olympic gold medals, one Olympic silver medal, and 10 World Championships medals, including eight gold. His career spanned from 1979 to 1996, when he last won an Olympic event.
All sorts of things change with time; things that improve performances in general. I think the only way to compare athletes is by comparing how they performed against other athletes during the period they performed.
In 1980, Carl Lewis was ranked 8th in the world among sprinters in 100 meters. From that year through 1992 he was never ranked lower than third, and he didn't drop from the top 10 until 1995. That is 15 years in the top 10. Six times he ranked number 1.
Carl Lewis always will be remembered as the single most captivating sprinter the world of track & field has ever seen in the circuit of Olympic competition. He was consistent and versatile and always would win gold medals in his pursuits.
Absolutely! I always admired Michael Johnson running style as beautiful loved to see him run, and Husain bolt who left his opponents in his dust, but Carl Lewis and longevity his is the greatest sprinter so far.
Just my opinion. I'm sure others on here have stated good reasons why he is the best.
7
Allyson Felix
She is just amazing, her zeal in every race is worth admiring... she will be in my books the greatest sprinter we have seen even more than the male counterparts
Allyson Felix is the best sprinter the world has ever seen.
My favorite athlete of all time.
8
Milkha Singh
Hi Milkha. My friend and I are doing a project on Milkha vs Usain and I am Indian so I believe you could win. My friend thinks Usain Bolt is faster. He is doing it on him. Who really is faster? I am in grade 4 can you tell me your history of racing please. Thank you.
Personally for me Milkha Singh is a hero and an idol. A lot of things that put him down but he didn't give up and moved a long. He is the greatest athlete of all time.
He may not be the greatest sprinter of all time but he is certainly the greatest sprinter of India of all time.
I saw bin run in the 400meters final in Rome 1960 Olympics.
He was great.
Unfortunately he was drawn in the outside lane and finished forth.
C
9
Dwain Chambers
9.87 PB... So you lot... Might as well shh. And being the best british sprinter at this moment, winning the British trials. Beat Harry aitkins, marlin devonish, Mark Lewis francis
10
Linford Christie
Dwain chambers can never match him or even beat him in a race because he's just one of the greatest british sprinters of all time. I believe dwain chambers should be at the bottom of the list because he's no role model after the drug ban
Linford Christie 1999 - tested positive?
The Contenders
11
Jesse Owens

James Cleveland "Jesse" Owens (September 12, 1913 – March 31, 1980) was an American track and field athlete and four-time gold medalist in the 1936 Olympic Games.Owens specialized in the sprints and the long jump and was recognized in his lifetime as "perhaps the greatest and most famous athlete in ...read more.
Jesse Owens is one of the greatest sprinters ever. What he accomplished at a time with very limited track technology and training is remarkable. If he had a modern weight training and dieting program, he could probably be a contender in the world first heat. The track that he used to run on is nothing compared to the modern track, which allows you to bounce off the surface much easier. He also didn't have modern racing shoes, which modern athletes take for granted. If Jesse Owens ran today, I would say he would be close to competing with Usain Bolt.
Greatness has many different definitions by various people / groups. It should not always be based on sprint times and lasting longevity. Owens performance in the 1936 Olympics is the single greatest event in Olympic History given the racists socialist Germans led by Hitler and the pressure put on him at the time.
Jesse ran on cinders and had no starting blocks or Steroids! He should be remembered as the greatest if not the fastest. He made Monkeys out of Hitlers "Supermen" in 1936 Olympics in the 100M, 200M and as a member of the 4 x 100M team! A real Man from humble beginnings.
He should be ranked number 1, he us the king of Track and Field. What a true legend!
12
Yohan Blake

Is unreasonable that he is not in the top 3.
He run 2nd fastest 100m of all time tied up with Gay but he beats him due to the air conditions (Gay had a +2.0 while Blake had a -0.1).
He also run the 2nd fastest 200m of all time and rummors say that had he had the same start reaction as Bolt when he run the world record he would be the world record holder.
So... If Bolt never existed Blake would be the fastest man of all time. But he is not rude and fancy and that's why no one voted for him. That's sad...
Must be in the top 5: 2nd fastest times for both 100m and 200m, only Bolt has run faster than him for these 2 sprints.
Yohan Blake is the 2nd greatest sprinter I agre
Number 2 you here me!
Quality, top class
Yohan Blake!
Yohan is very shy and ran the second fastest 100 m with a lot of nerve issue!
13
Donovan Bailey
Remember when Donovan Bailey raced Michael Johnson head-to-head to prove who was the fastest, and Johnson faked an injury the instant he realized Bailey was going to win? Johnson (currently ranked #2) never won a race against Bailey.
Should be #2. Only 2 sprinters winning a gold medal since 84 haven't tested positive. Bailey and Bolt.
Should be higher than michael Johnson because he beat him in Toronto!
In his prime D.B. was the best in the world, and deserves to be much higher than # 16
14 Richard Thompsan
15
Ben Johnson
The Seoul 88 final is one of the greatest and most compelling moments in sporting history, with Ben Johnson the star performer. He was magnificent, exploding out of the blocks, ahead of the field within the first second, leaving the rest trailing in his wake by 50m. Maybe he would be pegged back as the longer legged Lewis and Christie gathered momentum? Not a chance! Johnson kept going, like a bullet. The one fingered salute as he strode across the line was a pose befitting the magnificence of his win. He beat America's golden boy Lewis by a mile on the biggest stage of all. The stadium of circa 90,000 people screamed as he flew along the track in the blistering sunshine. A beautiful stage befitting an amazing moment in time. 9.79 in 1988 was phenomenal and on a par with Bolt's performance in Beijing 08. However Johnson had so many characteristics which made him such compelling viewing and an icon - characteristics which Bolt just hasn't got. The quiet bad guy attitude, the powerful ...more
Drug or no drugs, he was the first man to break the 9.80 barrier, His 9.79 time stood for 20 years. I don't know about you, but I couldn't run sub 12 even if you shot me with 10x the amount they were taking and swapped my blood out for a cheetah's. Who knows how fast he could have run. And imagine how fast he would run today, with the training, supplementation, and science athletes get today. He left the sport before his peak. I believe he had the ability to run a sub 9.60, given 5 more years of "Ben" training, putting him at 32 years of age, when men are considered at their peek in performance. Ben is hands down the fastest true sprinter, which to me is defined as the individual that moves his legs the fastest. Some people believe that the fastest time = the person the moves his/her legs the fastest, but that's not necessarily true. Take for example, Usain Bolt. He was born with a natural advantage for sprinting...height. at 6'5", his legs are naturally longer. Longer legs = longer ...more
B.J. was the sacrificial lamb for the dirtiest sport of them all. Carl Lewis & Flo - Jo were juiced but it was covered up because they were American. Neither should be recognized as Gold Medalists for that reason and Lewis also fouled out three times in Korea with lane violations! Money talks as always! Donovan Bailey destroyed Michael Johnson (who faked injury to bail out) at 150 m in a "world's Fastest Man" match and blew away the field in 100 m & 100 m relay in 1996 Olympics. Top three: U. Bolt; B. Johnson; D. Bailey.
Ben Johnson is the greatest, and most complete sprinter of all time. Unfortunately, he was caught doing what EVERY athlete does at the top level...
16
Justin Gatlin
Justin gatlin is amazing he ran an official 9.64 in the 100m sprint. He runs just about as fast as bolt he worked so hard in those years in the relays and sprints likely gatlin or Coleman could be the best in the 110m hurdles and usain bolt could be the fastest in also the 300m hurdles. Justin gatlin is from Brooklyn he is cool and strong has great technique usain bolt and gatlin can reach 28 mph.
Are you people crazy! He should be in the top 5
Will beat Usain Bolt at Rio.
He is a drug user.
17 Wallace Spearman
18
Wayde van Niekerk
He crushed Michael Johnson's 400m world record and is the only human ever to run under 10 seconds in the 100m, under 20 seconds in the 200m, and under 44 seconds in the 400. in 4 years he will be second only to Usain Bolt.
For your information, he isn't the first man to go under 10s in 100m, the first man to go under 20s in 200m nor the first man to go under 44s in 400m. Don't listen to this dude who posted without fact checking his info.
Wayde is the 1st and only to run sub-10, sub-20, sub-31, sub-44 (multiple times)
Also 1 of 2(him and Michael Johnson) to ever get medals in
200m and 400m in World Championships. Only 1 of 2(him and Michael Johnson)
to defend a 400m world title.
No you misunderstand. He is the first person who's ever done all three. Johnson never ran a sub 10 100m. Bolt's never gone sub 44 in the 400m. Van Niekerk has run sub 10, sub 20 and sub 44. ALL THREE!
19
Bob Hayes
Not as fast consistently as Usain Bolt, but for one moment in time, he ran faster than any human being in history.
His anchor leg in the Olympic 4X100 relay cannot count for record consideration, but his speed near the finish line in that race exceeds even Bolt's best.
Various sources have his hand time for that leg at an inhuman 8.8 or 8.9.
If you watch the grainy black and white footage, it looks like he is literally rocket-propelled; getting the baton in last place, then making those other top-tier Olympic athletes look like elementary school kids.
Won 44 sprint finals before retiring from amateur track to play for the cowboys, ran the most incredible anchor org in the 400m final leading the USA to a huge victory after starting 3-4 meters back. In his early 30s with n track training beat Mel gray in his home town of sl running 4.3 with a starters gun and blocks daily a 4.2 or better. Look at the improvement I equipment, training year round and speed of tracks was anyone ever really better. It would be hard to prove Dennis Crnkovich

Beat

T
Possibly the fastest sprinter that ever lived.
His short lived career running on dirt and cinder tracks, training around his football schedule without any name coach, breaking the WR with gold metals and retiring before his prime would put him on the list as one of the fastest of all time.
In my opinion the 2nd fastest man of all time after Usain Bolt. He ran a 10.06 electronic time at 100m during the Tokyo Olympics which bettered the previous world record of 10.25, which is a huge gap. If he was around today in his prime then I don't think a mid-9.6 is out of possibility.
20
Bruce Jenner
Just as much right to be up their as any other athlete. Jenner may not have as much medals but he was in a time where the Russians were dominating the games. He was considered a hero.
21
Christophe Lemaitre
He is awesome best sprinter ever. It is well known that race gender age and other things depend on speed. Yeah it is a scientific fact that you have to be a certain age to be the fastest probably male gender to maybe not race. Any one of any race could be the best Christopher lemaitre is the fastest white man he is awesome. He is three inches shorter than bolt and has shorter legs for his size if he was the same size that would likely shave off his time at least down to 9.7 seconds in the 100 meter dash. Being as bulky makes a slight difference make that down to 9.7 or 9.6 if he was black I guess that would make a natural difference not much but some Girls and guys both run fast guys are slight better black guys naturally will have those certain muscles so maybe Chris would be getting at least around 9:58 seconds being African. But still not much of a difference and chord is really amazing he still hits top speeds like 27 mph.
He is the fastest white guy to ever live that is saying something he should be in the top 10
22 Ato Boldon
23
Kirani James
He is the only athlete who came close to Michael Jhonson's 400m record at a young age.
He won the 400m at the London olympics at just 19!
24 Jesse Owen
25
Pietro Mennea
Are You kidding? He held the world record for 17 years!
The smallest but the greatest!
Nice to see Pietro on the list.
PSearch List