Kellie Nightlinger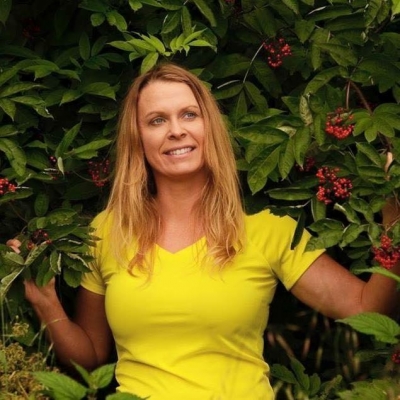 Uploaded by anonymous
Comments
Top
Popular
Newest
My wife and I have been following her for some time and it seems she's ALWAYS on duty. When she's not on a bugout mission (which is most of the time! ) she's teaching survival, or guiding and teaching! Whether it's getting dropped off in Africa with absolutely nothing or walking the mean streets there or on safari she's always at home and always shines! She IS both Beauty AND the Beast!
"Kellie is the most knowledgeable survivalist I know, she is an awesome philosopher. She not only knows survival she lives it. At age 40 she is extremely athletic and the life she leads is healthy. I would be proud to have her as a partner in any situation. It would be an honor to have her as a life partner! - billyd1953
If I got lost or stranded in the wild, I want Kellie to be my sidekick. No question she is a survivalist, but she is also a compassionate team player who puts others first. I know, having worked with her on and off for three years, I have seen her in action and know she would never leave me behind unless she knew it was the only option for US to survive. I can go on and on, but no need to as others have said it all.
Kellie is amazing at what she does, and she enjoys teaching her skills to others. My daughters love going for nature walks and stay overs with "Aunt Kellie" because they love learning new things from her. She has a way of being able to bring it down to their level which not every survivalist can do, yet she can relate to adults and does a great job at teaching them as well.
I have known Kellie since she was a young teen. After watching the courage and expertise in how she handled herself on her Naked and Afraid journey I was astounded. This young, shy girl that I knew was tackling the unknown with so much confidence and skill. I would want her as my guide on any journey into the unknown. Well done, Kellie.
Even if I wasn't lost, I'd want Kellie with me! I think her knowledge, experience, training, and attitude would tip the scales in her favor
When you compare Kellie to the others she can do more than hold her own. In fact with her positive lets find a way to make it work attitude it puts her tops on the list. She is more focused on making things work than letting egos or personalities get in the way. I want her on my team. She is the best
I've seen Kellie in action on Admiralty Island in Alaska. Her knowledge of wildlife and herbs and her skills at preparing shelter in adverse conditions is nothing short of amazing. She has taught me more about survival on just a few outings than I ever thought possible. Not only smart but a great mentor.
I've seen several of these top Survivalists demonstrate their skills on various T.V. series, and of course, Kellie is known for being the first woman to appear and complete her challenge on Naked and Afraid. I have followed Kellie for several months on Facebook, and it is difficult for me to believe there is ANYONE on this Top 100 list that could surpass her in her love of sharing knowledge of symbiotic relationships in nature, and of course, her love of the outdoors and beauty of nature in all its forms. She revels in it daily, and should earn her a special spot on this list. "Get Outdoors and Go Wild! "
This is a very special lady. I have been following her for some time. Both on the Discovery Channel and on Facebook. I am totally infatuated. Please take a moment and vote for her. She deserves to be right on top.
Having known Kellie for a while I have no doubt she should be in the top 3 on this list. Her quest for knowledge and wilderness savvy constantly amazes me. Her attitude is the key, you can tell she loves the wilderness life.
She was first presented female on "Naked and Afraid" shot in Tanzania. She showed wonderful resourcefulness. She had more skill than her partner. In my honest opinion she is only one of the three females in season 1 that were worth their stuff!
Not only is there not a woman that could hold a candle to her and her skills but most of the men rated higher then Kellie even deserve to be above her in most all facets of surviving in any climate with nothing but her bare hands. GO KELLIE!
Kellie could literally be dropped anywhere on earth and not only survive, but thrive! For this reason she should be number 1 on this list! She also gives back and knows where she came from - very grounded with limitless potential!
Kellie should be at the top. She is the best at everything she takes on. No challenge is to big for her. Most men are intimidated by her, they can only dream of doing half of what she can in the outdoors.
Kellie is fearless and has a passion for the outdoors and educating people. Kellie is always trying new things and taking on new challenges. She would be my first pick!
She can not only survive in the woods but on the streets too. I have seen her pull a pregnant women out of a burning car in Grand Rapids MI. She lives her life to the fullest.
Kellie is top notch when it comes to survival skills. She is the best female contestant that the Discovery N&A show has had to this point. If I got lost in the middle of nowhere, I would be at ease if she were there.
I have had the pleasure to know and work with Kellie when she was a Conservation Officer. She is professional at whatever she does and a great person. I am proud to call her my friend.
Kellie is very smart in all aspects of nature, if I was stranded some place I hope she is with me. I look to her as a mentor. She is also very knowledgeable in primitive survival.
Kellie's knowledge and experience is awesome, but what shines for me is her unfailingly positive attitude. She never gives up; and she gives all she can to others!
Tried & tested to be included in this top ten - Kellie has what it takes: a cool head, an iron will & the necessary skills to overcome adversity.
I truly admire Kellie for all of her accomplishments. She is has tremendous skills and strength which makes her a great survivalist.
If I'm stuck in the outdoors. Kellie is who I would feel the safest. Her skills and always positive attitude. Are a plus to her good looks.
Kellie is a true inspiration to all who have the privilege to work with, and know her. She is a true survivalist, and her ability to coexist within the natural elements is astounding.