Mors Kochanski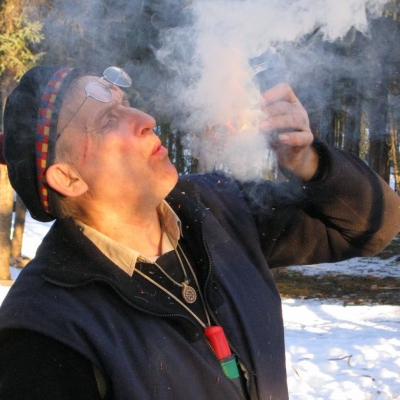 Uploaded by Ananya
Info
Mors Kochanski is a Canadian bushcraft and wilderness survival instructor, naturalist and author. He has acquired an international following and has instructed for both military and civilians in Canada, the US, the UK and Sweden.
Comments
Top
Popular
Newest
Mors was walking the walk when the other guys were just a glint in their daddies eyes... I think he's one of the few people who's "had a word" with Ray Mears regarding plagiarism..
Mors was teaching and living survival skills when the rest were still in diapers. Not having Mors near the top of the list simply reveals the ignorance of voters.
I don't have to say anything about Mr. Kochanski. His legacy speaks for itself. He is the real deal and you don't see him trying to sell you a bunch of crappy gear with his name on it or acting like his way is the only way like some of these other guys do. You can tell a lot about a person by their friends and their followers and Kochanski is top class.
Mors is the yoda of survival, he IS the best
The teacher's teacher. He's taught Cody, Ray, Les, One of Canterbury's instructors. ,enough said!
More has probably forgotten more about survival than the others know put together.
Mors has more years of experience than anyone on this list
90% of what is being demonstrated on the subject of survival was done, explained and taught 30+ years ago from Mors. He is not the only one ( He credits Roycroft - but he is documented doing this long ago. The (Super) Shelter, Neck knife etc..
Awesome books of relevant boreal living and survival
Your favorite survivalists favorite survivalist.
Mors was there before it was cool.
Mors Kochanski is much better than want he is voted he is much better then kellie nightlinger big deal she was naked on a show and she is a women
Who are those other guys anyways?
Mors has been teaching wilderness living skills and survival since the 60s. He deserves to be in the top three.
Mors wrote the book on bushcraft back in the 70s when all this others were still in high school.
Mors is "OG". He is the founding father of modern bushcraft. He's not nearly as well recognized as he should be!
Mors is GOD!
He lives survival and has done for 40 years, what the guy dose not know about northern survival isn't worth knowing.
No Messing about, no frills, no silly gimmicks.
The survival instructors survival instructor.
I know, trust me!
I've read his books, I have met him in real life and seen what he teaches. I have been studying primitive skills and wilderness survival for over 30 years, and I have never seen someone with the same level of knowledge and experience. -- Pär Leijonhufvud, Sweden
Related Lists
Best Mors Principium Est Songs