Nightwish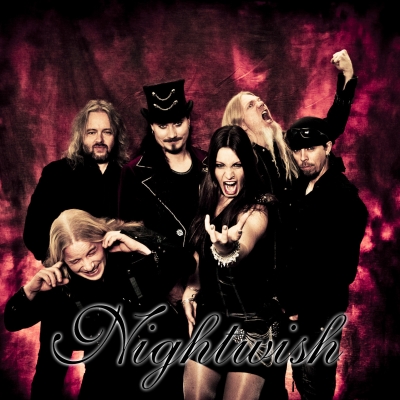 Found on photograve.net
Info
Nightwish is a symphonic metal band from Kitee, Finland. The band was formed in 1996 by lead songwriter and keyboardist Tuomas Holopainen, guitarist Emppu Vuorinen, and lead singer Tarja Turunen. It's currently formed by Tuomas, Emppu, lead vocalist Floor Jansen, bassist and vocalist Marco Hietala, ...
read more
.
Comments
Top
Popular
Newest
Nightwish is the best band in the world. This is all coming from a 12 year old but I'm mature. I've been a huge Nightwish fan for 6 years. First heard 'Poet and the Pendulum' and fell in love with Nightwish. Have been with them ever since. I even got to meet them one time and I nearly passed out I was so excited. I am such a huge Nightwish fan that I know everything there is to know about Nightwish. Everything. I really like what Tuomas does with not only the piano and keyboards but the lyrics and songs themselves. Nightwish has got to be the deepest, best, and darkest band of all time. And I love them. They have inspired me to write my own songs. My father says I'm absolutely amazing at song writing, saying I could compete with Tuomas at only age 12. Some of my songs are titled 'Crimson Moon', 'Black Memories', and 'Don't Go Back'. Very dark songs. Anyway, I love Nightwish to the bottom of my heart. They have been my favorite band for six years straight. I've never wavered. And I ...more
Nightwish is great.
Tarja is the best, a legend!
Floor has one of the best voice in the word!
Anette... I like when she sings "Slow, Love, Slow" or "ever" or "Turn loose the mermaids" and "the Poet and the Pendulum". I am not her fan but she's ok!
I think Nightwish is the best symphonic metal band ever!
All of them are doing a great job!
Tuomas is a great poet! I love the lyrics and his doing a great job with keyboards!
Marco has a great voice! And his a really good bassplayer!
Emppu is a genius guitarplayer! I love his solos!
Jukka is a dedicate drumer and his doing a great job!
Rock on m/
This music shakes, touches and thrills me like nothing else does. From time to time another band stunns me but every time I return to a Nightwish song I am blown away again. I can not expect any band could ever have a greater influence on me. My soul resonates with their creations and I will never be the person I was before hearing them. There's too much to say about them. They are incredible musicians and surely incredible human beings. In their history there is a nightwish music journey for any situation. Their variance of styles is enormous. Floor has impressed me most although all singers have colored Nightwish in beautiful ways. Tuomas can generate pure metal from a keyboard alone and lets not forget it was Nightwish who introduced me to metal in general, opening a world of other bands to me and inspiring me to write metal music myself. Nightwish: To me a live changing experience calling me to make musik. Not music like they make but inspired by it. Inspired by the kings of ...more
I'm sure most of the bands here in this list are brilliant. I've only touched a few of them personally but I'm still gonna throw in my 2 cents. I chose Nightwish not just because it was a major inspiration for the whole but their quality in songs is still somewhat consistent (didn't like the annette era but poet and the pendulum is still brilliant). The reason why I chose it because it's just good, the don't have much "filler" songs and all of the albums as a whole are addicting, brilliant and masterfully executed. Tuomas is a genius (and of course so is the rest of the band).
I can only describe Nightwish with one word. Flawless. Their epic music and inspiring lyrics are the perfect combination for any symphonic metal band. Their music videos are really something! "The Islander" and "Bye Bye Beautiful" are ideal examples of this. Nightwish is the greatest symphonic metal band.
Best combination of vocals and instrumentation. They entwine the elements of music together to create beautifully orchestrated music with no lack of style. The guitar perfectly compliments Anette's voice, with the drums providing a solid beat and keyboard piquing highs and lows. This symphonic masterpiece flows through the mind and soul, providing an unforgettable experience.
Nightwish is the most amazing band not only in symphonic metal, but in the whole world. This band means a lot to me, during my hardest times Nightwish brought light. This band does not have a single bad song. I truly believe that Tuomas Holopainen is genius and one of the best composers in our generation. Music of Nightwish can not be described with words, it's human soul expressed in music
In my personal opinion, Nightwish is the best band I've ever known. All of those pieces that Tuomas Composed, they are beyond comparison. The lyrics, the melody, the drums, the pipes, you name it, these guys know how to put all of these things together.
Tarja has made a mark in this band and has given it a name, her operatic voice, is one of a kind, no one will ever replace her, but Anette is not meant to replace her. Anette gave the band a new perspective of symphonic metal. However, I do not believe that Nightwish is Tarja, its true power relies in its instrumental composition not on the lead singer, and I think "Last of the wilds" proved my point. You just can't live without their music
Every song by Nightwish is a masterpiece. Tuomas is a true composer and poet, and thanks to him both the lyrics and the melodies of the Nightwish music are absolutely beautiful. A lot of emotion is put in their songs, both with Tarja and with Annette as singer. Nightwish will forever remain my favourite band.
Nightwish is the band that got me addicted to this kind of music. The music they make is beyond amazing, there are just no words to describe it. I would recommend this music to everyone!
Totally agree with some of the previous comments. It's not the singer that makes the band but the amazing arrangements from Tuomas and the fantastic male contrasting singing from Marco (not to mention Jukka's awesome drumming and Emppu's enthusiasm - what a fun guy! ).
Although I love Epica, Xandria, After Forever, and Revamp Nightwish is my favorite band, they just have a sound to them that no one can beat. Even with Tarja gone they still sound great, they could have no vocalist at all and could still be my favorite band.
Nightwish is the best symphonic metal band and the best band ever made, period. The melodies are all beautiful, catchy, powerful, intricate, and downright amazing. Nightwish is the only band that made me choke back tears because of the sheer power in the song. There is no competition!
My first band I ever listened years back when I glimpsed the End of an Era show that my sisters were watching. Back then, I was hiding behind the couch because, as a kid, they looked and sounded to cool for a kid like me to listen then openly. They, along COB and Iron Maiden showed me the path to metal.
Few bands have the ability to create music that sets a scene quite like Nightwish. I remember seeing them in Brixton last November and they had the crowd in the palm of their hand. If Floor Jansen is given the full time role as lead singer of the group, and she should, they will become an even greater music force.
They are the best, their songs are full of magic and fantasy and they sure know how to metal with the amazing guitar riffs and solos, and of course the powerful drums. They taught me how symphonic metal should be. I am sure they should be first, not Kamelot.
I have to vote Nightwish, cause Nightwish is just the best band in symphonic metal. Both with Tarja and Anette, and hopefully also the new singer. Even though I love so many of the others too. I feel like I have betrayed some of my favorite bands... - oneoftheothers
I think Floor Jansen has made Nightwish the band they always threatened to be. She has an amazing voice, probably the best of all time certainly much better suited to Metal than Tarjas operatic dramatic singing. Floor is beautiful girl but what is she thinking about with those awful tattoos. She also needs to ditch that stupid nose ring, stop dressing like a hooker and show some class.
Only with Tarja. Love the musicianship in this band, but they are on a completely different level with Tarja. They bring out the best in each other. She is truly a generational singer. There isn't another female vocalist on the planet that can compete with her.
Definitely the best Symphonic Metal Band out there nothing can match them, also I would have thought that Within Temptation would be at least No2 they are not extremely close to Nightwish's powerful vocals but they are definitely second in my opinion.
Nightwish has got the best songs I've ever heard! Their singers are more beautiful than all the other singers of the world and they can sing so beautiful! Marco sings very beautiful too, good voice and good playing in the band. And all the others too. Great!
Nightwish done the right thing by taking Floor Jansen on board. Not that Tara wasn't good, and I really didn't care for Annette. But Floor just added to the band perfectly. I saw them when they came to Detroit. They are amazing!
Singe decades the most outstanding band in this Genre and as stile defining group, they still improve as the concept album "endless forms most beautiful", is their best production in their last decade. Moreover they perfectly bring on stage.
I love the other bands (delain, lacuna coil, sirenia, within temptation) but Nightwish is still my number one, I love their songs, the lyrics,.. When I listen to their songs they take me to a different dream.. Great Great Band.. !
Within Temptation is the best symphonic metal band, hands down. Sharon is nothing short of magnificent! Tarja is amazing, as well, but I would put Within Temptation in the number one spot with Nightwish a close second.
Related Lists

Best Nightwish Songs
Best Nightwish Albums

Best Songs On Nightwish's Once
Best Songs From Nightwish's Imaginaerum

Best Songs On Nightwish's Wishmaster