Ajith Kumar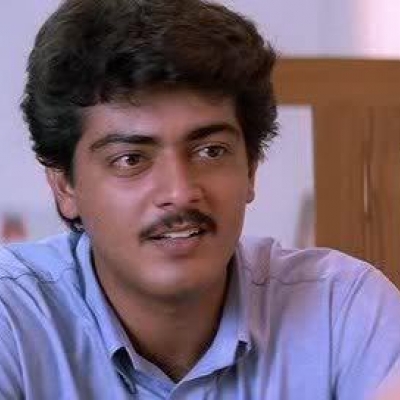 Uploaded by mpKarthik
Info
Ajith Kumar (born 1 May 1971) is an Indian film actor best known for his work in Tamil cinema. He is one of the most successful actor in Tamil Cinema. In addition to his acting, Ajith Kumar in a sabbatical, participated in the 2004 British Formula 3 season as a Formula Two racing driver and was ranked ...
read more
.
Comments
Top
Popular
Newest
A real life hero. A man of discipline. Role model for most of the young blood. One of the finest performer on screen. A man with loads of will power. Never say "no" hearted human. Known for his huge openings. A humble soul. Knows to respect other human irrespective of their social status. A simple common man. Out spoken. Multi talented. Only Indian actor to hold a pilot license. A great cook. F3 racer. An aero modeller. A professional photographer. A man loved by everyone on sets. A man with zero ego and attitude. A successful hero with no backup from family members. A mechanic to start with. A man who does loads of help with no publicity. One of the best looking Asian actor on Blazers. Only actor to look good with grey hair. Actor who got other actors as fans after Rajni. The only actor to dissolve the fan club and yet to lose a single fan of his. Never lost his fans till date even during the worst period. We love you a lot for the way you are Thala. Proud to be your Fan. ...more
Ajith is a upcoming universal hero...
Ajith have all kinds of humanity...
Ajith is a perfect gentleman...
Ajith is a hard worker...
Ajith have helping habit..
Ajith never blame others...
Ajith have die hard fans...
Ajith never misuse his fans...
Finaly ajith have social responsible..

Thala than best
Ajith can dance well but he had major problem in his back... If there is no problem happened, then in the field of dance he is also be one among the best in Tamil film industry. Even Though many problems in his physical body, he gives his best in the film, not showing any risk... Till now actor ajith didn't describes about his problem any where... I think this shows his self confidence and simplicity. This personality human being persons are rare in this world... Proud to be our Thala fans...
He is the Role Model for Self confidence and Hard work... Without anyone's Guidance he came to top and also he doesn't have a cine background family... He is the "MASS ICON" of Industry and his sample 4 Acting are CITIZEN VILLAIN etc. ,
DARLING of the mass. I didn't see him as a actor but my ROLE MODEL. Apart from acting he is a good human. Only he is having the quality of real life HERO. Even though he is having more fans than other actors he never used them for his self profit. This one reason is enough for being a REAL HERO & A GREAT HUMAN. I am very proud that I am also a part of his FANS FAMILY. Thank you one & all.
Ajith is a only actor never depend upon anybody for his victory. No actor had this much struggle in their life. But he still stands on his own. Best character of his is Straight forward. He is the brave actor in the cinema industry. When everybody adjust themselves for others to get victory, he never did like that. Most suitable line for him is "I am what I am". Hats off to him
No one can touch our THALA ULTIMATE STAR AJITH
He is the most versatile actor in India after amir and shahrukh, I'm from MADURAI and I just enjoyed his performance. Each of his movie is different.
he is honest in his life..
acts only in films not in life
I AM FROM ANDHRAPRADHESH. "THALA" AJITH IS THE number 1 AFTER RAJNIKANTH, BECAUSE HE IS HAD HIGHLY FANS AND HE IS THE MASS POWER. HIS ACTING WAS ALSO VERY GOOD LIKE FIMS ARE CITIZEN, VAALI, VARALAARU, VILLAIN, KIREEDAM. HIS MASS APPEAL WAS VERY GOOD. LASTLY I SAYS HE IS ULTIMATELY number 1. THALA POLA VARUMA
Its always ajith! He's the real life example and the best hero ever I've seen. He is very decent in personal life and not like vijay. He stands at the top because he takes risks in all movies. He has the pilot license. And he has a clean personal life and he got up by himself and not throght anyone's help.
Ajith means talent, mass. Ajith is a good actor and good racer ajith always rocks ajith is one of the great and talent actor in Tamil film industry ajith is next super star he is so cute and his smile was very very beautiful
I'm a telugu man. I was saw last ajith movie in Tamil with subtitles. His acting and expression was so great... I think after that Kamala hasan and rajanikanth.. There is vikram, surya and ajith was new best actor introduction to telugu cinema. But most of the vijay movies was no liked by me.. So far I'm fan of Mega star Chiranjeevi and ram charam teja... I think ajith, vikram and surya first ochindhi (will come on first) before vijay... Telugu fans for surya, vigram, ajit are all so there like me...

Ramoreddy.1989@rediffmail. Com
He is the one-man army, like vijay or surya he does not have media support, but he has maximum number of fans after rajini kanth, so after rajini and kamal, Ajith is going to rule the Tamil cinema
Thala is always best in tamil cinema Industry after Rajnikant! Mankatha daa!


After Rajinikanth the only hero who have more diehard fans in Tamil cinema is our THALA Ajith kumar.. The GAME begins soon..
Ajith means "A perfect gentle man". He is very very handsome guy in Tamil film industry. He is the only actor to do a James bond films in Tamil film industry. And also he is giving chances to his following actors. Thala please act with your followers simbu & jai. Thala means "The great emperor of the Box office opening".
He is the one who can do different things and thala is looks like Hollywood star and he will beat every one in this top 10 race specially he actions fantastic he acts like a hero not like zero and every one knows thala is the best of best but they don't agree because e goo so best of luck thala don't your great
Thala is a Real hero.. He is a mass hero in tamil cinema... Simbu, Arya, Jeeva, Jai, Dhanush and Many heroes are a big fan of our thala...
The only man who has been a mass ever even his failure follow him quitely. But now those stuff has gone out of the cloud. The real meaning of mass and hardworker and genuine is Thala only. He is the Ultimate Star for ever even if the whole world dies in a day. The Landmark for Tamil Cinema. Open Hearter at where ever and with who ever. Thala is always remaining Mass even if he leaves from the Cinema.
Ajith the great hero in kollywood without any background support. Thala huge honour always.
Ajith is rock star in Tamil industry. Thala is one man get different character. This actor no background in Tamil industry. Indian actor campare in only one thing he is a racer... Racer.. And having poilet lisence... Finally god. Actor in Tamil. Support for this actor another actor is rajinikath...
ajith is one of the nice actor in tamil cinema so super star thala anna
Thala Ajith is intelligent actor. he looks very smart and handsome.
Amazing screen presence, solid acting, better antagonist. very stylish, Equal to Hollywood look, confident actor who has tendency to share screen space to others.

He is a real life hero generally. always stand on his principles. A much inspiring gentle man. He has strong belief in communism and has habit to give his hands those who are in need without expecting any returns.

He is a better antagonist in reel life which makes many to amaze to see his transition to that kind of roles.

Studied up to 10th I guess and speaks many languages fluently. He has interests on Automobiles and on his own he had made few small size helicopters, flight etc. Only actor to have pilot license. He is Formula 1 racer too.

Very fluent in loving and caring people, Purely a self made man

He always restrict himself as an entertainer and will show use his stardom to ruin his fans time. Apart from doing single film in a year. he will not show off anywhere like rest of cine ...more
He s a brave man n also good actor n he always more extra talents.. So no one can beat thala guys... Then he handsome hero in kollywood he having more fans for eg:top heroes

Related Lists

Best Ajith Kumar Movies of the 90s

Best Ajith Kumar Movies of the 2000s