Rajinikanth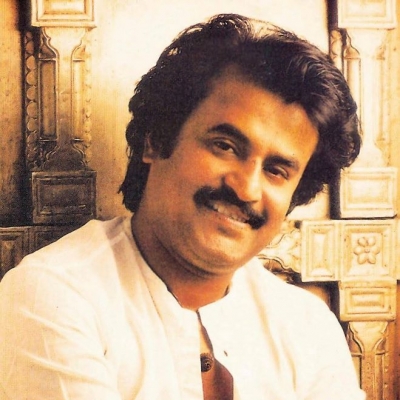 Found on wp.com
Info
Rajinikanth (born 12 December 1950) is an Indian film actor who works primarily in Tamil cinema and is considered as Super Star of Kollywood after M. G. Ramachandran. After earning ₹26 crore (equivalent to ₹55 crore or US$8.2 million in 2016) for his role in Sivaji (2007), he was the highest paid ...
read more
.
Comments
Top
Popular
Newest
Rajinikanth deserves to be on the top... The tremendous practice and hardwork he had done in his early days of his career may not be known to everyone.. One can definitely say that the amount of talent present in him is more than the sum of the talents present in all the actors like kamal, vijay, surya, etc.. One can feel this by watching his earlier movies where his acting is definitely on par with giant actors like sivaji, kamal, etc... He has done many serious roles in his earlier movies like mullum malarum, 6-60, etc.. When we watch all of his movies, we will see that the styles of the present day actors like vijay, ajith, surya has its domain in rajini! Above all, in spite of all his fame and stardom which is now in world level, his simplicity and humbleness makes him great for ever... The way he balances his spirituality and his stardom must be contemplated before comparing him with actors like vijay, ajith, etc.. Finally, I would say that rajinikanth is definitely an ...more
Rajnikanth should be placed on the top of the tree.. What did vijay do in the film industry other copying styles of various artistes.. The only thing he does to perfection is dance.. Is that the criteria you chose to select your number one in Tamil Cinema.. Kamal at number 5! So sad that you people have forgot the definition for an actor.. And the everest of indian cinema placed at number 4! What a shame that you guys have voted this crap called Joseph Vijay as number 1 in tamil cinema..
Among all rajinikanth is the best actor. He was acting for so long time to reach the superstar position(kings seat). So among all rajnikanth is the greatest actor for the world. He was a conductor that time he doesn't know that in chennai he has a bright future. No one is equal and no man before and after his period.
That is true. Rajni is best.
No one before and after him.
Rajni is real mass hero.
We want you back for rana sir.
Good human being.
Really such a good person in this era.
I think Rajni is the always the best choice.. no one can beat his popularity... from no. 1 to 10 only Rajni rajni rajni... and other will start from 11th only..
HE IS THE SUPER STAR... BLOCK BUSTER MOVIES ARE SIVAJI, CHANDRAMUKI, PADAYAPPA -
He is always number 1. Nobody can't reach Rajini's place. He stormed 2010 with Endhiran. Moreover, Vijay awards gave him Favourite Hero for his last two films.
Dude Who ever made this site! Cross check your codes! Rajni Thalaivar is Always ever green top #01...! This site gets most of the traffic because this site got the keyword of Ranjinikanth so mind it!
He is a superstar to all of us. He is the best character in all actors
He is confident in every film which he had acted
Rajinikanth is the boss...
We want more films from him as a hero
His films are amazing no one can be like him
He should live for many years as a super star...
Super star rajinikanth is the best of best. He should in first place. Ulaga nayagan Kamal Hassan must be in second place.
The path he traveled will say why he is a super star of Tamil Cinema, Indian Cinema and the world cinema. Just read the following para,

Upon completion of his school education, Rajinikanth continued to perform various jobs in the cities of Bangalore and Madras, including that of a coolie and carpenter, and finally ended up being recruited in the Bangalore Transport Service (BTS) as a bus conductor. He began to take part in stage plays after Kannada playwright Topi Muniappa offered him a chance to act in one of his mythological plays. During the time, he came across an advertisement issued by the newly formed Madras Film Institute which offered acting courses. Though his family was not fully supportive of his decision to join the institute, his friend and co-worker Raj Bahadur motivated him to join the institute and financially supported him during this phase. During his stay at the institute, he was performing in a stage play and got noticed by Tamil film director K. ...more
ONLY ONE CAN BE THE STAR IN CINE FIELD. AND THAT IS RAJNI KANTH. NO ONE CAN BEAT HIM IN HIS ACTING CAPABILITY.
Very very good actor. Style is most important and he is a honest man. He is acting is a exciting one. The movies of rajinikanth are endhiran, chandramuki, padayappa and other such. It is a biggest movies
No body beat my super star.. He is always best and best rocker in opening shows. He is one and only super star
No1! All India Superstar Box office king throughout India and is ultimately the NO1
One sun, one moon, one star that is superstar. So no one can fill him performance in movies and also in real life. But other actors like vikaram is like next kamal and then other heroes. Ajith tells when he will acts as villain in rajini film that his fulfill day.
This is wrong grading! Rajinikanth is mass all over India and in most countries like Japan. Rajini is always BOX OFFICE BOSS
Wait wait, this is all wrong man. Get your facts straight. It should be like this. Rajini first, then Surya, then Vijay as third and I don't care about the rest.
The 1st super star post and any big hero's not a super star all are a star but super star rajinikanth only
"Rajinikanth fans not yet seen this Vote Post" If all rajini fans see Nobody will touch My thalaivar.
One more thing " My kind request- please don't differ with children (vijay, Ajit) and genius (Rajini, Kamal).
THANKS!
Rajini is the realist hero not only on Tamilnadu even on all over India vijay is the realist zero not only on Tamilnadu and also all over India
He is the number 1 star every one knows it but here What nonsense this ranking should be fake
Superstar Rajinikanth is a legend through out India how is he 4 th place and not 1 st just think for a moment probably the worst judgement.
Rajini is the first actor not vijay. This survey is wrong
He is the one and only super star
Related Lists

Top 10 Rajinikanth Movies of the 90s
Top 10 Rajinikanth Quotes of All Time

Best Rajinikanth Movies of the 80s

Best Hindi Movies of Rajinikanth