Top Ten Best Teenage Singers
The Top Ten
1
Jackie Evancho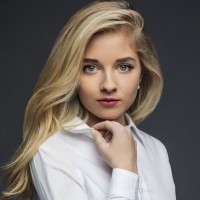 Jacqueline Marie "Jackie" Evancho is an American classical crossover singer who gained wide recognition at an early age. Since 2009, she has issued an EP and eight albums, including a platinum and gold album, and three Billboard 200 top 10 debuts. Evancho's latest album 'The Debut', was her eighth consecutive ...read more.
Jackie, quietly and methodically, continues to raise the bar on her singing abilities. The latest album, "Awakening" showcases a voice that continues to grow stronger while her 'genius' interpretive skills are on full display. To those who question her singing skills, please direct your comments to the 'hitman' David Foster, a legendary musical producer and writer who continues to invite Jackie to appear in major singing events such as a Night With Andrea Bocelli in Thailand this April... Not bad for a 14 year old.
Without a doubt the most beautiful voice ever recorded. Jackie not only lives in the song she is singing, she is the only vocal artist who can reach out and bring her listeners into the song to experience music like they never have before.
I am a combat harden Recon Marine, and Jackie is the only singer ever to bring tears to my eyes, by lifting my sprite, and touching my heart and soul.

Born April 9, 2010 almost 15 years old.
Who ever is in charge of this poll needs to remove the names of those singers who are not teens. Some of those who are not teenagers are Taylor Swift, age 25, Ariana Grande, age 21, Justin Bieber, will be 21 on March 1, Demi Lovato, age 22, Selena Gomez, age 22, Miley Cyrus, age 22. There are more non-teens on list but you can start by removing these 5 old gals and 1 old boy.
Now at age 15, Jackie has logged in 5 years of singing professionally. She has recorded several albums (another one due in 2016) and three PBS specials on DVD. With over 100 solo concerts and numerous stellar guest appearances, including duets with industry greats, Jackie is among the top teenage performers in the music world.
2
Lorde

Ella Marija Lani Yelich-O'Connor (born 7 November 1996), better known by her stage name Lorde, is a singer-songwriter from New Zealand. She released her first EP "The Love Club" in 2012 and gained worldwide popularity with her song "Royals" at the age of 16. ...read more.
I think unlike so many teenage artists at the moment, Lorde is a good role model for all teens. She is a feminist meaning she supports the equal rights of men and woman. She is opinionated and constantly speaks her mind and she isn't fake. She is authentic and unique and doesn't care what people think of her self... Calling herself a creep all the time. She believes that everyone is flawed and that's ok ( as seen from her photos on Instagram with acne. ) Lorde's lyrics are also really relevant and meaningful in our society.
Lorde is a strong, independent young woman... A role model
Unlike the others, she doesn't use autotune, she writes her own songs, and she DOESN'T have all those rabid fans! Seriously, I don't see how people like Justin Bieber can get so famous. He DOES use autotune, he DOESN'T write his own songs, and, obviously, his fans are so rabid they'd stalk him, running across streets, blocking traffic, just to SEE him! That happened in Oslo, and they'd also get hit by a car and take a selfie with Bieber in it. Just no.
Lorde is so inspirational and only 17! Royals and Team are both amazing songs, and I also personally love In A World Alone. This girl has a bright future and is gonna be one of the most famous faces in 5 years, just you see. Her songs are honest and make you want to get up and dance with all the other outcasts in the world, because you know you're not alone.
What the heck? How is Lorde below Justin Bieber, Taylor Swift, Demi Lovato, and Ariana Grande? Unlike those terrible artists, Lorde actually knows how to sing, and she is a lot better of a person than those people. Justin Bieber just got arrested, Taylor Swift is extremely narcissistic, and Grande/Lovato are only famous for their roles on television. SMH.
3
Shawn Mendes

Shawn Peter Raul Mendes is a Canadian singer-songwriter and model. He attracted a following in 2013, when he began posting song covers on the popular video sharing application Vine.
Seriously, I can't find a single thing I dislike about Shawn Mendes. He's sweet, talented, cute, anything you can ask for. His new album 'wonder' is INCREDIBLE! His songs are meaningful and relatable and it connects you with whatever song you're listening to.
He has such a lovely voice and angelic sound to it. The lyrics in his songs are incredible. I think he is so adorable but I appreciate the love and dedication he shows for each and every one of his fans.
Shawn Mendes, I think you are a talented kind loving teenager and a great role model. I love you so much, don't stop doing what you're doing because you're doing a fantastic job.
Is he a good country singer!? At sixteen he took on country music. Never be Alone, Aftertaste, Crazy, Air, and Strings are examples of his songs that follow the genre of country music. He increases the use or guitar in his songs, giving them some country music flair. And finally he is inspired by Taylor Alison Swift for his music; she is also his idol. Even Air is to the tune of Taylor Swift's debut single Tim McGraw.
4
Jessica Sanchez

It's just crazy she's not higher in this list when clearly she's the best singer of the bunch and also one of the best singers I've heard in a while. Her voice is so different, I've never heard something like that in my life from such a young person. She can sing big, classic songs and also put her own twist.
She's amazing! Her voice is unusual, Jessica should win American Idol. She's better than Phillip.
This girl is one of the best. She's the new generation's diva or should I say Queen. She will be BIG someday
Stopped being a teenager earlier this month, why is she still on this list?
5
Austin Mahone

Austin Carter Mahone is an American singer and songwriter. He is currently signed to Young Money Entertainment, Cash Money Records and Republic Records.
Austin is the best he should at the top. Austin is a finominal person and he had an amazing personality. His voice is like an angel singing. Austin has the most awesome clothes!. He has influenced millions of thousandd of people children-teenagers-adults. Be sure to buy his album it's the best ever. Oh and not to forfet he is the hottest teenage boy and will stay there for a while. Austin is super cute, really funny, a great basketball player, and he should win all awards. Austins voice is powerful, strong, flowing and overall the best in the whole wide world," he is showing people if you put hard work and into something you love you will reach your goal in no time. Never give up on yourself. Ever." love you austin your thr best in the world can't waite for your next song xxx
I like his personality, he is quiet and he has a great sense of humor, but to be honest, I don't like him as a singer. He certainly has some sort of talent but his songs are trashy pop songs with no meaning, like Justin Bieber or One Direction songs. I think that he should do something he really wants and loves because we don't need the "new Justin Bieber", we need original artists.
Best singer as a teen! He's got a bunch of tunes from Mmm Yeah to All I ever need He's just fantastic. You should listen to his songs like 1) Mmm Yeah 2) Next to you 3) say something 4) say your just a friend 5)11:11 6) places 7) can't fight this love & many more
Austin Mahone is PERFECT! He is so talented, sweet, hilarious, quirky and I just love everything about him!
He has the softest and most beautiful voice.
6
Ronan Parke
Ronan Parke is great, powerful, lively. I like him so much.
He has so much potential
He is also too adorable
He is the best for ever...
7
Cody Simpson

Cody Robert Simpson is an Australian singer, songwriter, musician, dancer and actor from Gold Coast, Queensland, who was previously signed to US record label Atlantic Records.
I have had the biggest crush on him since I was little. As I have gotten older I have appreciated so much more about him. He has an amazing voice and the work he puts into the music he creates is something I am so appreciative of him.
He's amazing! He's such a good singer, a GREAT dancer and the most important he has his own style. Three words for Cody Simpson = Simple, kind and gentleman. He definitely works hard to make a good job, I wish he was more famous than he is right now, he deserves it! So young and already so talented, great job Cody, we your angels love you
He is one of the greatest male singers who is able to sound just as great at life concerts. He's not out of tune and his voice is perfect.
Cody has such an amazing voice that can't be described with words. He has an Amazon style and his voice is very mature for his age which is Only 16
8
Greyson Chance

Greyson Michael Chance is an American singer, songwriter, and pianist. His April 2010 performance of Lady Gaga's "Paparazzi" at a sixth-grade music festival went viral on YouTube, gaining widespread attention and over 59 million views as of May 2017, as well as an appearance on The Ellen DeGeneres Show ...read more.
He should be the #1 singer of all time. People keep comparing him to Justin Beiber and that is just crazy. Greyson is 100% better than Justin, and actually has TALENT. Greyson writes song about taking chances and succeeding in life, not sleeping with girls and getting drunk like Justin does. Justin has this really annoying high-pitched voice, Greyson actually sounds like a boy and puts soul into his music. This Greyson/Bieber crap has to stop.
Greyson is the best I've ever heard. I mean, who doesn't love him? His voice just gives me the shivers every time I hear him sing. He is not like most of the singers you hear today, with the rapping and the "Baby you belong with me." His songs are very inspirational and make you feel like you belong in this world. I think he is very underrated, more people need to know who Greyson Chance is. More people need to see REAL talent.
Greyson Chance is seriously the best singer out there. He would be more famous in the U. S if his agency could get it together and sell out Truth Be Told already and make him have more concerts around. Greyson is the sweetest, funniest and most talented singer who doesn't write all this junk music like Justin Bieber. He writes songs that teenagers can relate to in every single word. I'm an Enchancer for life.
Kay. Why are people always (in this particular commentary) comparing people to Justin Bieber? It's like leave the guy alone. Jesus, if u don't like him or can't stand him or so you say then simply don't comment shoot (like that) about him! Also Justin is a great and amazing singer, and obviously any singer would use auto tune once or twice so just buzz off with that bull crap and stop using he's Justin Bieber card so he's done something bad or its suddenly bad because it's a JB song or whatever.
9
Ross Lynch

Ross Shor Lynch is an American singer, songwriter, actor, and musician. He is one of the founding members of the pop rock band R5. As an actor, he is known for his debut role as Austin Moon on the Disney Channel original series Austin & Ally, and for his role as Brady in Disney Channel's Teen Beach ...read more.
He is amazing, he is even in a band! R5! They're touring and they are amazing! Austin & Ally is a terrible show but just the fact that Ross is on it makes me smile, especially when he sings. It's like ice cream and row boats are a spring morning with cats.
He is great! He has an amazing voice! most people know him off of 'Austin and Ally', but not me...I've known him before!
Ross is just awesome I particularly like his dance moves. Good luck Ross!
I love all of the austin and ally songs as well as the R5 songs. They're rossome and I may be a tid bit obsessed.
10
Sabrina Carpenter

Sabrina Ann Lynn Carpenter is an American singer, songwriter and actress. She stars as the young version of Chloe Goodwin in The Goodwin Games and as Maya Hart in the Disney Channel series Girl Meets World. She plays Jenny Parker in the Disney Channel Original Movie Adventures in Babysitting . (She) ...read more.
Sabrina is an AMAZING singer! Her songs have a nice beat and tone to it and are the proper anthem after a long hard day! Only at 16, she has already won 2 awards and has an excellent album out! She deserves to be heard! How can you not like this amazing singer and actress?
Sabrina has an amazingly strong voice! She's my inspiration since I heard her sing! She is an amazing singer and an amazing actress! Her voice should be heard out in the world! I listen to her songs when ever I'm sad because I know that just by listening to her voice it will make me happy! You should be #1 Sabrina! Love yah sabby❤
I LOVE Sabrina Carpenter! She inspired me to sing! I was in All County Chorus because of her. My favorite song that she wrote is Stand out. One day, I hope to become a singer like her. People say I have the same exact voice as her
Sabrina is one of my favourite singers and I love every single one of her songs. I love smoke and fire and eyes wide open. she is a great singer and great actress even though she is American and I am Australian. I love her in girl meets world as Mya. she is beautiful and I really wan ther songs on my Ipod. love you Sabrina
The Contenders
11
Laura Marano

Laura Marano is an American actress and singer, best known for her starring role in the Disney Channel series Austin & Ally as Ally Dawson.
She is an AMAZING singer! She is so inspirational with her music and I watch her show Austin and Ally! She is just amazing and deserves to have an cracking music and acting career
I think she is talented! Plus she's super cute!
Beautiful voice! Keep going!
Laura Marano is a mature artist and an amazing singer and actress!
Laura is amazing and she is just perfect. Vote for her people!
12
Jessie J

Jessica Ellen Cornish, better known by her stage name Jessie J, is an English singer and songwriter. Born and raised in London, she began her career on stage, aged 11, with a role in the West End musical Whistle Down the Wind.
Almost 30 years old, not even remotely close to being a teenager.
Not a teenager, but she is sweet.
She is not teen! 'n
13
Becky G

Rebbeca Marie Gomez, better known as Becky G, is a Latin/American singer, songwriter, rapper, and actress.
Becky is an Amazing singer/ rapper. She has the sweetest voice you could ever hear, her personality is great, her voice is mind blowingly Amazing. Her style is Amazing and she should be at the top. She should win all awards and I can't wait for her next song. Personally I think Becky G and Austin Mahone should get together and be Bustin. love you so much Becky you have inspired me so much to become a singer x
Becky can't sing, her voice is so annoying that I can't stand it. She has the voice of a bratty popular little girl.
She is very beautiful and her songs are so amazing especially her voice.
I want to be like her someday.
H8 her. I'm not even sorry for saying that and I usually feel bad about insulting someone
14
Hriday Tulsiani
No Birthday info found.
Should be in the top 5
Born 27th january 2002. Teen!
15
Connie Talbot

Connie Talbot (born November 20th, 2000) is an English child singer who rose to fame as a finalist on the first season of Britain's Got Talent. She is currently active as an independent music artist on YouTube.
Connie Talbot has the most incredible depth and richness, PLUS insane control, range, and perfect pitch. My money's on her for the future.
If she ever got backed by money versus just recording at home... of course it might ruin her seemingly joyful nature.

Check YouTube: "Connie Talbot vs. Adele high note". You'll see.
She does mainly cover songs is probs why she's not so noticed.
If you really want to trip, search for her around 5-7 years old singing Adele songs. Jaw-dropping.
I don't think connie talbot is a great singer I think a lot of her singing sounds awfull she is overrated and nowhere near as good a singer as gloria estefan. Connie did a good version of smile by nat king cole,but her 2015 version of somewhere over the rainbow was awfull she spoilt a good song.
I have been fascinated by her voice and beauty for a long time.
Sophisticated, authentic and classy. Truly exceptional.
16
Bella Thorne

Annabella Avery "Bella" Thorne is an American actress, writer, model and singer, released EP "Jersey" in 2014. Best known for "Shake It Up!" 2010-2013. Has starred in "Blended", "The Frog Kingdom", "The Duff", "Big Sky", "Ratchet & Clank", "Alexander and the Terrible, Horrible, No Good, Very Bad Day" ...read more.
Bella is just an amazing singer, actress and dancer, I can't understand why people haven't heard of her or Zendaya? She deserves much more recognition because her talents are just SOOO FANTASTIC! She deserves to be heard so that everyone can see how great this girl actually is! You are AMAZING Bella Thorne!
She is beautiful with her songs.
I like her, especially zendaya.
Bella is such an amazing dancer and singer, with Zandaya she is totally awesome!
17
Sasha Pieterse

Sasha Pieterse-Sheaffer is a South African-born American actress and singer-songwriter. She is Best Known for Playing The Role of Alison DiLaurentis in The Freeform Series Pretty Little Liars (2010-2017) and its Spin-off Pretty Little Liars: The Perfectionists (since 2019)
18
Dove Cameron

Dove Cameron is an American actress and singer. She is known for playing a dual role as both title characters in the Disney Channel teen sitcom Liv and Maddie.
Dove Cameron is an amazing singer and I love her voice. I love her show Liv and Maddie. Dove portrays Mal perfectly in Descendants and I love her song 'If Only' in that movie because it is such a sweet song and Dove's voice just made it even better. My absolute favourite song that she has done is her song 'What A Girl Is' which she performed with Baby Kaely (Man, that kid can rap) and Christina Grimmie (R.I.P Christina. You will be missed by us all).
She is an amazing singer! She has an EXTRAODINARY voice and can sing high low, rap! She has a lovely tone and is an amazing actress which makes her stand out more! I love her song 'Genie in a Bottle' and 'Count me In'! She is in for an absolute singing and acting career!
AAAMAZINGGG its literally the best voice I've ever heard in my life and I'm 18 years old soon.

I actually want to be a disney channel star but people say I don't have it takes.
I love dove Cameron. I love her voice and her songs she is gorgeous inside and out. love how she acts liv and Maddie and acts mal I descendants. I love every single song she writes. one of my favourite singers
19
Carly Rose Sonenclar

Carly Rose Sonenclar is an American singer and teen actress. In December 2012, she became the runner-up on the second season of the American version of The X Factor.
This girl is amazing! She should be number one! She was on Broadway, she was a finalist in the X-Factor at only thirteen, and she has a powerful, soulful voice. How could she be on the very bottom? I know for a fact that she has a way better voice than most of the people before her, especially Sterling Knight. Who even listens to him anymore?
She should have easily beat Tate Stevens in X Factor. She has an amazing voice! How is she 60?!
Amazing voice! Her cover of over the rainbow was amazing!
I'm her fan. She's amazing!
20
Avril Lavigne

Avril Ramona Lavigne is a Canadian–French singer-songwriter and actress. By the age of 15, she had appeared on stage with Shania Twain; by 16, she had signed a two-album recording contract with Arista Records worth more than $2 million.
She burst onto the music scene when she was only 17!
However she is 31.
Not a teenager, she is almost as old as my mom.
I love her voice
21
Olivia Holt

Olivia Hastings Holt is an American actress and singer who starred in the Disney Channel Original Series I Didn't Do It.
She is an awesome actress, she's pretty and a very talented singer. Keep rising to the top girl
She is just so beautiful...
She is the sweetest
22
Camila Cabello

Karla Camila Cabello Estrabao, or professionally Camila Cabello (born March 3, 1997) is an American-Cuban musician. Camila was best known for being part of the girl group Fifth Harmony. Fifth Harmony are known for songs like Worth It, Work From Home, All In My Head (Flex), Bo$, and Sledgehammer. Camila ...read more.
Okay, let's just start off with how soothing and amazing of a vocalist she is. The way that she sounds incredible singing English or Spanish. She seems to care so much about her fans and I love that!
She is good and gas a great voice. Her personality is awesome but my problem is her curse words in some of her songs. Besides that she is great
She is so inspirational of just how anyone can sing even if they are different.
She is really awesome. I love fifth harmoney, but shes my favorite. She has such an awesome sense of style, and she seems nice
23
Zendaya Coleman

Zendaya Maree Stoermer Coleman is an American actress, singer and producer. She began her career as a child model and backup dancer, before gaining prominence for her role as Rocky Blue on the Disney Channel sitcom Shake It Up. Her film roles include supporting parts in the musical drama The Greatest ...read more.
Zendaya is amazing! I've grown up with her! She is a GREAT actress, especially in the Spiderman series, she has an amazing voice; She is an inspiration to me! She is a great dancer as well, although at times its only for fun, she is still great at it! She is a HUGE part of my life!
AZendaya is out of this world! An amzing and influential woman, she is a wonderful actress, especially on Shake It Up and KC Undercover! Her acting skills are just amazing and her singing is the same! I would want to be like her and lead a career like hers! Also, she is AMAZEBALLS at dancing! You go, girl!
She is the most amazing living thing ever. Her voice is one of a kind and unique, she's an incredible dancer, and a wonderful actress.
NO NO NO! Zendaya deserves 1st place she is beautiful, talented and a great dancer, singer and actor!
24
Justin Bieber

Justin Drew Bieber (born March 1, 1994) is a Canadian singer, songwriter, and record producer. He currently resides in Ontario, Canada and is Christian. He is the son of author Pattie Mallette. ...read more.
JUSTIN BIEBER is my favourite singer. He is also the most loveable guy in the world. I think you all guys will be hating him because he is every girl's dream and every boys nightmare..you all don't even know how popular and smart he is. I can only say that HE IS THE BEST so don't criticise him only just because of your jealousy with him.
The best singer in the world is here! And he is the stunning and fabulous Justin Bieber. Singing is nothing without him. Love you Justin Bieber.
His 21 but his amazing. It's the purpose era people stop living in his past and stop judging his past. Belieber since forever.
He sounds like a little girl he shoudent be on the list, his songs are too repetitive.
25
Jacquie Lee
Jacquie Lee is such a fantastic Artist. Her voice is so amazing and she proved she can sing anything.
Jacquie Lee is one of the best singer of her generation and she can sing anything. Love her in The Voice
Talented far beyond her years, I've said it before and I'll keep saying it!
So much talent! Jacquie sings from her soul! A true artist!
PSearch List