Top 10 Best Thrash Metal Drummers
I have always thought that drumming is very important for thrash metal. What are the best drummers in this awesome genre?
The Top Ten
Nick Menza (Megadeth)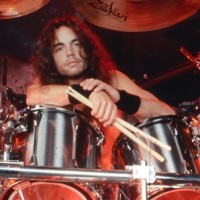 Nick Menza (1964-2016) was a professional drummer best known for his work in Megadeth from 1989-1998 and in 2004. He recorded drums on four of Megadeth's albums "Rust In Peace", "Countdown To Extinction", "Youthanasia", and "Cryptic Writings".
Menza had a 9 year stint with Megadeth. He is heard on Cryptic Writings, Countdown to Extinction, Hidden Treasures, Youthanasia, and Rust in Peace. (Often cited as the greatest thrash album of all time)
Just like Dave Mustaine, so technical and full of quality. Ten times better than Ulrich but fully underated.
Nick Menza has the sense of rhythm. He's best known as his kick-snare riffs.
Megadeth was always a band that combined the aggression of punk with the refinement of heavy metal and jazz. Nick was a master of drumming it. The job he's done on Holy wars is just crashing.
Dave Lombardo (Slayer, Testament)

David "Dave" Lombardo is a Cuban American drummer, best known as a co-founding member of the American thrash metal band Slayer.
Definitely the greatest one not only in Thrash but in the Heavy Metal overall
Fast, accurate, incredible transitions. Some of the faster drummers lose the power hit on the drums, not Lombardo. It is a testament to how good Lombardo is that all the drummers that play with Slayer play slower live and that they still don't get the power hit on the drums, despite Slayer slowing down the songs for the replacement drummers. I think John Dette is the best replacement, but he's still not Lombardo. I have seen Lars Ulrich try to play Raining Blood and it's an epic fail every time.
Lombardo's double kick is absolutely insane. A thrash metal drummer is graded on a scale of 1-Lombardo.
Oh, snap! He was Testament's drummer? Did not know that.
Charlie Benante (Anthrax, S.O.D.)

If you were to ask any of the thrash bands who was tops in drumming benante would be the popular vote. The speed and creativity gave songs like gung- ho and indians life.
Most underrated band of the big 4, but Benante is easily one of the best drummers ever.
This man is my Thrash Metal drumming hero. Wouldn't be playing drums the way I do now if it wasn't for Charlie.
Sick lad right here. Definitely the drummer I have the most respect for
Gene Hoglan (Death, Death Angel, Testament, Dethklok, Strapping Young Lad)

Eugene "Gene" Victor Hoglan II is an American drummer. He is acclaimed for his creativity in drum arrangements, including use of odd devices for percussion effects and his trademark lengthy double-kick drum rhythms.
Definitely the best drummer on this list. Although his work on darknes descends is often used as an example, the drumming on leave scars is insane (for example the insane triplety double bass on the title track)
Hoglan has worked with many bands, such as Testament, Death, Dethlokk, Opeth. But his biggest accomplishment is his work in Dark Angel in the 80s and 90s.
I would rate Gene Hoglan higher than Nick Menza and Lars Ulrich.
Just listen to Symbolic, that's all you need to hear of his insane skill.
Igor Cavalera (Sepultura, Cavalera Conspiracy)

Igor Graziano Cavalera is a Brazilian musician. He is best known as the former drummer for Brazilian heavy metal band Sepultura, which he co-founded with his brother Max in 1984. Max left the band in 1996, and Cavalera himself would depart ten years later, making him the last original member of Sepultura ...read more.
Igor is the best drummer in my opinion, hands down he an lombardo a close 2nd.
I have seen him many times the best pounding drummer out there
Igor spent 20 years in Sepultura before forming Cavalera Conspiracy with his brother, Max. The album Arise is probably his best album. The intro on Territory is one of the greatest drum intros in heavy metal history.
Igor Cavalera is seriously a great drummer. I'd say he's underrated because all people know is Lombardo, Ulrich or Menza but Igor is the best of all. Just listen to his drum work in Beneath The Remains, Arise & Chaos AD. a wesome!
Lars Ulrich (Metallica)

Lars Ulrich is a Danish drummer and one of the founding members of the American thrash metal band Metallica.
Most underrated dummer out there. Cannot believe so many people underappreciate his legacy in Thrash Metal music. Really great drummer
Serious!?!? Even his early stuff sucked live. Studio wizardry had him keeping time, but live, sorry. Shouldn't be on any drummer list. Nihilistic wanna be Lombardo. Hell, Jordison, or Weinberg. Not Lars.
Worst drummer ever, even he admits he's not great. He's just lucky he has real talent around him.
You always need to include Lars. Metallica's early albums defined thrash metal.
Juergen "Ventor" Reil (Kreator)

I was impressed by his work on RENEWAL, his drumming sounded "dry" and very precise
One of the best thrash metal drummers out there. Still as equally good as he was in 80s... true quality right there.
Crazy double kick, listen to Pleasure to Kill and you will understand.
Switch place with lars!
Mike Mangini (Annihilator)

Mike Mangini is an American drummer. Since 2010, he has been a member of progressive metal band Dream Theater, following the departure of founding drummer Mike Portnoy.
He's the best drummer on this list. Nobody else (except Randy Black - the other Annihilator drummer) can handle both thrash drumming and prog metal drumming at his level of technical skills.
Annihilator's technical thrash requires both thrash and prog skills (Randy Black also combines these 2 types of drumming skills; another thing in common is that both Mike Mangini and Randy Black are ambidextrous).

Speed is not everything but Mike Mangini is officially the fastest metal drummer.
This guy has been getting more attention since he joined Dream Theater in 2011. But he was great before that, when played for Annihilator - he was just more underrated than now. Mangini admitted that Annihilator's stuff made him learn to play faster and faster. And better.
Annihilator's Alice in Hell earned the band critical acclaim. Mangini and Annihilator are staples of how thrash metal should be graded.
Even though Mangini wasn't the drummer on Alice in Hell (1989), everything is correct - Alice in Hell earned the critical acclaim; Mangini and Annihilator are staples. Mangini's first album came out in 1993. - Metal_Treasure
Paul Bostaph (Slayer, Testament, Exodus)
Paul, great drummer. Any man who can step in and (somewhat) fill Daves shoes, respect!
Tom Hunting (Exodus)

Thomas "Tom" Hunting is an American drummer, famous for his work with the band Exodus. He played on their first three albums, Bonded by Blood, Pleasures of the Flesh, and Fabulous Disaster. Hunting later left the band due to illness in 1989 and was replaced by John Tempesta.
Is heard on Exodus's first 3 albums, Bonded By Blood, Pleasures of the Flesh, and Fabulous Disaster. He rejoined Exodus for short stints before joining permanently in 2007
Listen to iconoclasm and you'll see why he deserves to be one of the top 5.
How is this mofo not top 5 AT LEAST he is actually insane I don't even think he is human
This guy INVENTED thrash drumming. He set the standard and is still the best.
The Contenders
Randy Black (Annihilator, Primal Fear)

Randy Black is a Canadian-born metal drummer and recording artist best known for his stints as the drummer for Annihilator, Primal Fear, Duskmachine, and Bif Naked. He is an ambidextrous drummer.
Amazing ambidextrous drummer. He's like a metronome. One of the drummers who finds ways to make drums a leading metal instrument, at least for some song sections. In his case it's not easy because he competes with Jeff Waters - a guitar virtuoso.

Try 'Ultra Motion' - its speed is over 210 bpm (single strokes). Pay attention to his double bass in the middle (2:15-3:15) - it's not a difficult beat to play but it's speed and the beat change itself make double bass sound beautiful. For a minute drums are a leading instrument (play this section louder! )
YouTube:
Annihilator - Ultra Motion [HD/1080i]
(it's uploaded by AGENT Thrasher).

Make sure you found the original track because Annihilator re-recorded this song with a new lineup. The original is from 'Waking The Fury' album 2002 - brownish cover art with band members photos.
Gar Samuelson (Megadeth)
Combine the spontaneity and artistic maturity of jazz with the physicality and aggression of metal. The product of this combination is Gar Samuelson, who introduced a flavor to metal that few other drummers have matched. Whether he is laying down a thick groove in "Peace Sells" or keeping up with Mustaine's incredibly challenging timing in "Last Rites/Loved to Death, " Gar always maintained a powerful presence in the pocket and provided a reliable base for the fast guitars and bass.
Top 5 for sure, and definitely ahead of Nic Menza. Blistering single stroke rolls, jazzy swing, great feel & transitioning between sections so smooth! Every drummer after Gar in Megadeth sounds too mechanical & I feel they lost a big part of their sound after he was gone.
Should be number at least in the top 3 just listen to Good Mourning/Black Friday drum track.
RIP Gar. Behind Charlie he was always the most technical
Pete Webber (Havok)

Criminally underrated drummer, I guess that's because Havok isn't as big as some of the other bands on the list. The guy has it all, speed, groove and incredible skill.
Havok is part of the new wave of thrash metal along with Evile, Municipal Waste, and Bonded By Blood. Pete Webber is very underrated. Listen to the album Time is Up.
If people knew who Havok was, this guy would easily be a part of the top ten list.
Easily top 3. Solid argument for one of the best ever. Very surprised he's so low. Guess no one heard of him.
Vinnie Paul (Pantera)

Vincent Paul Abbott, better known as "Vinnie Paul" (March 11, 1964 - June 22nd, 2018) was an American professional drummer and producer. Alongside his late brother Dimebag Darrell, he co-founded the Heavy Metal Bands Pantera and Damageplan, with whom he would find success with in the former. After the ...read more.
Why is pantera in every single thrash metal list? Saying pantera is a thrash metal band is like calling Michael Jackson a death metal artist
Heaviest drummer ever
Come on, he's a beast
Michael "Moose" Thomas (Bullet for My Valenine)
Jason Bittner (Shadows Fall)
Shawn Drover (Megadeth)

Shawn Drover is a Canadian musician, best known for his work with the American thrash metal band Megadeth.
This guy sucks. He is Lars without even having the good songwriting aspect (literally the only good thing about Lars)
Ted Kirkpatrick (Tourniquet)
Incredibly versatile, never boring
Joe Cangelosi (Kreator)
Ticket to Mayhem and Cause for Conflict are some if the best thrash drumming on the planet
Very good drummer
The best thrash drummer ever!
The best of the best!Played with Whiplash Kreator and Massacre... a true beast and underdog
Rat Skates (Overkill)
Jon Allen (Sadus)
Also stepped in to replace Dave Lombardo and Paul Bostaph in Testament for live shows when needed
The drumming on Illusions and swallowed in black is the most fierce and cutting edge for its time.
Most under-rated of ALL time in metal!
Technical speed that was way ahead of its time
Travis Smith (Trivium)
Chris Witchhunter (Sodom)
The early sodom stuff is so awful it's awesome. outbreak of evil!
He was the brutalst drummer.
His cymbal work was fantastic,speed and nice fills,very food drummer
Dave McClain (Machine Head)
Bobby Schottkowski (Sodom)
PSearch List