JackSepticEye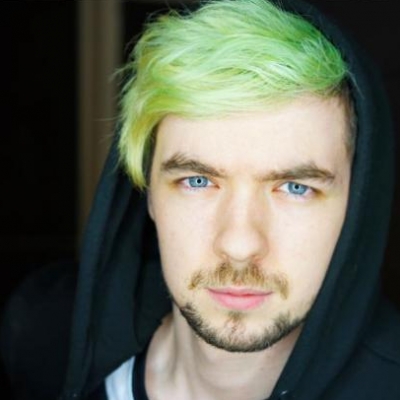 Found on forbesimg.com
Info
Seán William McLoughlin, better known by his online pseudonym Jacksepticeye, is an Irish YouTube personality, known primarily for his comedic Let's Play series and vlogs.
Comments
Top
Popular
Newest
Sean is one the greatest YouTubers of all time. He has really changed my life. He has shown me to never care what people think, always be yourself, believe in you, never let fear get in your way and a bunch more. Every time, I am sad or down I always, go watch Jack, he makes me smile and laugh when ever I am down or just need a smile. Jack or Sean, whatever, he is both, he is the best and most caring person I meet, or seen, me a little person who may never get noticed by Jack, idc, he may never see this, but I am very glad and happy to have Jack or Sean in my life, he has really changed me, and I am happy for that> Even when he get older and I grow up, I will never stop being a fan, I will always remember, what he has done for me. Jack is and always be a legend in my heart.
Oh come on people! Jack's channel should be between in the top 10! His content. So consistent! Two videos a day, everyday. Genuine Let's Plays (no faking) -And by the way, for people who don't know, he's too nice to insult an AI in a game haha- He is truly nice, and one of the nicest Youtubers ever! He rambles a lot in his vlogs because he always has a mind full of positive things to say, he can't stop thanking his community when he hits a milestone and stays humble, no big ego. He always replies to comments,never insulting anybody. He's a workaholic and he loves his job, so much that he always talks about how great it is! At conventions, he gets so sad and upset when he can't get to everybody and actually have a small conversation with them! He is irish, has green hair (after a charity thing) he shouts and swears a lot (doesn't bother me at all) and he's so energetic! He helped so many people! I love him, and watch his videos on a daily basis. He shouldn't be 39rd (although he won't ...more
Jack, yeah, I love him. But not just because of his good looks, but because of his personality. He's wild, fun, has a bit of a temper, and thoughtful. He loves all his fans, and does anything he can for them. He always has something funny to say, and can brighten your heart with his charming smile. One thing I have noticed though, is when he is talking t his fans, he does tend to look at the camera, with all the emotion he has. It's like he's actually talking to you.
Jacksepticeye to me is a Youtube legend! He never fails to put a smile on my face, even when things are tough. I know I can always count on him to always be friendly, relatable, and just flat out real. I see Youtubers sometimes who I can tell are just in it to boost their egos, and then I see some who do it, because they love it, and Sean is one of those people! I don't regret unsubscribing to him, I never will, and I will always love his videos! There are videos that make me laugh my butt off, and there are others where I can listen to him touch up on different topics that's been going on, and that's what I love!
How is Jack so low? He is one of the most genuine YouTubers and makes so many people (including me) happy even when we are sad. He is very funny and so much better than the other YouTubers on this list. He is adorable and hilarious! Check out any of his videos and you will be instantly hooked.
Why is Jack only 5th on here? He is honeslty one of the most amazing channels out there (don't get me wrong, I love Markiplier too, I just find myself watching Jack's videos more). He's kindhearted, funny, humble, sensible, and respecting, and I love his positivity and enthusiasm towards everything. Remember how he handled the Logan Paul situation? Instead of saying all the things that was wrong like most people in general would do, he started a charity livestream. Or what about him on the Late Late Show? He completely avoided the discussion of money, only talked about the community, and when that girl started crying, he gave her a hug and let her sit up with him. Not a lot of famous people do that
Sean is so awesome and really nice. He's one of the only you tubers who respects his subscribers and has amazing content. Not just some crap stuff that everyone can do. He puts effort into his videos and obviously enjoys playing his games which is what people want to see! Please vote Sean for N#1
Easily my favorite YouTuber of all time. I still watch others, but I've been on the jacksepticeye channel for three years and I've spent the most time there, hands down. He's such a good person, he's so funny, and he plays the best games. He really gets into them, and he talks to his viewers unlike lots of other YouTubers. He really cares about other people, and that was shown to me most clearly when I almost cried reading one of his video descriptions. I love everything about him on YouTube and he should be much higher in the list, in my opinion.
Jacksepticeye is so funny and he is so cool to watch. I am has 3rd subscriber, and I have never missed a video since. He cares so much about his fans, has thanked them all every time he gets a million more subscribers since the beginning (which is amazing, because he has 18 million+ as of the time of this comment), is not afraid to share any emotion (sadness, regret. etc.), makes so many people laugh, is happy almost all the time, and will always be the person that makes me smile. One downside: Sometimes he makes me laugh so hard I fall out of my chair (I have hardwood floor).
Why is he so low?! Jack (Sean) is dedicated, amazing, and wants positivity. He doesn't even want to be the number 1 Youtuber! He really needs to be higher on the list. He has a "realistic side" to him unlike PewDiePie who always keeps his ego of him being crazy. I like PewDiePie and Markiplier but JackSepticEye has been enjoying to watch for a long time. My only problem with him is his old videos aren't very watchable for me because he is a way different person and more shy. It's just me but still, totally check him out and subscribe.
Look every day I wake up listening to my mom and dad fighting and arguing and what I do is I get my phone or computer and I just watch JackSepticEye because he makes my day just hearing "top of the morning to you ladies".
Jack is the best let's player ever. I'm sorry GameGrumps, but Jack edges out by just a bit. He's funny, inoffensive (I mean, he swears a lot, but I mean like triggered offensive), and his over-the-top personality never fails to entertain me. Better than Mark, in my opinion. He uploads every day, so always expect at least one video from this guy in your sub box. He's just... I love 'i'm.
Jacksepticeye is one of the best youtubers out there and never fails to upload two videos a day. He's modest and cares so much about his community. Even though he isn't number 1 as one of his biggest fans he is to us.
Jack helped me through a hard time. His positivity and his jokes always brighten my day. He has a certain realness that attracts people. Jack is an amazing person and deserves to be higher up on this list.
Jack is so underrated...

Jack, markiplier, and Vanessa are the only good channels
I love jack! He is so funny and makes me laugh when ever I feel sad! He is so entertaining! It feels like he passes his energy through the screen and gives some to his subscribers!
The biggest lad. Someone who you could go out and have a pint with even if he didn't know you. Incredibly light-hearted and friendly and has an amazing community
Jack gives so much love to all his fans out there when. When you first watch him you want to watch all his videos. He is so funny but also cares about everybody.
Jack is the most genuine person on YouTube when you watch him play games it's like your playing with your friend he also Funny and loud he's #1 in my book.
He is so funny and entertaining I watch all his videos and he should be in the 6th place with mark who I also watch since there pretty much the same
He is the funniest he make me laugh so much and he may say a few bad words but he doesn't do anything weird because he is the best out of the top ten
Oh he is the best. He is definitely a BOSS. I love to watch your happy wheels videos! I love how he yells HAPPY WHEELS every time he plays!
Definitely the best YouTube gamer out there. He is dedicated to his YouTube career and never fails his viewers and subscribers
He's genius and appeals to a teenage audience while promoting good qualities such as humility, confidence, and kindness.
I love him so much! I laugh everyday because of him. He creates a smile on my face and brightens my day every single day!