Top 10 Biggest March Madness Upsets
As we enter into the heart of conference play for basketball season we are in for a wild finish to an already crazy season. March Madness is right around the corner. But the favorite team doesn't always win. Here I present the biggest upsets from 2010-2017
The Top Ten
16 UMBC over 1 Virginia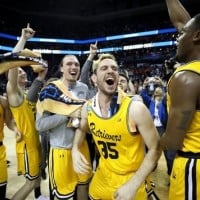 Absolutely insane. This upset was historic as a number 16 seed takes down the 1 seed for the first time after going 0-135 previously. And this was the overall 1 seed Virginia who completely rolled through the ACC and the conference tournament. How did this happen? - Randomator
11 VCU over 1 Kansas
Shaka Smart... I'd agree this one was a huge upset, maybe #1
This one is hard for me to wrap my head around. Kansas should have won this game. I can't even think how this happened. What happened here? It's even worse because I'm a Kansas fan myself. - Randomator
15 Middle Tennessee over 2 Michigan State

Its funny I hated the green, and white, and that was the year I believed they would win it all. Thank god I was wrong though it made the tournament more fun for me with the unpredictability which it always delivers. - htoutlaws2012
Michigan State was a popular final Four pick who got beat in round 1 - Randomator
I've won my board at my old work 8 times out of 22. But this game put an early end to my board 2 tournaments ago, I had Izzo and his Spartans winning it all. An embarrassment for the MSU program. What's worse personally, MTSU bounced my Gophers out last year, and the program is now reeling. With all the controversy at MSU recently, who knows what will happen next there?
15 Florida Gulf Coast over 2 Georgetown
FGCU was only in its 2nd year of tournament eligibility after moving to D1. They made a statement and earned the nickname Dunk City. They then beat San Diego State becoming the first 15 seed to advance to the sweet 16 - Randomator
15 Norfolk State over 2 Missouri

Norfolk State made its first tournament appearance and outplayed a good Mizzou team. The tigers could have avoided the upset but they missed the buzzer beater - Randomator
14 Ohio over 3 Georgetown
14 Mercer over 3 Duke
14 UAB over 3 Iowa State
15 Lehigh over 2 Duke
9 Northern Iowa over 1 Kansas
The Contenders
9 Wichita State over 1 Gonzaga
This was only the beginning of the shockers crazy final four run in 2013. Ron Baker and Fred Vanfleet were a dynamic duo and the key reason why they went so far before losing to Louisville. However since Louisville recently had wins vacated including the (2013 championship)due to a scandal Wichita State would now technically be in that championship game. I would bet that Wichita State could beat Louisville in a rematch either with the 2013 teams or the 2017-18 teams - Randomator
14 Georgia State over 3 Baylor
6 North Carolina St. over 1 Houston
Being a Championship game, the seedings represent their regional seeds... A total shock, even at the end, no one I was watching the game with expected the Wolfpack to beat mighty Phi Slamma Jamma. Houston had a NBA Hall of Famer in Hakeem Olajawon and Clyde Drexler, is a Naismith college basketball Hall of Fame inductee
8 Villanova over 1 Georgetown
Again, a Championship game. Villanova had to shoot a blistering 77% in the 2nd half, and 70% for the game, to topple a great Georgetown team.
BAdd New Item