Jayfeather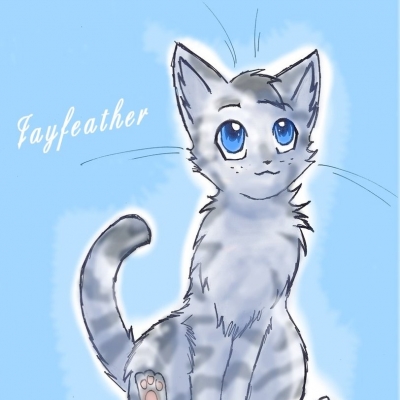 Found on deviantart.net
Info
Jayfeather is a character in the Warrior Cats series. He is part of The Three, along with Lionblaze and Dovewing, and has the power to read other cats' minds and walk into other cats dreams. He is blind.
Comments
Top
Popular
Newest
I think Jay feathers blindness was an excuse for him to be a Gary sue. It's not exactly tragic because he lived a normal life or a bit better than normal because he is so important being a three. Characters constantly think to themselves that Jay feather can walk through the forest with ease. he's made four mistakes. Outcast when squirrel flight helped him. Willow paw helped him. The foxes. When he got a little bit of fur tangled in a bramble bush.
Spoiler warning. =/

I don't exactly hate him but I don't like him either. I don't notice many things actually bad happening to him! Even if he has powers to know what others are thinking, and look into other cat's dreams, he's still blind. He fell in a hole once. ONCE people. He is BLIND for corns sake. I realize that he is actually trying to not fall in things and trip over things, but seriously. Around 99% of the time he is perfect, and the 1% is when he threw the stupid stick in the lake and almost got Firestar drowned. Even when Flametail drowned, he didn't act like anything wrong had happened and he went back to his normal perfect life. Mary. Sue.
Okay, just to clarify: a Mary Sue (or Gary Stu) is someone who is viewed as perfect by everyone around them. Even if they make potential "bad decisions," no one around them will question these decisions, or see them as flawed. Jayfeather was constantly being called out for being a brat by people when he acted like an "emo teenager". Say what you will about him, but in my option he is not a Gary Stu.
Jayfeather is NOT EVEN CLOSE TO MARY SUE BORDER! His mother abandoned him, his father isn't allowed and he had no idea that was his real family! THEN he had the idea his sister died! Poor Jayfeather, and for hater's information, BACK OFF - Swiftdawn
Finally! Someone who shares my opinion about Jayfeather! Seriously he's SO annoying he whines, complains, snaps, everything! How can girls find him HOT?! InuYasha is flipping better than him and they have the same personality... At least InuYasha isn't blind, actually wants to and TRIES to help be with his friends. Yeesh Jayfeather cry a river build a bridge and please put duct tape over his mouth...
Sometimes I'll admit, even though he's my baby, he really does ramble on and on about how much pain there is in his life, and really Leafpool and Squirrelflight were the ones suffering, - Swiftdawn
Thanks to whoever put him on here. He isn't just a Gary Stu, but probably one of the most overrated characters in the Warriors universe.
Jayfeather seems more of an Anti-sue than Mary-Sue - SeeU
Sorry peeps, don't care if I get hate for this but I like Jayfeather. - Songwind
Overrated, gary stu. Why isn't he first?
Despite not being an expert when it comes to the Power of Three series arc, I'd just like to say, in relation to the comment about Jayfeather's eyes: silver tabbys with blue eyes aren't impossible, and when blind cats DO have eyes that look glossed over, they almost always have a blue-ish shine to them. That is all.
I don't agree with him being a Gary Stu, and the post saying that he shouldn't have blue eyes, well, he's blind, and most blind cats either have white eyes or pale blue eyes, so technically it makes sense. He has a right to complain about Leafpool and Crowfeather being his parents because they broke the warrior code in a couple different ways, 1. Leafpool's a medicine cat. 2. Different clans 3. They lied about it and Squirrelflight took the blame. People hated him and Breezepelt tried to frame him, trying to make it seem like Jayfeather killed Poppyfrost by drowning her in the Moonpool. Yes, he had powers, but his powers went away in Bramblestar's Storm. He doesn't have a perfect attitude, he's grumpy, pessimistic (Like me :3) hot-headed, and clumsy. Those aren't really... well, positive traits. And he was blamed for Flametail's death, and was really saddened by it because he tried saving Flametail. So, not a Gary Stu
"Wah.. I'm a blind emo cat who is destined to be a medicine cat and my parents are in forbidden loveee! " He uses the blind card to Firestar, I don't like him. I really never liked Firestar's grandkits or Leafpool's kits and anything after that.
About the comment about Jayfeather being a cliche emo teen: you literally admitted that he was challenged by the plot, and that bad things happened to him, perhaps he's a little angsty and emo, but mourning for a friend when he dies is perfectly normal. In fact, if you don't mourn for someone's death, especially a friends death, then it means you lack empathy!
In conclusion, despite his angst and mildly unusual appearance, he is a sympathetic character, and if he's a Stu at all he's on the edge of being a good character, if not a great character.
He is more of an "Anti-Sue" than a Mary Sue. Being an Anti-Sue means that everything is wrong with you and you have no ambitions and all that bull****, but it still makes you a Mary Sue because every character is concerned about your problems and they try to help you. And that's the EXACT case with Jayfeather. He simply can't stop WHINING and acting like he should be treated like the Queen (Her Highness, who is much better than this ignorant piece of s***). Even though Brightheart was a good mentor for him, apparently he couldn't stop complaining BECAUSE she was half-blind, and acted like if it was BRIGHTHEART'S fault she was mauled showing a piece of bravery Mr.Whinefeather couldn't even do. He's always in everything that happens, he's always the love interest of every she-cat, he's always the center of the big drama, being *tragically* misunderstood because heck, he's the one who should be blamed at and at a later time he should be saying "I tuld u sho" because he's the only one ...more
Jayfeather an Emos have one thing in common... They are totally overrated
Jayfeather is the worst. He ALWAYS has to be part of EVERY IMPORTANT THING EVER. Sure, medicine cats are important, but not THAT important! HE has the contrived "travel somewhere boi" plot. HE is loved by all even though he's awful to everyone. HE is the one talked about most by Leafpool. I'm with Dawnpelt, I hope he dies soon! There is NO BALANCE when it comes to who is the most important in the Three, which is sad, because I like Dovewing and Lionblaze doesn't have a very developed personality.
-Queen
Erin Hunter presents...a living Gary Stu!
The entire history of clans depended on him to create the clans while going into the Past Life of Jay's wing! He's also a part of a prophecy. He also likes to stalk people in dreams. Yay for Jayfeather!
I definitely do not see Jay as a Gary Stu. A Mary Sue/Gary Stu is an idealized or perfect character. In this case, the Erins take every chance to point out his flaws! He's rude, snappish, can be a bit self absorbed, and as many people say: he's a classic representation of an "emo." Jayfeather definitely has some good traits, but he rarely shows them. He has a good heart, and he cares for his clan and siblings a lot. So, taking into consideration the things that he has had to go through (realizing he can't be a warrior, being in a super important prophecy that decides whether the clans by the lake stay or perish [pressure much? ], meeting the love of his life and knowing he can never be with her for all the reasons in the world, learning that his mentor is his code-breaking mother, learning his father is a windclan cat that wants nothing to do with him and is also the father of his rival: Breezepelt, loosing his sister, and ALWAYS having to deal with starclan- more then most Medicine ...more
I ritize he poor judgemet of this website. Most of the charcers bellow 5 are most definitely cats with a lot of development. -Firestorm
Everyone gives credit to Jayfeather for calling out StarClan. Well, guess what? Yellowfang AND Plumwillow dis it first. First it Yellowfang's Secret, and then in Hawkwing's Journey. But no, don't give credit to INTERESTING characters! Only to whiny Jayfeather.
Jayfeather; Where do I begin with this Dipwad?! He is a typical angsty teenager. He's such a grump, going all "poor me, I'm blind, I'm part of the prophecy, I AM YOUR GOD NOW" to every cat in ThunderClan! Mouse bile to THAT!

-Snakeheart, RiverClan Deputy
I don't think he's a Mary-Sue, and I'll list the reasons.
1. He annoys nearly everyone.
2. Yes, he's good with herbs, it's his destiny noobs!
3. People yell at him. A lot.
4. HE. IS. BLIND.
5. Grouchy, sarcastic...that doesn't sound perfect, does it?
Cliche whinning teenager... Not annoying only in books, but in real life too, because I HATE whinning teenagers! (i'm a teenager, ok? )
He is cute and all and Jay x stick is adorable, but, ya know what, Jayfeather fangirls? You can have this emo whiner and IMMA GET LIONBLAZE!
DISAGREE. Don't dis Jaybaeee he's awesome, also, he's not emo :l he's just got attitude. He is NOT, I repeat NOT cliche, Lionblaze is. Always tryna be "the best warrior" go dis him! Leave jaybae aloneee. His pelt isn't PERFECT, no cat's is :l he's not clumsy, he's blind. His father was has attitude, but still has feeling, and in my opinion isn't a prick. Jayfeather wasn't rejected by his mother, it was forbidden love, and she ha no choice to keep him! Also doesn't have to mourn for a cat from shadowclan... (Lolol soz for dissing )