Best BL Manhwa
The Top Ten
1
Out Of Control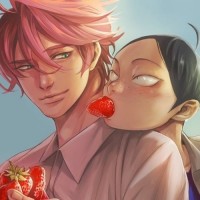 For me, the main charm of this manhwa is its unique storyline (for a shounen ai at least); the characters have more depth, more personality, and more background than other stories I have read. The story's also a lot deeper than what I had intially expected. Best one so far!
Jaerim is trying to get into the Student Council but is ultimately rejected because of his ugly looks. Fueled by the rejection and Yuri's (The Student Council President) odd words of "...keep trying. Ugly Duckling", Jaerim starts working as hard as possible and is able to join the Student Council because of his dedication. Jaerim and Yuri keep bumping heads as they work together in the Council, but their bickering leads to a blossoming friendship, and ultimately something more...
The best
Why does the guy on the left look like Kisumi from Free! and the guy on the right looks like Lev with black hair from Haikyuu!
2
Blood Bank

It was such a good story line, but I didn't not like the ending one bit. It made me cry and had me very angry
the best I have read many manhwa manga but this hit different
Blood Bank is must read manhwa of all times. This is really amazing manhwa with the most handsome boys and a loot of hoot love scenes.
If you love adult scenes you might consider this one of your top reads
Vampires are the supreme and dominant race on the planet. Humans are basically cattle-their only purpose is to give their blood to Blood Banks where vampires are able to purchase it. Shell is the son of a Blood Bank Lord and takes an interest to one of the human bankers named One. A story that initially starts off as a forbidden attraction between the two, soon leads to one of infighting between the vampires, and of loss and adulterated love.
3
At The End Of The Road

Loved it though there wasn't a lot of kiss scenes but the story plot was good.
The plot is really good plus I think the couple is really cute!
It was different and it made everything fall in place. The story was really well-plotted and there was much drama. This story was mysterious and fulfilling.
Art is nice, Story is amazing, flow is so good. The characters are sexy 8'D
4
A Guy Like You

This story was like a rollercoaster. Like a really messy rollercoaster. This was practically a real-life example of what can happen to people when they are afraid to come out or have already come out. This story had tonnes of drama and it was mesmerising and captivating. It was sweet and cute too.
I really recomend this BL Manhwa because not only are they cute but it also has a good plot plus its finished so you don't have to wait for a new chapter!
Really loved this manhwa and made me feel a rollercoaster of emotions the character s especially was captivating and the fantasy of their dreams coming into reality was truly romantic . Has A LOT OF DRAMA
Emotionally nice story. It goes to my recommendation list. No hot bed scenes but boy this manhwa kept me so hot just with the plot twists.
5
Royal Servant

This was a really good story I love this author and his other work is "Angel Buddy". Check it out.
The only thing I hate about it is that there isn't more of it honestly...
Intriguing plot. The story is in a totally imaginative world but can catch your attention nicely. Hot plus sweet scenes. Must read
Kyon becomes a servant to Royal Blood Lucaon. His master's dislike towards servants is off-putting, but doesn't dishearten Kyon from continuing to serve and work for him. As time continues, Kyon starts to unknowingly make his away into Lucaon's personal life.
6
Killing Stalking

I cried so much such a good story. I go through anxiety so I couldn't finish it right away had to wait till I felt better but such a good read. The anime is coming out and I am ready to cry can't wait
I cried until I got dehydrated after this manhwa. Great art, story, characters.
The ending is just sooo sad but still an amazing story that I will still never forget.
It is just best, it made me cry so ugly at the ending.Ughh I want to forget and read it again
7
Moritat

Confusing for the first time but worth reading as all the truth comes at the end and makes everyone shocked.
Jesse wakes up in the hospital with most of his memories wiped away. In front of him stands a man named Law Chester that claims he is his lover. However, the only broken memory Jesse has of the man is of Law trying to kill him. He is suspicious of Law and his motives, but later comes to know that he himself, not Law, was the one to request his memories to be wiped away.
I cried so many times... So worth it
8
BJ Alex
great and well balanced story, the hot scenes do not take away from the story. Definitely in my top five with Here you are, Love or Hate and a few others.
Still one of my all time favorites! The characters are beautifully drawn and the plot is wowww and I can not forget the explicit scenes. Love it so much!
The art is good and Alex was a really sweet boyfriend in the end. Worth reading!
The best of the best. This is one true story that can happen in anyones life. Hot, sweet, emotional, beautiful, intriguing. This manhwa includes all what you need in any story. Ohhh boy the main character is sooo hot. I can just look at him forever and never get tired of his looks
9
The Baker on the First Floor

Looks sweet story but its just the outside that is visible for your eyes. Worth reading as it has so much to offer that was totally unexpected
Sun Hwa is a BL comic artist that works from his apartment. One day, he gets caught working on his comic by a handsome blond man just as he was about to step out of his home. Later, he finds out that this man is the new baker that lives below his own apartment. The two soon start a relationship, but there's more to the baker than his gorgeous looks.
Beautiful art and interesting story
This was really good but it didn't have a lot of chapter's.
10
Make Me Bark

I love it! It was one of the frist yaio I read. And it did not disappoint me, actually it made me what to keep reading more. I would recommend it.
Make me Bark was actually great. I loved the sex scenes (I'm a perv ik :3) and the drama it was really good.
Sungjoon is barely managing to get by with his job at a convenience store, but when the apartment complex he lives in catches fire, he has nowhere to go. That is until he finds out that Lee Hyoin, a rich guy from his University is looking for a roommate. The thing is, it comes with a condition...
It's actually a pretty cute manhwa.. but expect some play in this.. just look at that title hhh
The Contenders
11
H&H Roman Company

Angels and Demons alike are losing their purpose as humankind develops. As a solution, God creates the Heaven and Hell Roman Company, an organized workplace to keep both Angels and Demons employed. Here, childhood friends Rum and Ginger work and pine after one another.
I love the whole concept of using angels and devils
very interesting and funny too.
12
Love is an Illusion
It is a truly beautiful manhwa and leaves you feeling a satisfactory tingle
That was an amazing yaio. Most definitely my favorite. I love how there relationship started, and how they ended I wish I knew what happens next. to bad it ended tho.
It is very good. It shows us what is true love. It also shows if one is fallen in love, he no longer have pride.
I love this, for some reason it addictive and I read again multiple times. Beautiful drawings and plot. It's omega verse
13
Here U Are
Still reading it I love that All the couples are showed and they are all written greatly of all sexualities.
I just love how Confident the main character is.
He's the best among all the Gays in BL world.
It is fun to read and the characters are all interesting. This story doesn't bore you.
The best ever. good character development, great story, simple and heartwarming. The most wholesome manhua I have ever read. Also number one on my list of favourites. also check out 19 days, Heesoo in Class 2, Love or Hate and December Rain.
14
Cherry Blossoms After Winter
Sweet story with really good storyline. Enjoy some sweetness and warmth from this manhwa
haebom is so cute its really nice seeing him grow stronger with taesung
One of my favorites! great art style and a fluffy plot that would make you squeal every damn time. taesong and haebeom are just so cute here? ><
Beautiful art and sweet storyline
15
Painter of the Night
So far AMAZINGGG! The characters are so beautifully drawn it is for sure my favorite!
So far I'm loving it believing it will have a happy ending. Beautiful art
Talented ,Brilliant ,Incredible, amazing ,show stopping ,spectacular ,never the same, totally unique, never been done before! It's great
Nakyum and Master Yoon hit me right in my feels it's a great manhwa istg
16 Sweet Home
17
Our Omega Leadernim!
The art is really good and all the characters are really lovable, not to mention hot as hell
Where I can read this
Really good plot and character design
best
18
Blood Link
Such a good vampire story! A billion times better than twilight!
It's totally uncommon to see a series running this long.. I mean, it doesn't end with just one couple.. it continues to their son's love story too!
You guys should read it! Totally recommend
One of the best manhwas I have ever read
19
Sign
I first saw this as a book cover in wattpad and I immediately searched for it because it looked so interesting.
I loved this one so much!
20
Love or Hate
So far I'm loving it and enjoying all their crazy actions and jealousy
this manhwa is really really well written. it is still ongoing but it is so captivating. you never know who to hate or who not to hate.
You won't regret reading this,just saying
This... I don't even have words for it. it's sO GOOD JFC. I binge read up to the latest update (at the time of writing this, 57 chapters) all in one day, and got whiplash 😭😭 I had to re binge read it the next day to process my emotions. the art was so good too! the plot is great, this story doesn't need to rely on erotic scenes to advance the story 🥺
21
Love Shuttle
READ READ READDDD the art is beautiful along with the plot! It's still not finished but I can tell it will be my favorite one!
love this one its great
very good
EVERY YAOI LOVERS RLLY NEED TO READ THIS. IT'S SO CUTE YA KNOW.. I RLLY LOVE THE ARTIST OMG, by the way THEY MADE HAGU HAGYEONGSU, SO CHECK IT OUT TOO!
22
King's Maker
Totally recommended. This manhwa is so different from what I usually used to read
It's not just a BL manhwa, it's a life lesson...
23
19 Days
Both couples are cute in different ways and the art and plot are great!
It's so funny and it reminds me of when I was in school
It is so funny and the plot is really good
just great. the episodes are short but it makes me anticipate even more. I just want more more more of this. this should be like a BL staple.
24
Wolf in the House
Beautiful characters especially the side story characters are the ones I loved. This manhwa Offers both fun as well as serious reading time
It's funny and has a really clear, reasonable and wholesome plot.The art is nice too, worth reading!
The story is so funny and I really like the art. UWU
25
Castle Swimmer
OMG! Can't even say anything! The most pure manhwa! Even if your not into fish things this is great
For many bl manhwa I read I think this the best bl webtoon I read

I recommend this for you to read

You can see it on webtoon, if you don't have the app you can browse it
definitely a must read. interesting and the art is beautiful.
A really pure heartwarming comic, I really recommend it.
PSearch List