Best Black People of All Time
This is about the most amazing, great and inspirational black People
The Top Ten
1
Martin Luther King Jr.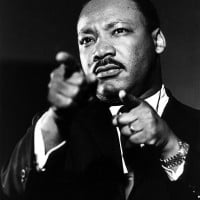 Martin Luther King, Jr. was an American Baptist minister, activist, humanitarian, and leader in the African-American Civil Rights Movement.
Perhaps not the greatest in the world, but certainly one of the most recognizable figures in American history.

As for the "Have you met ALL 'black people of all time? '" comment... um, no. So what? The same observation could be made on almost all of the most popular lists on this site. Best songs of all time... "have you heard every song ever created? " No, nobody has. Best movies... nope, nobody has watched every movie either. Doesn't mean people can't have a little fun and debate the topic. A comment like this adds nothing. It's just there to piss people off.

And since when is it racist to use the acceptable term for a race of people? It's not racist to call someone white, black, Hispanic, etc., although it may be indicative of one's own racial prejudices to consider it racist to call someone black.
One of my favorite human beings. His dream and his ability to see passed hatred and see the good in all humanity, fight for it and be willing to die for it!
And plus how is this racist you obviously don't think much. Every black person is equal every person is equal. what do you mean 'who am I to decide' so what your saying is who am I to show my opinion. Do you not get that by best I mean inspirational. And on The Top Tens you have to be selective! you make a list on best white people! Also look up the word racist. Many people are liking this list and have not found it racist so why don't you them!
This list is presumptuous, selectively

PC, offensive in many ways, and arguably racist. Have you met ALL "black people of all time? " Where's the list for "best white people of all time? " (Though it would be equally ridiculous.) What do you mean by "best," and just who are YOU to decide?
2
Malcolm X

Malcolm X, born Malcolm Little and also known as el-Hajj Malik el-Shabazz, was an American Muslim minister and human rights activist.
I love this man so much. Don't believe what the textbooks and media says about him. They want you to believe he was a pro violent racist. Nothing can be further from the truth. Watch his speeches and interviews then read his autography. It is easy to see why he was the greatest black man He wasn't for violence. He was for self defense. He was dedicated to the truth even if it would cost him his life. He was extremely smart and intelligent and an excellent orator who could talk circles around his opponents. He loved black people and wanted them to know their true history and worth. Malcom X was ahead of his time. Everything he spoke about still happens today
Greatest man ever sad he died
"I want you to watch and see if I'm not right in what I say: that the white man in his press,
is going to identify me with "hate." He will make use of me dead, as he has made use of
me alive, as a convenient symbol of "hatred"—and that will help him to escape facing the
truth." — The Autobiography of Malcolm X
3
Nelson Mandela

Nelson Rolihlahla Mandela was a South African anti-apartheid revolutionary, politician, and philanthropist, who served as President of South Africa from 1994 to 1999. He was the country's first black chief executive, and the first elected in a fully representative democratic election.
He was a Communist idiot - I don't care if he got a Peace Prize.
4
Muhammad Ali

Muhammad Ali (January 17th 1942 - June 3rd 2016) was an American former professional boxer . He was generally considered among the greatest heavyweights in the history of the sport.
R.I.P The Champ
5
Morgan Freeman

Morgan Freeman (born June 1, 1937) is an American actor and narrator. Freeman won an Academy Award in 2005 for Best Supporting Actor with Million Dollar Baby (2004), and he has received Oscar nominations for his performances in Street Smart (1987), Driving Miss Daisy, The Shawshank Redemption and Invictus. ...read more.
The literal voice of God
6
Rosa Parks

Rosa Louise McCauley Parks was an African American civil rights activist, whom the United States Congress called "the first lady of civil rights" and "the mother of the freedom movement".
All she did was sit her old tired black ass down on a bus. MLK did all the work.
No that's not true. She helped black people earn their rights to sit in front seats. They boycotted the bus. - TheAwesomeDude54
7
Michael Jackson

Michael Joseph Jackson was an American singer, dancer, and songwriter born on August 29, 1958 in Gary, Indiana and passed away on June 25, 2009. He donated (at least) a remarkable 500,000,000 dollars to charity. Michael is also known as The King of Pop (a title given to him by Elizabeth Taylor) or under ...read more.
To the ignorant people calling Michael Jackson a pedophile he was PROVEN innocent in his 2005 trial and a decade long SECRET FBI investigation. Michael Jackson was a wonderful kind compassionate smart black man loved around the world for his outstanding talent skill and contribution to music and humanitarian work which he donated over $500 0000 to charity. He was also an adament childrens rights advocate who built Neverland just for children to experience their childhood which he never had and was going to build a hospital for children. All the people calling Michael Jackson a pedophile obviously don't know anything about him and just believe whatever nonsense the mainstream prints and needs to shut up before condemning an innocent man. Michael Jackson was too good for this world and they destroyed him for it. A real mockingbird. Rest in Peace Michael Jackson.
Stop casting blame on this guy for things he obviously wouldn't do, it's one thing for the skin color thing, which was in his genes. But, although he liked children, not to a dangerous level, the so-called molesting would not be the Michael Jackson we know and love.
He molested children, he shouldn't be here
He didn't betray the black community, he had he skin disorder vitiligo, which results in white patches on the skin.The cause of vitiligo is unknown.
8
Aretha Franklin

Aretha Louise Franklin (March 25, 1942 - August 16, 2018) was an American singer, songwriter and pianist. She began her career as a child singing gospel at New Bethel Baptist Church in Detroit, Michigan, where her father, C. L. Franklin, was minister.
9
Pele

Edson Arantes do Nascimento, known as "Pelé", is a retired Brazilian professional footballer who played as a forward. He is one of the best players in football, hence why he's nicknamed the "king of football".
God soccer player
He is good at everything in Soccer
10
Jimi Hendrix

Jimi Hendrix (born November 27, 1942 - September 18, 1970) was an American rock guitarist, singer, and songwriter . Although his mainstream career spanned only four years, he is widely regarded as one of the most influential electric guitarists in the history of popular music, and one of the most celebrated ...read more.
The Contenders
11
George Washington Carver

George Washington Carver, was an American botanist and inventor. The exact day and year of his birth are unknown; he was born into slavery in Missouri, either in 1861, or January 1864.
12
Condoleezza Rice

Former Secretary of State, and National Security Adviser for the Untied States, attended University of Notre Dame and was Provost of Stanford University.
On the board of Directors of Chevron, Hewlett-Packard, Rand Corporation, and several more.
Named "Most Powerful Woman in the World" by Forbes Magazine for 2004 and 2005, and #2 in the world in 2006.
13
Barack Obama

Barack Hussein Obama II served as the 44th president of the United States of America. He was elected in 2008 after serving in the Senate from 2005-08, beating John McCain and becoming the first African-American to be elected President of the United States. He was elected again in 2012, beating Mitt ...read more.
14
Tupac

Tupac Amaru Shakur, also known as 2Pac, was an American rapper and actor born on June 16, 1971 in East Harlem, New York. Tupac sold over 75 million records worldwide and has been referred to in multiple major publications such as Rolling Stone as one of the greatest music artists of all time. 2Pac was ...read more.
He's the best black rapper,at all best - is Eminem.But Pac is lyric genius,some of his songs give me increadible feelings.He's not just a rapper,he is a really great poet. Dear mama,changes,Brenda got a baby are masterpieces,that reaching music legacy.
15
Samuel L. Jackson

Samuel Leroy Jackson is an American actor and film producer. He achieved prominence and critical acclaim in the early 1990s with films such as Jungle Fever, Patriot Games, Amos & Andrew, True Romance, Jurassic Park and his collaborations with director Quentin Tarantino including Pulp Fiction, Jackie ...read more.
16
Louis Armstrong

Louis Armstrong, nicknamed Satchmo or Pops, was an American trumpeter, composer and singer who was one of the most influential figures in jazz.
17
Neil deGrasse Tyson

Neil deGrasse Tyson is an American astrophysicist, author, and science communicator. Since 1996, he has been the Frederick P. Rose Director of the Hayden Planetarium at the Rose Center for Earth and Space in New York City.
A complete fraud who spends even more time promoting atheism and bashing traditional values than he does spouting baseless speculation regarding the mysteries of the universe.
Black version of bill nye the science guy good guy
18
Will Smith

Willard Carroll "Will" Smith, Jr. is an American actor, comedian, producer, rapper, and songwriter. He is best known for his acting career overall. He has been in many popular movies, These include, but are not limited to, the Men in Black franchise, The Pursuit of Happyness, and After Earth. He is ...read more.
19
Draymond Green

Draymond Jamal Green Sr. is an American professional basketball player for the Golden State Warriors of the National Basketball Association.
20
Bill Cosby

William Henry "Bill" Cosby, Jr., is an American stand-up comedian, actor, and author. ...read more.
My favorite rapper,
He's the best basketball player around!
what
21
Dwayne Johnson

Dwayne Douglas Johnson, also known by his ring name The Rock, is an American and Canadian actor, producer and semi-retired professional wrestler, signed with WWE.
22
Ray Rice

Raymell Mourice Rice (born January 22, 1987) is a former American football running back who played his entire professional career with the Baltimore Ravens of the National Football League (NFL). He played college football for Rutgers and was drafted by the Ravens in the second round of the 2008 NFL ...read more.
23
Phil Lynott

Philip Parris "Phil" Lynott was an Irish musician, singer and songwriter. His most commercially successful group was Thin Lizzy, of which he was a founding member, the principal songwriter, lead vocalist and bassist.
24
Lil Poopy

Lil Poopy more like Lil POOP
25
Ella Fitzgerald

Ella Jane Fitzgerald was an American jazz singer often referred to as the First Lady of Song, Queen of Jazz and Lady Ella.
She is my all-time favourite female singer, regardless of colour or nationality.
PSearch List