Top 10 Blandest Rock Singers
It's obvious that certain rock bands can sound bland. But sometimes even the singer can sound just as bland. Usually, their performances come off as half-assed or forced in a way or two. If I missed a singer in particular feel free to add them.
The Top Ten
Tyler Connolly - Theory of a Deadman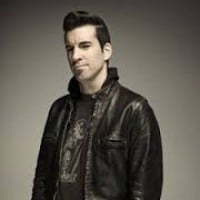 Tyler Conolly was born August 26th 1975, he is a Canadian singer of the alternative rock band Theory of a Deadman, whom have released seven albums.
I often call them Theory of a Blandman for a reason. Their singer sounds bland and out of tune very frequently. Makes me wonder if autotune is used during their recording sessions. He tries to sound aggressive but comes off as hard to take seriously. During so many live performances he can't seem to hit a single note worth a damn.
Scott Stapp - Creed

Scott Stapp is an American singer, songwriter, and musician, known as the lead vocalist and lyricist of hard rock bands Creed and Art of Anarchy. He also has two solo albums: The Great Divide and Proof of Life.
His voice is kinda funny if you're looking at it from a it's so bad it's good stance. However, in general, his voice does come off as dull, and somewhat of a bad impression of Eddie Vedder from Pearl Jam. Whose voice to begin with really isn't that stellar.
In terms of rock this is the so bad its good vocalist to listen for a good cheap laugh.
He sounds like he's high all the time and his voice is nasally.
Not sure about "bland" but his voice is definitely unpleasant.
It's kinda funny in a way but definitely not impressive to say of the least.
John Cooper - Skillet

John Landrum Cooper, professionally credited as John L. Cooper, is an American musician, singer and songwriter. He has been the lead vocalist, bassist and co-founder of the Grammy-nominated American Christian rock band Skillet since 1996.
He sounds so bland that their OWN DRUMMER sounds more impressive than him. He tries to go for a mix of meaningful and aggressive but can't pull off either. His voice is hard to take seriously and far from enjoyable at all. Invincible in particular shows how bland his voice can get.
His voice always sounds the same. Come to think of it, that's probably why I grew out of Skillet in the first place.
Because of this guy, all of their songs sound the exact same
Ronnie Radke - Falling In Reverse

Ronald Joseph Radke is an American singer, songwriter, rapper, musician, and record producer born in Las Vegas, Nevada.
Ronnie isn't bland, he's uniquely grating
David Draiman - Disturbed

David Michael Draiman is an American songwriter and the vocalist for the band Disturbed as well as for the band Device.
I know it's kinda overused but... yeah his voice isn't that great. He sounds constipated half the time. Not at all sounding aggressive or intimidating. His voice like a lot of Disturbed's music is bland at best.
He isn't like your stereotypical "metal is only screaming" guy but I just don't like his voice, his sound of silence cover is very overrated, Simon, and Art did it way better, and he made monkey sounds in his weird down with the sickness suck
To me he is the least interesting singer.
Andy Biersack - Black Veil Brides

Andrew Dennis "Andy" Biersack, formerly known as Andy Six, is an American singer and pianist. He is the founder and lead vocalist for the American rock band Black Veil Brides, and is its only remaining original member.
A voice that sounds very below average. Or at the very least one that isn't impressive. His voice in general doesn't seem to do a lot. Not a memorable voice in my book.
Dave Mustaine - Megadeth

David Scott "Dave" Mustaine (born September 13, 1961) is an American musician, singer, songwriter, actor and author. Mustaine is best known as a pioneer in Thrash Metal, being the former lead guitarist of Metallica before his dismissal in 1983, leading to finding and becoming the front man of his own ...read more.
Eh, I don't feel like his voice is "bland". It's more of an acquired taste. At first I didn't like his voice, but now I have not problem with it. One of my friends can't stand it though.
I do not have doubts about his guitar playing skills. As a matter of fact, I'd argue that he's a solid guitarist. However... when it comes to vocals he definitely feels somewhat bland.
Initially I didn't like his voice but I got used to it. Not one of the best metal vocalists but his voice is bearable and he is a great guitarist aside from his voice
Chad Kroeger - Nickelback

Chad Robert Kroeger is a Canadian musician and producer, best known as the lead vocalist and guitarist for the Canadian rock band, Nickelback.
Ah, Chad Kroeger... a common music punching bag. Sure I've arguably heard worse out there. However, his voice definitely is somewhat bland and redneck-ish sounding at times. Most notably during their ballads and even aggressive songs. However, he's not the blandest singer in Rock music.
I don't think he's that bad, I've heard many worse, he just sounds like he has something stuck in his throat.
He sounds like a stereotypical bro country singer lol.
Brent Smith - Shinedown

Brent Stephen Smith is an American singer and songwriter, best known as the lead vocalist of the band Shinedown.
I've always hated Shinedown. I always thought that they were the blandest and safest radio rock band imaginable.
Fred Durst - Limp Bizkit

William Frederick "Fred" Durst is an American musician and film director. Durst is best known as the vocalist of the nu metal band Limp Bizkit, formed in 1994, with whom he has released six studio albums.
I bet he never took classes to learn how to sing. Plus he doesn't really sing. His voice just sounds boring.
The Contenders
Billy Corgan - The Smashing Pumpkins

William Patrick "Billy" Corgan Jr. is an American musician, songwriter, producer, television writer, poet, and professional wrestling promoter best known as the lead singer, guitarist, and sole permanent member of The Smashing Pumpkins.
I know this might anger some people. But I just can't get behind his voice. It doesn't leave much of an impression on me. His voice feels somewhat mundane if you ask me. Not the blandest but definitely failed to leave an impression.
His voice is so grating.
Lajon WItherspoon - Sevendust
Adam Levine - Maroon 5

Adam Noah Levine is an American singer and songwriter. He is the lead vocalist for the Los Angeles pop rock band Maroon 5. ...read more.
To me he sounds exactly the same in every Maroon 5 song and there isn't anything special about his voice. I think he shouldn't even be considered as a rock singer
Vince Neil - Mötley Crüe

Vincent Neil Wharton is an American vocalist and musician, best known as the lead vocalist of glam metal/ hair metal band Mötley Crüe.
Maybe it's just me... but most glam singers fail to impress me. Vince Neil is no exception to that. His voice just quite honestly feels boring to me. Unappealing, and in general just quite dry sounding. Not the blandest one but certainly up there.
Brian Johnson - AC/DC

Brian Johnson is an English singer and songwriter. Since 1980, he is the lead singer of the Australian rock band AC/DC, with whom he was inducted into the Rock and Roll Hall of Fame in 2003. As of April 2016, Johnson is not participating in the remainder of the Rock or Bust World Tour due to hearing ...read more.
HE CERTAINLY ISN'T BLAND!
Chris Martin - Coldplay

Christopher Anthony John "Chris" Martin is an English singer, songwriter and musician. He is best known as the lead singer of rock band Coldplay.
Pierre Bouvier - Simple Plan

Pierre Charles Bouvier (Born May 9, 1979) is a French-Canadian musician and composer, best known as the vocalist and frontman for the pop-punk band Simple Plan.
Alex Gaskarth - All Time Low

Alexander William "Alex" Gaskarth is an English-American musician, singer, songwriter, podcast host and actor.
Haha look at this guy's face XD
Aaron Lewis - Staind

Aaron Lewis is an American musician, who is the lead vocalist, rhythm guitarist, and founding member of the rock group Staind, with whom he has released seven studio albums.
Joel Madden - Good Charlotte

Bret Michaels - Poison

Bret Michael Sychak, professionally known as Bret Michaels, is an American singer-songwriter, musician, actor, director, screenwriter, producer, and reality television personality.
Chester Bennington - Linkin Park

Chester Charles Bennington (March 20th, 1976 - July 20th, 2017) was an American musician, singer, songwriter and actor, best known for being the lead singer of Linkin Park. He also participated in side projects like Julien K and Dead By Sunrise. He committed suicide in 2017 after a period of depression. ...read more.
Just here to read the comments folks.
Doug Robb - Hoobastank

Wes Scantlin - Puddle Of Mudd

Wesley Reid "Wes" Scantlin is an American songwriter, lead singer, guitarist, and the only remaining founding member of the American post-grunge band Puddle of Mudd.
Austin Winkler - Hinder

PSearch List