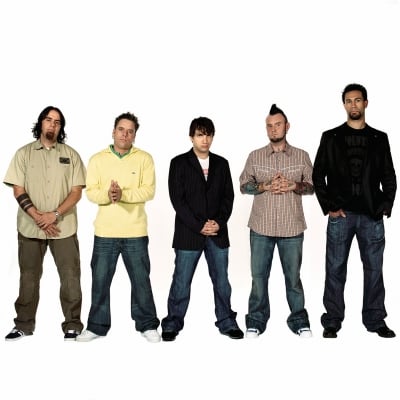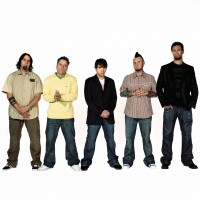 +
Bloodhound Gang
The Bloodhound Gang is an American rock and pop band currently consisting of Jimmy Pop (vocals, guitar), "Evil Jared" Hasselhoff (bass), Q-Ball (DJ, keyboards, synthesizers, producer), The Yin (percussion) and Daniel P. Carter (guitar) that formed in 1988.
The band's musical style draws from several highly different elements that are not commonly found in music of the same genre, which makes it hard to classify them. The group has repeatedly used techno beats, punk guitar riffs, rapping, 80s style synthesizers, sampling, disco grooves, pop choruses, and distorted guitars. The band's lyrical content is entirely humorous. They make a high use of profanity, sexual content, bodily fluids and pop culture references. The group has an intentionally immature tone throughout.
The Bloodhound Gang had their first successes with their second album "One Fierce Beer Coaster" which managed to enter the American, European and Australian charts to moderate success. Their third album, "Hooray For Boobies", is their most successful and has sold more than 4 million units worldwide. Despite having charted in the US, the group had more success in European and Australian countries such as Germany, Austria, New Zealand or the Netherlands, where their albums and/or singles sometimes topped the charts and often entered the Top Ten. Despite that, their 2015 album "Hard Off", which was released ten years after its predecessor, had no wide distribution in Europe.
Their single "The Bad Touch" is their most successful single to date, having topped the charts in several European countries. It was, however, only a minor hit in the US, peaking at number 52.
The reception of the group differs heavily. While their best selling album "Hooray For Boobies" received widely positive reviews internationally, the follow up "Hefty Fine" was extremely panned in the US, while European reviews were mixed to positive. Both the positive and negative reviews center around the band's excessive use of vulgar humor, pop culture references and toilet jokes, as well as their intentionally numbingly simplistic earworm pop melodies and their often cheap sound.
Lists Featuring Bloodhound Gang
Related Lists