Top Ten Best Bold Predictions for the 2018-19 NBA Season
With the season a few days away let's look at some bold predictions. It can range from awards to playoffs to draft odds. It can feature any player or any team. Feel free to add anything that goes out on a limb regarding this season.
The Top Ten
1
Lebron James Wins MVP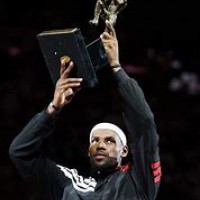 Didn't happen - 2storm
LeBron is a amazing player and we can all agree he is the best player in the game and debatable the best ever. We can also all agree he should win it every year, but a thing has arisen called voter fatigue. People are tired of voting for James. I feel like this year will be one of his best years. With LeBron in Los Angeles and learning a new system with a bunch of young guys he has the ability to win it. If he even gets his team to about the 5th seed then it should be automatic. - 2storm
2
Rockets Win the Championship

Didn't happen - 2storm
I think people are underating the Rockets. This team is the best offense in the league and one of the best defense. Led by James Harden they could easily win it. Their only adjustment they need to make is get more defenders to replace Trevor Ariza and Luc Mbah A Moute, but they should able to do that easy. Really how good are the Warriors. Just because they added more offense in Demarcus doesn't mean their better. They are already one of the best offensive teams in the league. Demarcus actually makes them worse on defense and are we even sure he will be himself when he comes back from injury. - 2storm
I'm just saying the Warriors showed a weak point last season and I don't think Cousins will help them cover that weak point - 2storm
3
The Portland Trailblazers Blow It Up
Didn't happen - 2storm
Probably not. - RobertWisdom
The Trailblazers are in a awkward position. Some people don't think they have what it takes to make the playoffs in a tough Western Conference (I agree). And if they can't make the playoffs what is the point in having Dame and CJ. Trade them start over. - 2storm
4
Collin Sexton Will Win ROY
Didn't happen - 2storm
I doubt it. - RobertWisdom
I think Sexton will win Rookie of the Year. Sexton is one of the fastest players I have ever seen and he seems able to control it. The one thing people had against Sexton was his ability to control his speed and his shooting and we have already seen him shoot the 3rd best percentage in the league from 3, with a minimum of 4 shots taken a game in the preseason. - 2storm
5
The New York Knicks Will Be the Worst Team in the League
This came true. Not really a bold prediction though as it's clear that The Knicks are awful. Lol. They even traded away Porzingis.
This happened
That happened
It happened
6
The Nets Will Make the Playoffs
This would be a miracle. If my boy DeAngelo Russell progresses in MVP status we could see the once thought to be impossible, possible. But to be honest the likelihood of that is very low.
They did but suffered a first round exit.
This happened
7
The Washington Wizards Blow It Up
Didn't happen - 2storm
Like the Trailblazers the Wizards are on the same path. It will all depend on the Dwight Howard experiment. It's all the sassy attitudes and cockiness in that locker room will damage this team or help this team. - 2storm
8
A New Expansion Team Will Be Planned
Didn't happen - 2storm
I don't know if this will happen so soon, but I hope it does. - ImJustSaiyan
We have been waiting on a new expansion team for forever. They may just plan it for the year the new CBA comes out. It all lines up. - 2storm
Hopefully if it happens it's put in Kansas City. - Randomator
9
The Bucks Will Surprise People
This happened
The Bucks have a better coach and Giannis looks a thousand times better. It is time to take the next step for the Bucks.
Well they are definitely a team to keep your eyes on. #FeartheDeer
What did I say.
10
Dallas Mavericks Eliminates Los Angeles Lakers in the Playoffs
Didn't happen - 2storm
Neither made it to the playoffs. - RobertWisdom
The Contenders
11
Raptors make it to NBA Finals
This happened
They won
12
The 76ers are Better Than People Think
Didn't happen - 2storm
They have the potential - Randomator
The 76ers are a consensus 3 seed. But I just have the feeling they can get to the 2 or the 1 seed. - 2storm
13
The Warriors Will Win the Championship
Didn't happen - 2storm
Not really Bold as almost everyone expects this - Randomator