Top Ten Boxers That Might Be Able to Beat Mayweather
These boxers have the best chance at defeating Floyd Mayweather the no 47-0 champion.
The Top Ten
Manny Pacquiao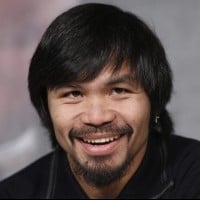 Emmanuel Dapidran Pacquiao is a Filipino professional boxer and politician, currently serving as a Senator of the Philippines. He currently ranks #4 in BoxRec's ranking of the greatest pound for pound boxers of all time.
I honestly think that pacman won the fight against Mayweather last night again cheating judges has robbed the real fighter from his belt... I will never care to see boxing AGAIN!
Manny would whoop Mayweather we all know that. He's faster, stronger, a southpaw, and just a better fighter. Almost anyone Mayweather has faced Manny has knocked out including Miguel Cotto (It was stopped in the 12th round). They are said to both be ducking each other but there's no doubt that Mayweather is ducking Pacquiao more than Pacquiao is ducking Mayweather.
Pacman beat Mayweather we all know this!
Manny can't win, he'd pass out by chasing Floyd the whole fight, lol!
Gennady Golovkin

I've heard lots of hype about this guy and so far he proven himself... So far. Although he is one hell of a knockout artist he hasn't fought anybody that has weight in the business. But he is very strong well see how he does in the future.
Golovkin is a monster, I think it would be a great fight, to see the best offensive juggernaut in the middleweight division be put against the brilliant defensive mastery of Mayweather
This guy is very good. Hard as nails. Not sure how he will get on when someone finally hits him.
Mayweather gets knocked out by Gennady and he knows it that why he didn't take the fight
Amir Khan
Khan is a good fighter but not enough to beat Mayweather. When I watched the Maidana fight he barley won and I don't think he'd beat Maidana now. Khan has a weak chin and is open to many shots but he is fast we'll see what happens and if he's improved.
Amir has all the tools... Better footwork, faster, more stamina, better left hook and physically stronger than floyd
Khan is the best boxer to beat Mayweather. He has the best hand speed in boxing. Any superstar boxer could knocked out by him.
Fair enough Khan has a weak chin, but that wouldn't be a problem because Mayweather doesn't throw many punches. If Khan applies pressure and stays on Mayweather for 12 Rounds, easy UD victory for Khan
Canelo Alvarez
He only lost cause he was so young against mayweather if its now he will beat him
He would demolish him
lou
Miguel Cotto
Cotto now with his new coach Freddie Roach is better than he ever has been. He dominated Martinez although most people think Martinez was shot a lot of people saw through the excuses and just saw that Cotto stepped his game up. A fight with Canelo next would be advisable and then whoever wins between them most likely gets the rematch with Floyd Mayweather hopefully its Cotto.
Roy Jones Jr.

Roy Levesta Jones Jr. is an American former professional boxer, boxing commentator, boxing trainer, rapper, and actor who holds dual American and Russian citizenship.
Roy is da' man!
Period.
AND IF it wasn't for his 'chin'...
he would be the GOAT!
(unfortunately, he had no chin)
BUT damn was he fast!
Fastest hands since the "Sugar" Ray era!
No doubt he would destroy mayweather
Yes he can beat mayweather
Some of their tactics of very similar but both of their prime and if Roy went hard on mayweather early I think Roy could definitely KO Floyd
Erislandy Lara
Lara has been cheated twice now against Williams and undoubtedly against Canelo Alvarez. Lara should still be undefeated. Alvarez was crying about Lara running the entire fight... Well sorry but that's boxing. Muhammad Ali did it with Sonny Liston and Floyd Mayweather did it with Canelo. Canelo didn't complain about Floyd running away yet he complains about Lara dodging and countering the way he should have. Lara won the Canelo fight (Or at least he should have) and could definitely beat Mayweather. Mayweather has already shown trouble with technicians and southpaw's watch the Zab Judah fight for example it was the first time Mayweather was ever knocked down (It was counted as a still but its bull crap he got knocked down).
Marcos Maidana
Maidana I feel won the first time but the second not a chance. Maidana and his corner were too cautious and Maidana didn't do his regular attack. But Maidana has shown that Floyd isn't unbeatable in fact he and De La Hoya have been the closest ever to make Mayweather's first defeat a reality.
Maidana did pretty good in the first fight but not in the second... Maidana not as masterful and skillful as Mayweather a third fight Mayweather still wins
Maidana vs mayweather 3 maidana will win
Kell Brook
Just defeating the all too hyped up Shawn Porter Kell Brook is now some what in the spot light. He looks good has a good style. He's good in the clinches and on the outside which is Mayweather's game but Brook will have to prove himself a little bit more like maybe if him and Khan fight.
Kell brook will beat floyde
Mayweather should have fought Kell Brook to attempt unifying the belts at 147 would have been nice but instead he cherrypicked Andre Berto.. Berto vs Mayweather produced very low PPV BUYS... should have fought Kell Brook instead to unify...
Saul Alvarez
If Alvarez has a rematch with Mayweather most likely it will end up being a repeat. Canelo has supreme strength but to be honest that's the only chance he's got against Mayweather. Besides that Canelo is just an average fighter and brawler.
Canelo, Garcia, have the best chances.
Canelo vs mayweather 2 I reakon canelo will be ready for it and he will win snd be the first to beat mayweather
The Contenders
Keith Thurman
He is undefeated but if you know anything about boxing than you know that doesn't say anything. Plus who has he fought that's been worth while?
Terence Crawford
He is the boxer fighter that Mayweather wishes he was.
Crawford is a real champione and I'm 100% my guy can end mayweather record and destory him when crawford punch him and knock him out his brain will go bling and shutdown crawford got a really strong soul and power when crawford get in the ring he use hi brain his heart he focus and timeing crawford can destory mayweather on the 3rd round
Crawford better concentrate on Postol... That's a fight Crawford will not take.. Gamboa was easy.. Gamboa arms are just way to short but Postol will take it to Crawford..
Mike Tyson

Michael Gerard Tyson (born June 30, 1966) is an American former professional boxer who competed from 1985 to 2005. He reigned as the undisputed world heavyweight champion and holds the record as the youngest boxer to win a heavyweight title at 20 years, four months and 22 days old.
Bite of floydes ear
He would absolutely destroy Mayweather
He's tougher, stronger, and a fast dodger
This dude will unleash a whole old school dynamic beatdown on mayweather, and knock him out
Mayweather just ducks fighters, and runs around like a chicken, barely throws a punch
Mike Tyson would murk Mayweather
Sugar Ray Robinson

Sugar Ray Robinson was an American professional boxer who competed from 1940 to 1965. Robinson's performances in the welterweight and middleweight divisions prompted sportswriters to create "pound for pound" rankings, where they compared fighters regardless of weight.
Best ever p4p enough said
Muhammad Ali

Muhammad Ali (January 17th 1942 - June 3rd 2016) was an American former professional boxer . He was generally considered among the greatest heavyweights in the history of the sport.
I don't think in a 12 round fight mayweather could even fight till 3rd round.
Mohamedali was the best Muslim fighter ever
Yes He would!
Tougher, faster, stronger
This dude's the GOAT, he would destroy Mayweather in a fight
Nobody beats muhammad ali
Danny Garcia
Danny is one of the luckiest fighters I've ever seen but he in a way is good too. Beating Amir Khan, Lucas Matthysse, Zab Judah, Erik Morales, and more is not all luck. He may not be able to beat Mayweather but he has a better chance than most.
Evander Holyfield

He'll destroy mayweather using only a left hook!
Roberto Duran
Mayweather never fought a pure boxer with power, he would have lost to hearns, sugar ray, w benitez, durant, chavez, trinidad. Chavez won 89 straight before his first loss. Mayweather last 20 fights have been picked.
Vasyl Lomachenko
Lomachenko always controls the fight and moves forward 97% of the time and has great defense as well. Floyd would duck Loma even in his prime - Sabbath
Wilfredo Gomez
Total fights 48, wins 44, and knock outs 42. Mayweather's knock outs 26... I believe the Puerto Rican would knock out Mayweather.
Marvin "Marvelous" Hagler
Edwin Valero
Felix Trinidad
Stronger with powerful hook. In 147lbs trinidad was unbeatable, he even fought 12 rounds w roy jones jr. First 6 competitively. Remember roy jr was heavy weight champion after beating ruiz by ko.
Carlos Monzon
Height power ring generalship stamina chin
Daniel Jacobs
Daniel is too big I thought he had beat ggg but that's boxing I know for a fact he put big problems on mayweather. Mayweather would duck Daniel
PSearch List