Floyd Mayweather Jr.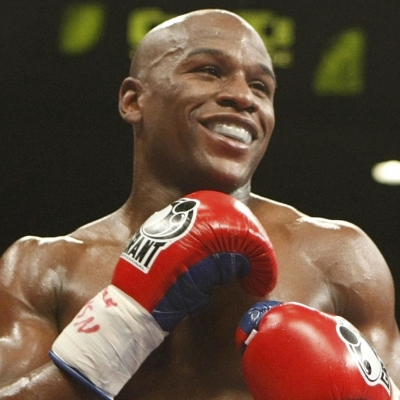 Found on thefightcity.com
Info
Floyd Joy Mayweather Jr. is an American former professional boxer and current boxing promoter. ...
read more
.
Comments
Top
Popular
Newest
Mayweather has delayed fighting Pacquiao for years and hasn't really faced the best before. Mayweather is a solid defensive fighter but may not be able to stand up to the offensive agility and quickness of the world's greatest southpaw. If Pacquiao doesn't knock him out in the first few rounds, he will wear him out in later rounds. Pacquiao needs to be hungry and throw the combinations because if he doesn't, Mayweather could sting him. Sadly, it's a US based fight and Mayweather is American so if it comes down to points, Pacquio is finished because the odds makers need a Mayweather victory in order not to lose millions!
A lot of people downgrade Mayweather. They say he didn't fight the best in their primes. They are delusional if they think that. He didn't fight Antonio Margarito, obviously he felt like something wasn't right. Later on Margarito was found to have been a dangerous cheater in the sport (fighting with a cast fist, fragments). He didn't fight Paul Williams because he was positioning his self for more important fights, like the De La Hoya fight. Had he fought and beat Williams he would have received no credit, for Williams is not a respected fighter. He was only relevant at one time, now nobody gets credit for beat Williams. If you look at boxing, all great fighters have bypassed a fight at least once in their careers. Pacquiao refused to fight Crawford and Khan. Pacquiao also deserves just as much blame for the delay of the "Mayweather-Pacquiao" fought as Floyd receives. In terms of skills, PPv numbers and Money generated Floyd should be on everyone's list. You guys only downgrade him ...more
He should be number one because on top of making boxing a business he has defeated all his opponents people only want to see fighters kill themselves in the ring just for their pleasure but fighters should be able to gain not only with belt but financially so that they support their families after boxing people will disagree because they hate him but judge someones work not personality
This bull about him being the best fighter and he wasn't in it for the money. not sure if any of you noticed but everyone who paid to watch that fight was very disappointed because Mayweather did his normal "duck and run routine", the fight was a bore, the "biggest fight of the century"? No, the HIGHEST GROSSING fight of the century. Money has ruined all sports/entertainment.
I don't know bout him but this guy got style and he's pretty awesome. But definitely NOT the best. When we say best boxer of all time, it must have that legendary feel to it, and that you can't find in this man. Not saying he's weak but he definitely isn't the best. Tops be Rocky, Ali, Tyson, Robinson
This coward is actually afraid of Alexander povetkin if you don't believe you could go to his piece of house and interview him. His daughter actually told his friends that mayweather is scared Alexander povetkin. This is a secret so I hope this will go viral.
He is one of the greatest cheater I have ever seen in my whole life. He is a disgrace to boxing. A man who have got half of his belts by unfair means. How this idiot can even be mentioned with legends in this list.
He has too much defense and craftiness to be beating by anyone within 10 pounds of his weight. Point blank, you can't hit what you can hit! You have to land punches to beat someone up or to win a victory.
The best ever. Never ducked any fighter. The people saying that are saying that because of the rhetoric by Bob Arum Promoter of Antonio Margaritto and Manny Pacquiao. If it were up to popular opinion people would call Manny Pacquiao the greatest of all time. It is not. It is based on facts. Mayweather is NOT the Greatest of all time but when it comes to boxing he is the Best you would have ever seen in your lifetime and I belive based on his performances record and level of competition faced the best that ever did it...BUT he lacked the finishing touch of KOing his opponents when he had them hurt. This was his only flaw. But then again with BAD hands how could you blame him?
Floyd the coward, yes he is a good fighter but if you talk of being the one of the greatest he should be ashamed of it. It's a big no because being the greatest you have to fight and face whoever that comes on his way like a real warrior willing to stand at any cost without any question on the potentials of the opponent because at the end of it, its not winning that counts for glory for being the greatest but by how he make a will to fight and aquire glory in the face of many people who are watching.
HAters say Floyd Mayweather only fights people he knows he can beat, but that's because he knows he can beat anybody. He was so dominant in his fight against pacquiao, he made pacquiao look like an amateur boxer. He has beat every one of the best fighters of our generation, including Pacquiao, Marquez, De la Hoya, Judah, Cotto, Gatti, Castillo etc. He has never been been beaten and his record speaks for itself. He is not only the greatest defensive player of all time, but simply the greatest!
No need to get into personal agendas. There may not be a more skilled fighter on the list. Beats champions with ease, everybody discredits every big victory he gets, arguably the best defender ever and THE most accurate puncher. Why is Pacquiao at 2? Lol
That's all I can say, he beat em all. As many times as I wanted to see Mayweather lose or get knocked out. We'll he beat em all cause he's the best boxer of his era. He's the true CHAMP. I'm a hater on Mayweather, but he beat them all. He definitely earned my respect. You a bad mofo Floyd.
I used to think Mayweather was just a boxer who knew how to play up judge points and draw out matches, but seeing him defeat McGregor made me realize he's the real deal. Though he may not have the hardest punch or anything, he is definitely one of the smartest boxers. - Jackamalio
Floyd mayweather is the best boxer ever lose and so many people who they hate him they want him to lose but he have gift from god so no one can break his soul in the heart because he have very strong heart like lion and some of people they say that floyd scared because they want floyd to fight if floyd scared why? Is he fight on ring for so many years where manny pac was the all time when floyd he was on ring floyd his better than mohammed ali yes ali was good fight but he lose some fight manny pac also his good fight but his lose some fight see floyd never lose so people they want him to lose but he can't because he have gift from god. You're the best floyd on game of boxing and I believe no one can break you you're the best king of boxer be strong floyd ok please we love you so much and if you don't want fight no fight your the best all over the world sure.
Yes, Floyd has dodged the maypac fight for years but when he it happened last night pacquiao wasn't able to dent Floyd. Floyd's solid defense and left is what he is known for. People think that he tires out easily but if he did do you think he would have gone undefeated his entire career. He is an excellent defenses boxer and also is a strong puncher. The only problem I have is his ego.
Manny Pacquiao can't be ranked higher than Floyd Mayweather if he lost the fight, Mayweather has not ducked any fighter, he fought De La Hoya, Pacquiao, Mcgregor (who was undefeated in standing UFC fights)
He is a cheater because the refs say he wins but he actually doesn't because he dances around in the ring so no one can hit him so he wins like that mostly all the time. He doesn't do anything but hit and run.
I really, really don't like this guy 'cause of his attitude, and his boxing style. He can't go face to face, he just can't. He's good. I probably wouldn't beat him, but he need to take a fight.
This guy just continue to beat people with ease, every time they said he will lose Floyd just beats these guys like nothing.
Any sportsman/woman that has never lost or come second at their respective sporting code that person is by default setting a world record, therefor the BEST. that's Floyd
Undefeated? Yeah, should be in top 10. Who cares if he is in it for the money? You're trying to get me to fight people who are trained to beat ass? Yeah I'll take the 100 grand per fight.
This man cannot be beaten. Too smart. Too fast. Too strong. Too much heart. Only heavyweights can beat Mayweather, and only if they are lucky to catch him, but Mayweather is not foolish enough to get in the ring with those guys. Boxing pros know this to be true, those who don't know, don't know.
Floyd was a blood doper just like Lance Armstrong. He is a cheater. He doesn't belong anywhere near the top 20 even. - Sabbath
Mayweather should be higher than #7 and definitely higher than Manny Pacquiao. He beat many champions in their weight class, he didn't have to weight drain them in order to beat them. Not only did he beat everybody he faced, he outclassed them. The guys he fought never recovered from the defeats he handed them. It's one thing to lose by a knockout, but it's another to have all your boxing skills be put on a show by a master like Mayweather. Anybody who says Mayweather doesn't deserve a top 10 position clearly doesn't know boxing, or is a one eyed Pacquiao fan or in most cases - both.
Love him or hate him, the man is a master boxer and his record shows that.