Manny Pacquiao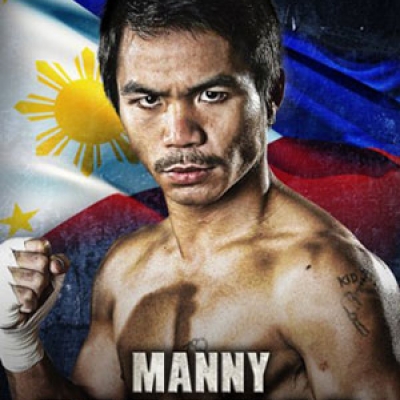 Uploaded by jayben
Comments
Top
Popular
Newest
Only boxer to win eight-division world champion;only boxer who have won ten world titles, only boxer to win the lineal championship in four different weight classes He was named "Fighter of the Decade" for the 2000s by the Boxing Writers Association of America (BWAA). He is also a three-time The Ring and BWAA "Fighter of the Year", winning the award in 2006, 2008, and 2009

"number one" pound-for-pound best boxer in the world by most sporting news and boxing websites, including The Ring, BoxRec.Com, Sports Illustrated, ESPN, NBC Sports, Yahoo! Sports, Sporting Life and About.Com.

Pacquiao = G.O.A.T.
Eight championship belts. Enough said. I watched the first two bouts against Juan Manuel Marquez. Never seen anybody move and fight like that EVER. Watching Pacquiao fight is a unique spectacle. He and Mike Tyson are to me the most spectacular fighters ever, but Tyson was always a heavyweight, while Pacquiao won so many titles in different divisions, which makes him even more amazing than Tyson in my humble opinion!
manny pacquiao is the real number one greatest boxer ever in terms of achievements not only in boxing but in real life. his humility lifts him up to the top ranking I guess.. if everyone tries to think and analyze his way to success and get it as a motivation, then I think we will be great at our own history of life.
Voted for Manny just so I can write the following comment to those of you who started watching boxing when Manny Pacquiao fought the ghost of Oscar De La Hoya.

Manny Pacquiao was a great fighter when he fought at the smaller weights, definitely the best of his time, there's no question about that. Everything past the De La Hoya fight was carefully picked, polished-turd type of fights, with the exception of 1 or 2. Manny was set up to win those fights. After 126, he wasn't fighting the best guys, or the best challengers in the divisions he fought in. Yeah the guys were bigger and stronger as he was moving up in weight; but if you're going to make the claim of being an 8 division champion at least offer SOME legitimacy to it by fighting the top guys there and not just stealing a paper belt from the likes of Antonio Margarito who had no business fighting for a title at the time he did (I don't even think he fought at 154 prior to that fight)

Manny is a GREAT fighter. He ...more
His fights are always exciting. He always comes out ready to brawl with who ever he fights. He never runs away and make it a boring fight. There is tons of action and that's what boxing is all about not watching someone dance around and run from the other fighter. If I fought any of those type of fighters I would walk over to the ropes and put my elbow on the ropes and wave at the other fighter to come on over and let's fight. I think that would make him look bad and he wouldn't have any choice but make him fight. Pacquiao all the way. I love a lot of the other fighters but Pac MAN is my pick.
ABSOLUTELY DEFINITELY NO ONE CAN COMPARE HIS RECORD AND ACHIEVEMENTS TO ANY OTHER GREAT BOXER. HIS AGGRESSIVE STYLE, FOOT WORK, SPEED, COMBINATION PUNCH, ACCURACY, LENGTH OF STAMINA TILL 12 ROUNDS A BRAVE HEART, CLEAN FIGHTER, HUMBLE PERSON, ENTERTAINER AND FAITH IN GOD. GOD CHOSEN AND BLESSED HIM ABUNDANTLY. THAT'S WHY GOD IS THE GREATEST! NOT ALI OR ANY HUMAN BEING IN THIS WORLD. MANNY IS NUMBER ONE THANK GOD.
Manny is the best. No doubt about that. Where can find a boxer that can move up to number of divisions and can still take the punches? They said that Manny would settle for six division because Cotto is a much bigger fighter than Manny. Manny moved seven divisions and in my opinion there is no one out there right now who can beat this record. Proud to be Pinoy.
He's a most improved fighter through complete boxer, having a big heart, great power and fighting skills, but more than that he possess great humility and victorious manner. By this era, no one can better him for sure, he's better than any boxer. He's the best legend boxer of all of all time.
Manny is the only boxer I know that has power, speed, and stamina that stays consistent from the 1st up to the 12th round. His conditioning is perfect. He out punches his opponents by a mile, and his punching is so damn accurate. And he brought all his power, speed, and stamina in 8 different weight divisions and dominated even larger opponents. Definitely the greatest boxer of all time.
I need not say anything. Records will show how magnificent he is. He has a toughest heart to write boxing's most successful story. From a simple bread maker, to be the world's best champion of all time and now a people's representative to congress. A man of great power, wit and humor. Things that no other boxer, ali, mayweather, tyson, etc. Can match.
Manny is perfect. All aspects of his game are sickening. His jab is harder than most fighters overhand straight and his footwork is flawless. I've never seen a fighter move so smoothly and always be in a position to throw power. He's never out of position.

When Manny pulls the plug, he will be readily called boxings true. GOAT.
Simply because he's the only boxer in history to win ten world titles, the only boxer to win in eight weight divisions, and the first to win the lineal championship in four different weight classes. Year 2000 - "Fighter of the Decade" 3 time "Fighter of the Year". He fought bigger and stronger boxer's also boxers that Mayweather ducked.
No Boxer can't top him...
He is the only eight-division world champion in the history of the sport, having won multiple major world titles, as well as being the first boxer to win the lineal championship in five different weight divisions. Pacquiao is also the first boxer in history to win a major world title in four of the original eight weight divisions of boxing, also known as the "glamour divisions": flyweight, featherweight, lightweight, and welterweight.
Manny Pacquiao is just amazing and he excites everyone who watches him to any bout he's in. He has a good heart and he wants to help the Philippines fight the poverty and He's a perfect boxer now. He doesn't need to prove more, and he doesn't need Mayweather too in his boxing career.
MANNY PACQUIAO IS THE BEST! HE IS THE FIRST AND ONLY FIGHTER in the history of boxing who is credited with lineal championships in five different weight classes (flyweight, featherweight, super featherweight, light welterweight and welterweight). He was named "Fighter of the Decade". He is the ONLY EIGHT- DIVISION WORLD CHAMPION IN THE HISTORY of the sport, having won eleven major world titles. THE BEST BOXER IN THE WORLD! MANNY PACQUIAO!
Mayweather is a wuss he's a wimp a real man will fight, or face a loss and not cry to his mom, pacman is the best light weight boxer of all time, I don't care what they say about marquez being good, he still won all 3 of those fights, and this is to mayweather - Hey wimp come fight pacman like a man or keep avoiding it like the dog you are.
Manny pacquiao is the only exciting fighter I ever saw in my entire life when he is fighting you can't just watch he will make you stand...sit... And stand again and shout! You cannot stay in one place.. Not a boring fighter and that is why manny pacquiao is the greatest fighter of all time for me.
He deserved to be known as the 'greatest boxer of all time' and deserved to be ranked one. He is such a great person and he really deserve everything that he has. Bradley might have taken away his belt but we all know that he is unbeatable and will forever be the best. He truly is a man of God. God Bless Pacquiao!
Manny, fought fighters larger than him that makes him a gifted artist. His talent made a mark and put him into the top. Despite defeats, he always know how to come back and win again. His legacy is not a question because he is one of the greatest in the world and let his accomplishments speak for the rest of the boxing fans but he made a boxing full of history to never forget.
When we look back in time. We see Ali, Tyson, Manny. All exciting fighters with Ali and Manny being great human beings at the same time. That said and will achievements/accolades being considered, Manny Pacquiao is the only EIGHT DIVISION WORLD CHAMPION. Greatest of All Time in Boxing History.
Greatest of all time (GOAT). Only that he is an Asian that Westerner racists are avoiding him to be called so. Scaling the eight divisions seem unprecedented for a boxer who just started from light flyweight. This man is phenomenal that you can not find another human specie again in a century.
THERE ARE ONLY TWO KINDS OF BOXERS IN THE WORLD... MANNY PACMAN PAQUIAO and the REST. Manny Pacquiao can be considered as a GENIUS. Won 8 championship belt, elected congressman, An actor, A singer, A musician, became a billionaire businessman, Lt. Colonel - Army Reserve, Charismatic, etc.
Manny... Go knock Mayweather on his ass! Best boxer in the world I mean he won six world titles, and first to win the lineal championship in FOUR DIFFERENT WEIGHT CLASSES! Come on now! Pacquiao dropped to number two in the rankings, behind Floyd Mayweather Jr. In their ratings ending May 7, 2012, I mean whos the dumbass who wrote this?
His achievement of an 8 weight division championship will never be matched again.

Many boxers today can boast that they are unbeaten, and many have achieved unbeaten records in the past. But only Manny Pacquiao can boast of achieving an eight weight division champion.
Because he is the only boxer in boxing history to win 8 championship in 8 different division. Aside from that, he also defeated barrera, morales, marquez, de la hoya and cotto who are all hall of famers. Moreover, he beats big guys with convincing victories even though he is underweight.