Top 10 Boybands In Asia
iloveppop
The Contenders: Page 3
41
UPGRADE - Philippines
I so love Upgrade! They are cute, nice and quite friendly...
42
Detour - Philippines
Incomparable! Saw them perform individually, but their power when performing as a group is amazing!
This group is really great. They have a tight blending sound and could dance. They are really the best. - iloveppop
I LOVE THIS GROUP... UNUSUAL... THEY JUST DON'T PERFORM.. THEY ARE REALLY GOOD. THEY SHOULD BE GETTING SOMEWHERE...
They have the Talent Exceptional
V 16 Comments
43
Ukiss - Korea
This band should be on top. They have truly worked for where they are in the world right now.
So popular and well known around world.
Formed in 2008 up till now.
Ukiss really the best good job!
Go ukiss best bsnd ever they are the real number 1 this list is fack
Go ukiss the real number 1
V 6 Comments
44
Fahrenheit - Taiwan
The group released their first album in September 2006. All three of the group's albums have reached #1 or #2 on the Mandarin pop charts. Fahrenheit's popularity is gradually spreading throughout Southeast Asia. - iloveppop
All 4 boys are not only charmingly handsome but great at other various genre such as acting and hosting shows. Their songs are very catchy and suit many different type of songs
Life is hard but they wake me up... Always thanks, forever four
Jiro, Jiro is all I am saying!
V 3 Comments
45
Parokya ni Edgar - Philippines
If other countries just understand Filipino language, they'll find songs of Parokya ni Edgar completely awesome.
long live philippines.. this is the most epic band in the whole world..
46
Bangtan Boys (BTS) - Korea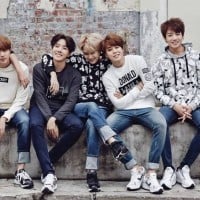 BTS, also known as Bangtan Boys, is a seven-member South Korean boy group formed by Big Hit Entertainment.
BTS produces successful hip hop music and very catchy hit songs mostly about youth because of being young. They are talented with heart melting vocals, rapping skills that will hit your mind and powerful dancing skills, mainly popping and breakdance. What makes them so popular is that they have passion for what their doing and are hardworking, their dorky, funny and unreasonable personalities and their love for their fans. The group are amazingly good in visuals and have a talented member that can change his deep vocals to many different pleasant vocals. BTS has beaten many famous Korean groups/bands in many awards and are now a trending boy group in Korea, but having the most fans internationally.
Bangtan Boys has inspirational and heart melting songs. They aren't typical cheesy love songs, they are songs about youth that they've produced. A lot of fans can relate to the members pasts, having problems with parents, not having any dreams, feeling that he's not good at anything, not being a good son etc; that's why they have many loyal fans all around the world. And also because of their personalities, being the most charismatic boys in K-Pop. The members of the group spend their holidays in fan meetings, their birthdays on making handmade presents to the fans for the fan meetings and they sometimes even spend their income to buy honey drinks for cheering fans.
BTS is doing music. And it's not for the money, it's for being happy and spreading the happiness.
They are the true hip hop boy band out there. Their songs are powerful and catchy and their rapping skills blows your mind away (especially rap monster). They can also sing quite well (love V's deep voice),
Their dancing moves is sure to wow you and they also don't lack in visual.
They are truly talented despite being young and I'm sure they are going to achieve great
Success in the future.
How can this group be placed at number 49? This is why I can't trust TheTopTens
V 6 Comments
47
1:43 - Philippines
i1:43 votevotevote! they're songs are very catchy and meaningful :)) buying their album will help you get to know them better, the next thing you know is that you'll be saying to yourself "wow.. reaLLY? " and they're really kind :))
You may say that 1:43 is JUST another KOREAN wannabe's but HELL NO! They're NOT! Their music is PINOY! OPM! Original! They're not copycats unlike other group!
I'm a Filipino Kpop fan, but I vote this group, cause I really like them and really love their songs. And they're not copying kpop bands, so that's why I like and love them. More power 1:43
The boys are very handsome and hot. They have something that the fans go crazy and wild. They love their fans so much that's why we also support and love them back. Go Go 1:43 you can do it!
V 10 Comments
48 Dalmatian - Korea
49 Block B - Korea
50 Winner - Korea
51
Infinite - Korea
This band has 7 talented boys that make you fall in love and never regret supporting them. Amazing voices, looks, and along w/that charisma that shines w/their unique personalities!
INFINITE definitely deserves more than this! They are working really hard and their efforts ought to attract more attention! They have been awarded best male group for MAMA 2013. Hope they will continue rising in 2014! Let's give them our support! INFINITE fighting!
They had a successful debut in 2010 and now are one of the biggest boy groups in South Korea. Unlike many other groups in Infinite ALL the members are talented in vocals, rap and dancing. They have a charismatic personality and are very hardworking. Infinite really loves their fans, because if it weren't for the fans, the CEO in their agency would be homeless, living in the streets, due to that he sold his house to make Infinite's debut successful.
INFINITE is not like any kpop idol group Out there. They have their own style, aound, and amazing synchronization. They are handsom and fun!
V 6 Comments
52
JYJ - Korea
JYJ- Jaejoong, Yoochun and Junsu are singers/composers/songwriters whose first album 'The Beginning' created amazing sales records! JYJ also conduted a world tour in 2011 and performed in countries like Thailand, Japan, Taiwan, China, Spain, U. S etc and their fan-following is huge! Their self-composed songs are truly amazing and JYJ have worked with wonderful artists like Kanye West! Their vocals are amazing and their voices harmonize to create beautiful music! Make sure to listen to their songs such as 'Empty', 'In Heaven', 'Get Out', 'I Deal Scenario' etc! Their best quality is that their live performance videos are amazing! They're wonderful performers and their live versions sound as good or perhaps even more better than studio versions! Make sure to check out their live performances on youtube! JYJ deserves to be the #1 boyband AKTF! &
Jyj is a great band. Hope that they will win.
I like all their song and mv. I will always support them..
Jyj fighting...

Because they are a very nice boy band and has a quality that not all the other boy band have.
Thanks to the struggled with many obstacles. Therefore, we see to work their.
V 7 Comments
53
Jeremiah - Philippines
This group is not existing anymore but during their time, their old time classics really dominated the FM Stations in the Philippines. - iloveppop
54
Jal - Pakistan
Jal, I feel what you say, how all the notes and voices soothes and always shares as if you were feeling it. I love you jal band I love you I love you I love you
TOTALLY AMAZING & INCREDIBLE. DESERVES TO BE ABOVE ON THE LIST.
Jal are pakistani LEGENDS even if they are disbanded
V 1 Comment
56 Side A - Philippines
57
SPEED - Korea
A new boy band in South Korea, starting to slowly, slowly rise with their popularity. They are funny, good looking and talented in vocals. Their music is catchy and good.
V 1 Comment
58 My Name - Korea
59
Mayday - Taiwan
They write their own lyrics, which are often inspirational and touching. They write their own melodies, which catches the mood of the lyrics of the song. They play their own instruments, which is rare nowadays. They're a band who inspired many other bands to rise up and not give up their dreams. They're humble and they tell their fans,"don't remember us, just remember our music". When interviewed by BBC not too long ago, they do not even think they're close to being The Beatles as they're often dubbed "The Chinese Beatles". They're trying their best to expand to the rest of the world, lately they're going into Japanese songs and they've also given concerts in Europe and America earlier this year. They often motivate their fans with their "never give up" attitude, and that is what their fans like about them most, that their songs can cheer up, motivate and inspire them. What's not to like about them?
Mayday is THE BEST rock band and is well-known in Asia!
They came into the music industry since they were youngsters and started out by performing in schools and even small fried chicken roadside stalls! Their determination and perseverance in chasing their dreams has touched millions of hearts. Their songs and lyrics are full of meaning about love, life, friends, family, and achieving your dreams. LISTEN TO ONE SONG AND YOU'LL CRY N SMILE AT THE SAME TIME! This band has been together for more than 10 years! That's not common in Asia... MAYDAY also believes that their Music can CHANGE THE WORLD n BRING EVERYONE TOGETHER! You DON'T KNOW WHAT IS REAL MUSIC UNTIL you HAVE LISTENED TO THEIR SONGS!

%%~ ROCK ON! WAKE UP! DREAM ON! %%~
I love Mayday! So So MUCH! They are five silly and wonderful boys working harmoniously together making music! They should be known to the world!
I was moved by many of their songs to tears. such a fantastic band in China!
V 4 Comments
60
Chicser - Philippines
I like chicser and love
V 2 Comments
PSearch List
Recommended Lists
Related Lists

Best Female Singer in Asia
Top Ten Dancers In Asia
Best Male Singers In Asia

Best Lead Vocalists of Korean Boybands

Best Countries to Visit In Asia
List StatsUpdated 28 Feb 2017
21,000 votes
89 listings
5 years, 204 days old

Top Remixes (38)

1. Shinee - Korea
2. Big Bang - Korea
3. Arashi - Japan
copper_butterfly

1. Super Junior - Korea
2. Shinhwa - Korea
3. Big Bang - Korea
tsd116

1. Super Junior - Korea
2. Shinee - Korea
3. Down to Mars - Philippines
iloveeunhyuk
View All 38
Posts
Error Reporting
See a factual error in these listings? Report it
here
.