Most Brutal European Dictators
Some of the names will be obvious, Stalin, Hitler, etc. Though I would like to shed some light on the lesser known ones afterword. Leaders will be ranked by a combination of total control, lives lost under regime, and actions that affected other nations.

The Top Ten

1 Adolf Hitler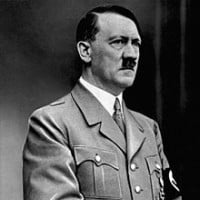 Adolf Hitler (April 20, 1889 - April 30, 1945) was a German politician who was the leader of the Nazi Party, Chancellor of Germany from 1933 to 1945, and Führer of Nazi Germany from 1934 to 1945. As dictator of Nazi Germany, he initiated World War II in Europe with the invasion of Poland in September ...read more.
Only reason I put Hitler over Stalin is because Hitler started WWII.
2
Josef Stalin

Joseph Vissarionovich Stalin was a Georgian dictator, and was the leader of the Soviet Union from the mid-1920s until his death in 1953. Holding the post of the General Secretary of the Central Committee of the Communist Party of the Soviet Union, he was effectively the dictator of the state.
He massed murder over 30 millions of his own people, Gulag, commie.
3
Vladimir Lenin

Vladimir Ilyich Ulyanov, better known by the alias Lenin, was a Russian communist revolutionary, politician, and political theorist.
The man who is a leading figure in communism in the early 20th century which he started the Russian revolution - Kevinsidis
4
Nicolae Ceausescu

5
Leonid Brezhnev

6
Alexander Lukashenko

Aleksandr Grigoryevich Lukashenko is the first, and so far the only President of Belarus, having been in office since 20 July 1994. Before launching his political career, Lukashenko worked as director of a state-owned agricultural farm and spent time with the Soviet Border Troops and the Soviet Army. ...read more.
7
Vladimir Putin

Vladimir Vladimirovich Putin has been the President of Russia since 7 May 2012, succeeding Dmitry Medvedev. He was also President from 2000-2008.
What is this picture though
8 Czar Nicholas II
9
Vlad Dracula

Vlad III (Known as "Vlad the Impaler" or "Vlad Dracula", born 1431) was a Romanian monarch. He was the ruler of Wallachia a total of three times before his death in 1476/7. He is most famous for his reputation as a dictator and his gruesome torture methods and executions, in which he has served as an ...read more.
True evil - 2storm
10
Josip Broz Tito

Josip Broz (7 May 1892, Kumrovec – 4 May 1980, Ljubljana), commonly known as Tito, was a Yugoslav communist revolutionary and statesman, serving in various roles until his death in 1980. During World War II he was the leader of the Partisans, often regarded as the most effective resistance movement ...read more.
The Contenders
11
Viktor Orban

He does only one thing: lying day and night !
12
Nero

Nero was the last Roman emperor of the Julio-Claudian dynasty. He was adopted by his great-uncle Claudius and became Claudius' heir and successor. Like Claudius, Nero became emperor with the consent of the Praetorian Guard.
13 Oliver Cromwell
14
Francisco Franco

Francisco Franco Bahamonde was a Spanish general who ruled over Spain as a military dictator from 1939, after the Nationalist victory in the Spanish Civil War, until his death in 1975. This period in Spanish history is commonly known as Francoist Spain.
15 Mary Tudor
16
Ivan the Terrible

Ivan IV Vasilyevich, commonly known as Ivan the Terrible or Ivan the Fearsome, was the Grand Prince of Moscow from 1533 to 1547, then Tsar of All Rus' until his death in 1584. The last title was used by all his successors.
17
Maximilien Robespierre

Maximilien François Marie Isidore de Robespierre was a French lawyer and politician, as well as one of the best known and most influential figures associated with the French Revolution and the Reign of Terror.
18
Leopold II

Leopold II was the King of the Belgians (1865-1908) and believed in colonialism. The problem was Belgium really didn't care, and so Leopold went into business for himself. He started a company that seemed like it was doing good called the International African Society. A year later he used that company to travel to Congo, laid claim to a plot of land 14 times the size of Belgium, and made 14 countries agree (USA included) that he was free to rule it with his own private militia. He then forced the indigenous populations into forced labor, created a bustling rubber industry, and abused his workers grievously.
Estimates of the death toll range from two to fifteen million which could all have been avoided if 14 countries didn't hand him the keys to the car!
19
Benito Mussolini

Benito Amilcare Andrea Mussolini was an Italian politician, journalist, and leader of the National Fascist Party, ruling the country as Prime Minister from 1922 until he was ousted in 1943. He ruled constitutionally until 1925, when he dropped all pretense of democracy and set up a legal dictatorship. ...read more.
20
Enver Hoxha

Enver Halil Hoxha was an Albanian communist politician who served as the head of state of Albania from 1944 until his death in 1985, as the First Secretary of the Party of Labour of Albania.
21
Ante Pavelic

Ante Pavelić was a Croatian fascist dictator who led the Ustaše movement and the Independent State of Croatia, established in parts of occupied Yugoslavia during World War II with the support of both Fascist Italy and Nazi Germany.
22 Klement Gottwald
23
Miklós Horthy

24
Ion Antonescu

Ion Antonescu (1882 - 1946) was a Romanian soldier and authoritarian politician who, as the Prime Minister and Conducător during most of World War II, presided over two successive wartime dictatorships. After the war, he was convicted of war crimes and executed.
The antisemitic Antonescu sympathized with the far right and fascist National Christian and Iron Guard groups for much of the interwar period.
An atypical figure among Holocaust perpetrators, Antonescu enforced policies independently responsible for the deaths of as many as 400,000 people, most of them Bessarabian, Ukrainian and Romanian Jews, as well as Romanian Romani.
25 Vidkun Quisling
PSearch List