Most Brutal Technical Death Metal Bands
IMPORTANT!

This list is for bands who are both technical and Brutal. It is not a list to find the best bands, it's to find the heaviest, most Brutal Technical Death Metal bands. Before you add a band, listen to them, look them up on metallum to learn more
The Top Ten
1
Dying Fetus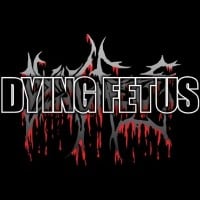 Dying Fetus is an American death metal band originally from Upper Marlboro, Maryland. Formed in 1991, the group is known for their consistently hook-laden song structures, characterized by blast beats, complex riffing, slam riffs and heavy breakdowns.
Go to hell whoever said dying fetes is a bad band they are so damn amazing
I love this band!
Never heard so many artificial "genres" created to describe cacophonies from Hell:
Thrash Metal; Bash Metal; Slash Metal; Death Metal; Bad Breath Metal...and now "Technical" Death Metal? "Dying Fetus? " Why not just simplify terminology and label it all as what it is: degenerate crap.
Yeah go listen to metalcore litlle girl
2
Cryptopsy

Cryptopsy is a Canadian technical death metal band from Montreal, Quebec, formed in 1988. The band has sold over 300,000 records.
Cryptopsy are intense. - Oliwally
3
Nile

Nile is an American technical death metal band from Greenville, South Carolina, United States, formed in 1993. Their music and lyrics are inspired by Ancient Egyptian/Near Eastern mysticism, history, religion, and ancient art, as well as the works of H.P. Lovecraft.
4
Brain Drill

Brain Drill is an American technical death metal band formed in 2005 from Ben Lomond, California. They are signed to Metal Blade Records and released their full-length debut album entitled Apocalyptic Feasting on February 5, 2008. In support of their debut, disagreements were engaged and members began ...read more.
5
Suffocation

Suffocation is an American technical death metal band that was formed in 1988 in Centereach, Long Island, New York, United States.
6
Benighted

Benighted is a French technical deathgrind band formed in Saint-Étienne in 1998. The group comprises vocalist Julien Truchan, guitarists Emmanuel Dalle and Olivier Gabriel, bassist Pierre Arnoux and drummer Kevin Foley.
7
Deeds of Flesh

Deeds of Flesh is a four-piece death metal band from Los Osos, California, U.S. They were formed in 1993 by Jacoby Kingston, Erik Lindmark and Joey Heaslet and are still active.
8
Decapitated

Decapitated is a Polish technical death metal band formed in Krosno in 1996. The group comprises guitarist, founder and composer Wacław "Vogg" Kiełtyka, vocalist Rafał Piotrowski, bassist Paweł Pasek, and drummer Michał Łysejko.
9
Origin

Origin is an American death metal band from Topeka, Kansas, founded in 1998. They have been recognized by music critics and metal fans alike for combining a harsh sound with a high level of technical skill.
10
Hour of Penance

Hour of Penance is a technical death metal band from Rome, Italy that was formed in 1999. The band has no original members remaining.
Excelent band brutal
The Contenders
11
Desecravity

Desecravity is a technical brutal death metal band from Tokio/Kanto, Japan, which was formed in 2007 and is currently signed to Willowtip Records. They released 2 full-length albums so far, which are both very little known among metal fans. ...read more.
12
Fleshgod Apocalypse

Fleshgod Apocalypse is an Italian death metal band. Formed in 2007, the group resides in Perugia and are currently signed to Willowtip Records and Nuclear Blast. The band is known for their fusion of symphonic metal with technical death metal.
13
Power Of Ground
Good band.
14
Spawn of Possession

Spawn of Possession was a technical death metal band from Kalmar, Sweden, founded in 1997. In 2017, the band announced their split up via their Facebook page.
Beautiful and technical
15
Lykathea Aflame

Lykathea Aflame is a death metal band from Czech Republic (Progressive/Technical brutal death metal).
16
Defeated Sanity

Defeated Sanity is a German technical death metal band from Dachsbach, Bavaria, that was formed in 1994, originally as a side project of guitarist Wolfgang Teske and his son, drummer Lille Gruber.
Come on, guys! Technical death metal can't get any more brutal than this.
17
Gorod

Gorod is a technical death metal band from Bordeaux, France. They formed in 1997 under the name Gorgasm releasing their debut album Neurotripsicks on Deadsun Records in 2004. They changed their name to Gorod in 2005 to avoid confusion with an American band also called Gorgasm, re-releasing their debut ...read more.
18
Allegaeon

Allegaeon is an American death metal band from Fort Collins, Colorado, founded in 2008. They have released one EP and three studio albums.
19 Malignancy
BAdd New Item