Top Ten Best Canadian Cartoons
The Top Ten
1
Ed, Edd n Eddy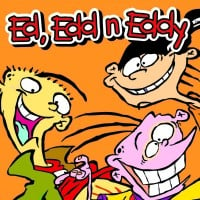 Ed, Edd n Eddy is a Canadian-American animated comedy television series created by Danny Antonucci for Cartoon Network, and the sixth of the network's Cartoon Cartoons. The series revolves around three preteen boys: Ed, Edd "Double D," and Eddy—collectively known as "the Eds"—who live in a suburban ...read more.
This show was one of the most amazing cartoons that Cartoon Network had to ever produce. This is so brilliant! It was a million times better than the horrible Canadian shows, such as Sidekick, Grojband, Almost Naked Animals, etc. It also was a million times better than Fanboy and Chum Chum.
BEST SHOW EVER! I love Ed, Edd n Eddy, and it's one of my favorite Canadian shows on Cartoon Network. I find this show a million times better than the Brothers Grunt, which is one of the WORST Canadian shows ever!
Ed, Edd n Eddy: Way better than Family Guy (in my opinion).
This was the only good Canadian cartoon.
2
The Total Drama Series
My favorite character is Duncan I was super sad when he went to jail please bring him back
This show is awesome! Its got romance, action, comedy, adventure, and so much more :D

I especially like heather, she's so manipulative and the best player. She's like parvati from survivor.

Oh yeah, total drama has the amazing race, survivor and fear factor all mixed into one show and it's a cartoon, and cartoons make everything better. My top characters:
1) Heather
2) Lindsay
3) Courtney
4) Mike
5) Dawn
6) Zoey
7) Alejandro
8) Gwen
9) Anne-Maria
10) Lightning

AWESOME SERIES! Ok I'm done now
My favorites were
6.Don
5. Mike/Zoey
4.Cameron
3.Noah
2.Duncan
1.BETH!
Well,I don't really know why,But I just love Beth so much! She is the definition of adorkable to me! Also Extras
10.Emma/Kitty
9.Izzy
8.Cody
7.Lindsay
You forgot Dakota and Sam
3
My Little Pony: Friendship is Magic

My Little Pony: Friendship Is Magic is a children's animated fantasy television series developed by Lauren Faust, produced by Hasbro Studios and DHX Media Vancouver. Despite the target demographic of young girls, Friendship Is Magic has also gained a large following of older viewers, mainly young and ...read more.
Why is everyone obsessed with this cartoon
I want ALL of the adorable little ponies in my room!
Yup definitely the best.
The ponies are SO CUTE! Even as cute as Pucca.
4
Grojband

Grojband is a Canadian animated series developed by Fresh TV and distributed by FremantleMedia, Ltd and created by Todd Kauffman and Mark Thornton. ...read more.
This show's got plenty of musical genres and style, from Blues through Country, to that weird auto-tuned yodeling song, if with a rock-style bent. Sure, it's not P&F or Total Drama Island, but it's got a similar irreverent style and with a single (un-sucky) season, it made sure not to overstay its welcome.
The show so bad it's good.
This show deserves better. Make it number one.
Finally this show is above Total Drama.
5
Arthur

Arthur is a Canadian/American animated educational television series for children, created by Cookie Jar Group and WGBH for PBS.
This is one of the best shows from my childhood and I still watch it today
It deserves to be higher than that garbage ed Edd n eddy
Totally awesome! I love Arthur, D.W., Buster, Francine, Muffy, Binky, The Brain, Ladonna, Sue Ellen, Prunella, Fern, Tommy and Timmy Tibble, Jane, David, Mr. Ratburn, Grandma Thora, Molly, Rattles, Slink, Emily, Jenna, Maria, Alex, James, Catherine, and more!
6
6teen

6teen is a Canadian animated sitcom originally produced by Nelvana, with the final season produced by Fresh TV. It premiered on November 7, 2004 on Teletoon.
I'm proud of this cartoon for being relatable and having a strong sense of humor. It deserves to be aired more often and be on a better channel than Cartoon Network. Please Teen Nick, bring back 6teen! And by the way my favorite is Nikki
I love this show. It easily and clearly describes teen life at the mall.
Caitlin and Jude should have got together...
It reminds me of my life
7
Eek! Stravaganza (Eek! the Cat)
This was one of my favorite shows on Fox Kids.
This actually looks like a good show.
8
Cyberchase

Cyberchase is an American–Canadian animated television series on PBS Kids. The series focuses around three Earth kids, Jackie, Matt, and Inez, who are brought into Cyberspace, a digital universe, to protect it from the evil Hacker. Cyberchase was created by Thirteen. It was first shown on WNET as ...read more.
Still running after all these years
Isn't this from America?
The best
Nice better than caliou and Toopy and bino in the future 2015 the show got cancelled and wttw chiacgo created nature cat which is also good
9
Seven Little Monsters
No! Bookworm bunch is for kids to start on 2000-2003.
Maybe you will go to 2004 instead. Back home
10
Kid vs. Kat

Kid vs. Kat is a Canadian animated television series developed and produced at Studio B Productions, in association with YTV and Jetix Europe for its first season and Disney XD Europe for its second season.
When I was really little, I'd look forward to this coming on. I haven't watched it since, though, so I'm not sure how bad it actually is.
I liked watching the show
I LOVE(d) THIS, IT KINDA REMINDS ME OF INVADER ZIM SOMEHOW
The Contenders
11
The Raccoons

The Raccoons is a Canadian animated series which was originally broadcast from 1985 to 1992, with three preceding television specials from its inception in 1980, and one direct to video special in 1984. The franchise was created by Kevin Gillis with the co-operation of the Canadian Broadcasting Corporation. ...read more.
The best Canadian cartoon in the history of television.
12
Totally Spies!

Totally Spies! is a French-Canadian animated spy comedy television series created by Vincent Chalvon-Demersay and David Michel and produced by Marathon Media Group and Image Entertainment Corporation.
The three main characters are so hot! I love Totally Spies!
Agree, why can't we have sexy cartoon shows like these?
This is my childhood
The waifu cartoon?
13
Stoked
While it's probably not as good as 6teen or the Total Drama series, Stoked still stands as an enjoyable, funny and heartfelt series from creators Jennifer Pertsch and Tom McGillis. It has a simple but fitting animation style, the jokes mostly work, the characters (while mostly basic in personality) are still likable, and the actors behind them all give good performances. Above all, however, as with every Pertsch/McGillis show, it's the chemistry of the teens that really makes it worth watching. Seeing the characters interacting with each other in their environment, just being themselves having a good time, is so gratifying that one can't help but have a good time themselves while viewing. I really admire kid and teen shows that can do that rather than just try to make you laugh, becuase in the end, that's what makes it worth, not only watching, but also rewatching.
Its really good
I even enjoy repeating it
I was really expecting more still it was awesome
14
Wunschpunsch

15
Hamtaro

Hamtaro, known in Japan as Trotting Hamutaro, is a Japanese children's manga and storybook series created and illustrated by Ritsuko Kawai.
16
Pucca
Pucca is just so cute!
It's Also Korean!
Pucca funny love is one of the worst show ever
This show is just SO CUTE! I LOVE PUCCA! I want to see it on Jetix again.
17
Ruby Gloom
Most underrated Canadian cartoon ever. Deserves more attention than My Little Pony.
So underrated and I love shows and such were you make the story. Kinda like how Pulp Fiction works, yet not.
This show is complete garbage! Everyone who likes it has no taste in animation!
I wish it aired in the US, I like goth/girly styles
18
Braceface

Braceface is a Canadian/American animated series that aired on Teletoon in Canada, and on Disney Channel and ABC Family in the United States, as well as Fox Kids and then Pop Girl in the United Kingdom.
This show is the same as Lizzie McGuire. The characters are nice.
An awesome TV series with an amazing female lead
Ed, Edd n' Eddy's twin sister. So underrated.
19 Birdz
20
Bob and Margaret
I love Bob and Margaret. I find it better than Terrance and Phillip
21
Mona the Vampire
I think this show was a pretty good show.
22 Kaput and Zosky
23
Yin Yang Yo!
I love this show! I find it way better than Wow Wow Wubbzy.
For the win (for the win)
I wish I were to see this show on Jetix again.
@b1tch below no wow wow wubzy is better than this
24
Franklin
One of the earliest Nick jr shows I remember watching.
25
Detentionaire
By far my favorite Canadian cartoon. The characters were well written, the plot fantastic, and everything else just fell into place. The only complaint I have is for the cancelation that left the series unfinished.
This is so underrated. Detentionaire's plot is one of a kind, each mystery unraveling with such conclusions that we never expected. It makes a stereotype school so maze-like and interesting. Even though this show takes stage usually in the A Nigma High School, this doesn't stop to surprise us. This is a perfect school-version of the Mazerunner. But I think Detentionaire is more amazing. This mixes mythical and detective things amazingly great! Everyone who watches Canadian Cartoons should at least check out this great cartoon, and bring it back from its cancellation!
One great Canadian cartoon. The amount of suspense after every episode is immense.
EVERYONE NEEDS TO WATCH THIS
PSearch List