Top 10 Canadian Metal Musicians
The Top Ten
Jeff Waters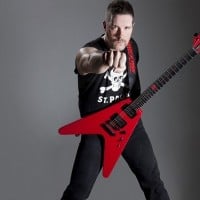 Jeff Waters (born February 13, 1966) is a Canadian metal musician and founder of the metal band Annihilator. He's best known as the guitarist for Annihilator, appreciated for his fast riffs and solos. Waters is also the primary songwriter in the band. Very often he has taken on the role of lead singer, ...read more.
Devin Townsend

Devin Garret Townsend is a Canadian musician, songwriter and record producer. He was the founder, songwriter, vocalist, and guitarist in extreme metal band Strapping Young Lad from 1994 to 2007 and has an extensive career as a solo artist.
Flo Mounier

Flo Mounier is the drummer of technical death metal band Cryptopsy. He has toured Canada, Europe, Japan, Australia and the United States as a headlining act over the last 24 years, and combined record sales have reached over 300,000 copies to date.
James LaBrie

Kevin James LaBrie is a Canadian vocalist and songwriter, who is best known as the lead singer of the American progressive metal band Dream Theater.
Shawn Drover

Shawn Drover is a Canadian musician, best known for his work with the American thrash metal band Megadeth.
Alissa White-Gluz

Alissa White-Gluz is a Canadian vocalist, best known as the former lead vocalist and one of the founding members of the Canadian metal band, The Agonist, and current lead vocalist for the Swedish melodic death metal group, Arch Enemy.
Randy Black

Randy Black is a Canadian-born metal drummer and recording artist best known for his stints as the drummer for Annihilator, Primal Fear, Duskmachine, and Bif Naked. He is an ambidextrous drummer.
Lord Worm

Dan Greening, aka Lord Worm, is the original vocalist for Cryptopsy, a Canadian technical death metal band. He is also an English teacher.
Denis "Snake" Bélanger

Robb Reiner

Robert Geza "Robb" Reiner is a Canadian drummer best known for being a innovator of many metal drumming styles and a founding member of the band Anvil.
The Contenders
Stu Block

Stuart "Stu" Block is a Canadian singer-songwriter, who was the frontman for Canadian progressive death metal band Into Eternity, and is now the lead vocalist for American heavy metal band Iced Earth.
Sebastian Bach

Sebastian Philip Bierk, known professionally as Sebastian Bach, is a Canadian heavy metal singer who achieved mainstream success as frontman of Skid Row from 1987-96. Since his departure from Skid Row, he has had many television roles, acted in Broadway plays, and leads a solo career.
Ha, so he is a metal singer!
Max Duhamel

Kataklysm's former drummer, whose extremely fast blast beats earned them the nickname "northern hyperblast". - Metal_Treasure
Glen Drover

Glen Drover is a Canadian heavy metal musician from Missisauga, Ontario, Canada, where he currently resides.
Dave Padden

David James Padden, is a Canadian musician, best known as the former vocalist and rhythm guitarist for Canadian thrash metal band Annihilator from 2003 to 2014.
Kobra Paige

Kobra Paige is a Canadian singer and songwriter. She is the founder, lead singer, and songwriter for the hard rock and metal band Kobra and the Lotus. She is also a guest vocalist for Kamelot and Metal All Stars.
Justine Juice Éthier

Sonia Pineault

Sonia Pineault is the lead singer for Canadian metal band Forgotten Tales (symphonic power metal). Forgotten Tales was founded in 1999 in Quebec City.
Maurizio Iacono

Steve "Lips" Kudlow

Steven Barry "Lips" Kudlow (aka Steve "Lips" Kudlow) is a Canadian musician, who is the lead vocalist and guitarist of the metal band Anvil, which he co-founded with drummer Robb Reiner in 1978, having played together since 1973.
Denis 'Piggy' D'Amour
Voivod guitarist (R.I.P.). - Metal_Treasure
Michel Langevin
Michel "Away" Langevin is a founding member and drummer for the Canadian metal band Voivod. He has been a constant member of the band since its formation in 1982.
Voivod drummer since 1982-present. - Metal_Treasure
BAdd New Item