Top 10 Carlota Casagrande Moments
For this list we're going to focus ot the top moments of Carlota Casagrande in both The Loud House and The Casagrande.

The Top Ten

1 Carlota Whips Carl with Her Hair - V.I. Peeved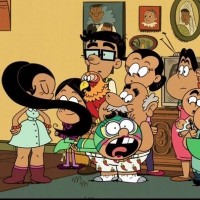 When Carlota notices Carl mimicking her as Frida tells him to stop Carlota whips him with her hair like Shantae from the Shantae games.
2
Carlota Tells Alisa Barela How Much Her Family Means to Her - V.I.P. Eeved

After lying to Alisa Barela about pretending not to know her family due to them embarrassing her all night as she confesses that they are her family and even though they may be too much she still loves and cares for them and they go where she goes as Alisa explains that she should have told them they were her family and that even though she's a pop star she values her family as well and even brings them to all her concerts.
3
Carlota and Ronnie Anne Wear Matching Outfits - The Loudest Mission: Relative Chaos

Carlota attempts to bond with Ronnie Anne by having them dress in matching outfits that are incredibly provocative
4
Carlota Takes Ronnie Anne to a Dance Party in the Subway - Trend Game

Carlota helps Ronnie Anne catch up on the latest trends with the last one taking her to the subway for a surprise dance party.
5
Carlota Pulls Carl's Pants Down After He Cheats in Arm Wrestling - Arrr in the Family

While arm wrestling with her brother Carl he pulls a fast one by tricking her into hi-fiving him as then beats her in arm wrestling as Carl brags about his victory Carlota retaliates by pulling his pants down exposing his choo choo choinies embarrassing him.
6
Carlota Balances a Spoon on Her Nose - Copy Can't

During dinner everyone notices Carlitos mimicking the family Carlota gets him to copy her as she balances a spoon on her nose.
7
Carlota Dances with Sergio - Guilt Trip

In an attempt to win a trip around the world for Mara Ronnie Anne and the rest of the family take part in the dance marathon where the last team left dancing wins around the world Carlota for what ever reason is partners with Sergio the parrot and end up getting disqualified after Sergio tires to cheat.
8
Carlota Walks Over the Tower of Cards - Undivided Attention

When her father Carlos expresses how addicted she is with the Fashion Safari game a series of flashbacks showing her playing the game on her tablet and ignoring her duties and those around her in this scene she literally walks over Bobby and C.J.;s card tower though it doesn't fall apart until moments after she leaves upsetting them both.
9
Carlota Cries After Ronnie Anne Shows Her an Image of What She'll Look Like When She's Old - Pranks for the Memories

During a flashback Ronnie Anne shows Carlota a filter on the App that shows people how they would like when they're old and shows her a picture of her old which upsets Carlota as she cries.
10
Carlota and Margarita Give Bobby a Makeover - Stress Test

When Bobby has trouble with his practice tests due to being so nervous Carlota attempts to help him out by giving him a makeover with help by Margarita the hair stylist.
The Contenders
11 Carlota Babysits a Pair of Racoons - Store Wars
12 Carlota's Hair Frizzles - Power Play
13 Carlota Meets Alisa Barela - V.I.P.eeved
14 Carlota and Ronnie Anne Get Covered in Breadcrumbs - Pranks for the Memories
15 Carlota Wears a Tamale Dress - Snack Pact
16 Carlota Belches - Undivided Attention
BAdd New Item