Best Cartoon Characters Voiced by Grey DeLisle
The Top Ten
1
Azula (Avatar: The Last Airbender)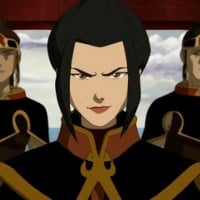 Princess Azula is a fictional character and antagonist of Nickelodeon's animated television series Avatar: The Last Airbender.
2
Sam Manson (Danny Phantom)

Samantha "Sam" Manson is one of the deuteragonists from Danny Phantom. She is a Jewish teenage girl who is a self-proclaimed Goth and an ultra-recyclo-vegetarian (which means she doesn't eat anything with a face), and one of Danny Fenton's two best friends, alongside Tucker Foley.
3
Mandy (The Grim Adventures of Billy & Mandy)

Amanda "Mandy" is a fictional character from the American animated series The Grim Adventures of Billy & Mandy created by Maxwell Atoms for Cartoon Network. She is perpetually a cynical, merciless girl from Endsville.
4
Daphne Blake (Scooby-Doo)

Daphne Ann Blake is a fictional character in the long-running American animated series Scooby-Doo. Daphne, depicted as coming from a wealthy family, is noted for her red hair, lavender heels, fashion sense, and her knack for getting into danger, hence the nickname "Danger Prone Daphne".
5
Frankie Foster (Foster's Home for Imaginary Friends)

She is my favorite, although she kinda looks like Vicky from the Fairly OddParents, ;-;.
She should at least be higher than Tootie.
6
Kimiko Tohomiko (Xiaolin Showdown)
Kimiko Is a Main Character Girl From Xiaolin Showdown
7
Tootie (The Fairly OddParents)

Tootie Is A Pink Fairly OddParents Girl In Nickelodeon Girl
Tootie Is a Pink Fairly OddParents Girl
8
Vicky (Fairly Odd Parents)

Top 5: Vicky, Daphne, Lana, Tootie, Lola.
9
Lana Loud (The Loud House)

Lana Loud is a character from the Nickelodeon show "The Loud House". The show and character was created by Chris Savino and Lana was named after one of Savino's sisters. Lana is the eighth oldest of her siblings, being six years old and two minutes older than twin, Lola. Lana's hobbies include playing ...read more.
She's such a cute tomboy.
She's one of my top favorite loud siblings (along with Leni, Luna, Lily, Lincoln, Lynn, and Lori).
10 Lor McQuarrie (The Weekenders)
The Contenders
11
Jackie Lynn Thomas (Star vs. the Forces of Evil)

Jackie Lynn Thomas is a fictional character from Star vs The Forces of Evil as a student from Echo Creek Academy who Marco has a crush on who's very laid back, kind and enjoy's skateboarding.
12
Lola Loud (The Loud House)

Lola Loud is a fictional character from The Loud House and the third youngest child of the Loud Family and Lana's younger twin sister, Lola is arrogant, smart mouthed, spoiled, and is a tattle-tale, like Lori despite her selfish behavior deep down she's compassionate, she shares a room with her twin ...read more.
Lola can be a bit of a brat sometimes, but she still has some funny moments. She also had some likable moments, like in Undie Pressure and A Tattler's Tale.
Never make Lola mad!
What's funny is that, to me, Lola is probably what Azula was like when she was 6 years old. It was also be funny if Vicky babysat Lola, and discovred that a girl who's only 6 years old can be more threatening.
13
Yumi Yoshimura (Hi Hi Puffy Amiyumi)

Yumi Yoshimura, also known as Sue, is a Japanese musician, singer, and voice actress who is a member of the Japanese pop duo PUFFY, along with Ami Onuki.
14 Catwoman (Batman: Arkham City)
15 Breakfast Princess (Adventure Time)
16
Lily Loud (The Loud House)

Grey has such a cute baby voice for such a cute baby character.
She's so adorable!
Poo Poo!
17
Nova (Super Robot Monkey Team Hyperforce Go)
Nova is actually voiced by Kari Wahlgren, not Grey Delisle
18
Moon Butterfly (Star vs. the Forces of Evil)
So good she's on this list twice
19
Queen Butterfly (Star vs The Forces of Evil)

Queen Moon Butterfly is a supporting character in the Disney XD animated series "Star vs. the Forces of Evil". She is the ruler of Mewni alongside her husband King River Butterfly and is the mother of Star Butterfly.
20
Wubbzy (Wow! Wow! Wubbzy!)

21
Kitty Katswell (TUFF Puppy)

Kitty Katswell is a deuteragonist character from Butch Hartman's show, T.U.F.F Puppy. She is voiced by Grey DeLisle who also voiced Sam from Danny Phantom . Kitty is skilled at martial arts .
Yes
22
Major Dr. Ghastly (Evil Con Carne)

Major Dr. Ghastly is a primary character from the short lived Cartoon Network series Evil Con Carne. She was voiced by Grey DeLisle.
23 Danica (Sanjay and Craig)
24 Maribel (Kaijudo: Rise of the Duel Masters)
25
Carmelita Fox (Sly Cooper)

I know she's a video game character but she was voiced by her in the latest Sly game, plus PSASBR, so she counts. Carmelita is awesome.
PSearch List