Top Ten Cartoon Network Characters You Wish Were Your Friend
The Top Ten
1
Steven Universe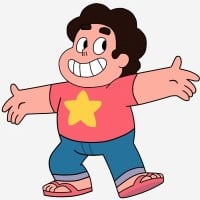 2 Finn Mertens
3 Grizz
4
Mandy (The Grim Adventures of Billy & Mandy)

Mandy is a fictional character from the American animated series The Grim Adventures of Billy & Mandy created by Maxwell Atoms for Cartoon Network.
5
Gumball Watterson

Gumball Watterson is a twelve-year-old blue cat who is prone to causing mischief across the town due to not staying inside of the box. He is fairly egotistical and a veteran snarker; despite this, Gumball has a big heart and is surprisingly selfless. Although Gumball can be intelligent at times, he ...read more.
6
Ami Onuki

I would love that to happen. :D - Gehenna
7 Eileen (Regular Show)
8
Courage

Courage is a fictional character and the titular protagonist of the Cartoon Network animated series, Courage the Cowardly Dog.
9
Rigby

Rigby is a character from the cartoon Regular Show created by JG Quintel. He's best friends with Mordecai (A talking Blue Jay). Together they slack around and have fun in the park. A place where they work and have the risk of being fired from.
10
Mordecai

Mordecai is one of the two main protagonists of Regular Show, along with his best friend Rigby. He made his debut in the non-canon short "2 in the AM PM" as a human cashier, who then morphs into a prototype Mordecai-like character with a fanny pack. He later makes his first official appearance in the ...read more.
The Contenders
11
Yumi Yoshimura

Yumi Yoshimura, also known as Sue, is a Japanese musician, singer, and voice actress who is a member of the Japanese pop duo PUFFY, along with Ami Onuki.
12
Princess Bubblegum

Princess Bonnibel Bubblegum of the Candy Kingdom is a fictional character in the Adventure Time animated series on the Cartoon Network.
13
Blossom

Blossom is the leader of The Powerpuff Girls and one of the three main protaganists of the show. She was created in 1992 by Craig McCracken. She has long, red hair up in a ponytail with a giant red bow, pink eyes, pink dress with black belt, and white socks with Mary Jane shoes. She is intelligent, ...read more.
14
Bubbles

Bubbles is the deuteragonist in the animated television series The Powerpuff Girls, along with her sisters Blossom and Buttercup. She was created in 1992 by Craig McCraken for Cartoon Network's The Powerpuff Girls . She has blonde hair in two pigtails, blue eyes, blue dress with a black belt, and white ...read more.
15
Buttercup

Buttercup is the one of the three main characters in the show The Powerpuff Girls. She was first created by Craig McCracken in 1992. She has short raven hair and green eyes with a green dress. She is known as the "toughest fighter" for her tomboyish attitude, being aggressive, and her love for fighting ...read more.
16
Bloo

Bloo is one of many lovable and eccentric characters in Cartoon Networks "Fosters home for Imaginary Friends".
17
Angelo (Angelo Rules)

Angelo is the main protagonist of the French animated series, Angelo Rules. He is typically a smart boy with the skill to plan ahead and scheme out of a problem be it math teachers or boring field trips. He is shown with his best friends and trouble mates Sherwood and Lola.
18
Corey Riffin (Grojband)

Corey Jaron Riffin (officially Corey Riffin) is a main protagonist from the Canadian show, Grojband. He's a leader of the band. ...read more.
19
Yugo (Wakfu)

Yugo is the main protagonist of the Wakfu: The Animated Series. He was created by Anthony "Tot" Roux and designed by Xavier "Xa" Houssin and Kim "Tcho" Etinoff. He is a fun-loving 12-year-old Eliatrope who is capable of creating portals which he uses to transport himself, others and objects across short ...read more.
20
Darwin Watterson

Darwin Watterson is the middle child of the Wattersons in The Amazing World Of Gumball which was made in 2008. He's the brother of Gumball and Anais.
21
Finn

Finn 'the Human' Mertens is a fictional character and the main protagonist of the American animated television series Adventure Time created by Pendleton Ward.
22
Starfire

Starfire is the name of several fictional comic book characters appearing in books published by DC Comics.
BAdd New Item