Top 10 Celebrity Look Alikes
The Top Ten
Chloe Grace Moretz / Jackie Evancho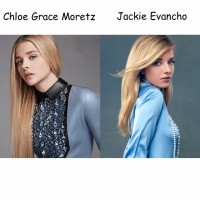 Like Brit Marling's little sister.
Evancho is a lot prettier.
Zooey Deschanel / Katy Perry
Zooey looks a lot like Katy from 2008-10, but Katy's looked very different ever since.
Billy Bob Thornton / Timothy Olyphant
They look like father and son. Hell no, even a son can not look so like his father.
WOW how can two people that are NOT related look SO much alike
Taylor doesn't look like Billy Bob, but Timothy does
Was just thinking this exact thing
Richard Hammond / David Tennant

When David Tennant appeared on Top Gear, Jeremy Clarkson stated that David was "a good looking verion of Richard Hammond".
.. More Richard Hammond is a good looking version of David Tennant
I love David tennant because his role in doctor who but also in the show Grace point. I 💜 U David!
Love your biggest fan
MELODEE
Will Ferrell / Chad Smith
I like this comparison.
Amy Adams / Isla Fisher

Isla has bigger eyes, literally nothing else is different
They actually do look quite similar.
Gwyneth Paltrow / Mia Wasikowska

Wasikowska and Blanchett are much more beautiful than Paltrow.
No suprise that Mia Wasikowska has shades of Blanchette and Paltrow given her alluring accent and cute smile.
James May / Stephen Fry

James May aka Top Gear's Captain Slow / Stephen Fry AKA Mycroft Holmes in Sherlock Holmes: A Game of Shadows.
Javier Bardem / Jeffrey Dean Morgan
Henry Cavill / Matt Bomer

The Newcomers
? Christine Taylor / Katrina Bowden
The Contenders
Natalie Portman / Keira Knightley
I have always thought this. I use to think the same girl who did Star War, did Pirates. If it wasn't for the height difference, I would have gone on believing it.
Logan Marshall-Green / Tom Hardy
I was going to add this if it wasn't here.
Holliday Grainger / Eleanor Tomlinson
Minka Kelly / Leighton Meester
Nicole Kidman / Naomi Watts
They are best friends but they don't look a like at all. And certainly not in their height. When you see petite Naomi Watts next to Nicole Kidman it's like Naomi Watts is a child. And Naomi Watts is 100 times more prettier than Nicole Kidman.
Mila Kunis / Emma Stone

They have the same face, but nothing else looks alike about them
Coincidentally, they're good friends.
There faces look so similar
Zachary Quinto / Eli Roth
They've definitely got their similarities, but Roth is a bit better looking.
Tim Tebow / Lee Dewyze
Nigella Lawson / Anne Hathaway
Dara Ó Briain / Al Murray
Have you seen them both on QI or Mock the Week?
Robert Downey Jr. / Johnny Depp

I kinda see the resemblance
Ew! That is too weird!
Sebastian Stan / Mark Hamill

Sebastian does look like 70s Mark Hamill, but this is photoshopped
Mark should play as Sebastian's father. lol
Paz Vega / Penelope Cruz
I definitely see this.
Rhona Mitra / Kate Beckinsale
Daniel Radcliffe / Elijah Wood

This isn't higher?
Is Elijah wood Frodo?
PSearch List