Top Ten Celebrity Names that are Hardest to Pronounce
Have you ever avoided getting into a conversation about certain celebrities because you couldn't pronounce their name and fear you'll be laughed at if you knot your tongue when when trying to say it but failing miserably? I can't be alone in this.

Here are ten famous names I have the most trouble with. If you know of anymore, feel free to add.

The Top Ten

1 Arnold Schwarzenegger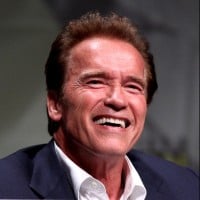 Arnold Alois Schwarzenegger is an Austrian-American actor, filmmaker, businessman, investor, author, philanthropist, activist, former professional bodybuilder and former politician.
Probably the most mispronounced name in celebrity land. I just cannot say it! No problem with saying Arnold ot Arnie but "Schwarz..." whatever it is I can't say it and usually end up saying "Arnie Thingy" or "You know...that big man."
I know how to pronounce it, but I agree.
I'm gonna say the N-word.
DON'T!
Arnold Scwarzenegger.
Phew.
I agree haha
2
Djimon Hounsou

3 Quvenzhané Wallis
4
Mia Wasikowska

Mia Wasikowska is an Australian actress best known for starring as Alice Kingsleigh in Johnny Depp and Tim Burton's adaptation of Alice in Wonderland.
It is so hard to say I think I would end up saying Mia walskioswka
How do I even start?
It's actually pronounced Vashikovska
This one is so hard. Is it Wasisawa? Wakisowa? What is it?
5
Zach Galifianakis

Hmm...wonder how he'd react if I tongue-tied his name. He looks like he would possibly eat me.
6
Yngwie J. Malmsteen

Yngwie Johan Malmsteen is a Swedish guitarist, songwriter and bandleader who was born on June 30th, 1963, in Stockholm, Sweden. He was known for his neoclassical metal playing style back in the 1980s.
7
Milo Yiannopoulos

Milo Yiannopoulos, or pen name Milo Andreas Wagner, is a British polemicist, political commentator, public speaker and writer. Yiannopoulos is a former senior editor for Breitbart News, who describes himself as a "cultural libertarian".
I usually pronounce it Yian-apolis.
Ironic considering conservatives often call people feminazis based on how their name is spelled.
8
Famke Janssen

Famke Beumer Janssen is a Dutch actress, director, screenwriter and former fashion model. She played Xenia Onatopp in GoldenEye, Jean Grey / Phoenix in the X-Men film series, Ava Moore on Nip/Tuck and Lenore Mills in the Taken film trilogy.
What I don't even know either name first or last
Fahm-kay Jan-sen
9
Novak Djokovic

Novak Djokovic is a Serbian professional tennis player who is currently ranked world No.1 in men's singles tennis by the Association of Tennis Professionals.
For many people I guess but my dad is a big tennis fan so I have heard it so many times that I have no trouble with it.
10
Meshell Ndegeocello
no way, no body could say that name, by the way who is that?
The Contenders
11
Ralph Fiennes

Ralph Nathaniel Twisleton-Wykeham-Fiennes (born 22 December 1962) is an English actor, director and producer. A noted Shakespeare interpreter, he first achieved success onstage at the Royal National Theatre. ...read more.
12
Amanda Seyfried

Amanda Michelle Seyfried is an American actress, model, and singer. She has appeared in movies such as Mean Girls, Mamma Mia!, and Les Misérables. Her work on TV includes CSI Las Vegas, Veronica Mars, and As The World Turns.
" Say Fried"? " Sey Freed"? What IS it?!
Sea fried? Say fraid? I DON'T KNOW! - astroshark
13
Nicole Scherzinger

Nicole Scherzinger, born Nicole Prescovia Elikolani Valiente on June 29, 1978, is an American singer, songwriter, actress, dancer, and television personality. She first rose to fame as the lead singer of the pop/r&b group The Pussycat Dolls.
Everybody else seems to have trouble with it, I never did though.
I call her "Nicole from the PCDs" lmao
I always thought it was Nicole Schwarzenegger. LOL!
My brother calls her, Nicole " S.., slinger" or "Shirtswinger"
14
Matthew McConaughey

Matthew David McConaughey is an American actor and producer. He first gained notice for his breakout role in the coming-of-age comedy Dazed and Confused, and went on to appear in films such as the slasher Texas Chainsaw Massacre: The Next Generation, the legal thriller A Time to Kill, Steven Spielberg's ...read more.
So hard to pronounce
I can say it just fine.
15
Tuomas Holopainen

Tuomas Lauri Johannes Holopainen (born 25 December 1976) is a Finnish songwriter, multi-instrumentalist musician (but mainly keyboardist) and record producer, best known as the founder, leader, keyboardist and songwriter of symphonic metal band Nightwish. He also studied jazz and classical styles.
Hullo pain in (wherever).
16
Charlize Theron

Charlize Theron is a South African and American actress and film producer. She is the recipient of several accolades, including an Academy Award, a Golden Globe Award, and the Silver Bear for Best Actress.
Char-leez Theer-ron?
17
Benjani Mwaruwari
What the hell are you supposed to say
18
Marianne Muellerleile
She was on an episode of Ben 10 Ultimate Alien.

And BOY is her name herd to pronounce
19
Martin Scorsese

Martin Charles Scorsese is an American director, producer, screenwriter, actor, and film historian, whose career spans more than 53 years. He is best known for directing films such as Mean Streets, Taxi Driver, The Last Waltz, Raging Bull, The King of Comedy, After Hours, The Last Temptation of Christ, ...read more.
20
Ray Liotta

Laugh if you must but it won't change the fact that I just can't say his surname. Why is it so hard?
The only reason I know how to pronounce his name is because of the Bee Movie.
21
Jake Gyllenhaal

Jacob Benjamin "Jake" Gyllenhaal (born December 19, 1980) is an American actor, known for his work in films like "Donnie Darko", "Brokeback Mountain", "Prisoners" and "Nightcrawler". He is the son of director Stephen Gyllenhaal and producer/screenwriter Naomi Foner. Jake and his sister Maggie have been ...read more.
It's pronounced "YEE-LIN-HAAAL"
22
Lupita Nyong'o

I could not pronounce this girls name ever since Star Wars came out.
Is more easy this: Lupita Moñoñongo
23
M. Night Shyamalan

Manoj "M. Night" Shyamalan is an American film director, screenwriter, producer, and actor known for making movies with contemporary supernatural plots and twist endings.
24
Agnetha Faltskog

Woke up this mornin', really faltskog. Thought, "Agnetha nuther drink, but it might just make it worser." But sumpin' in my head kept saying', "Take a chance, take a chance, take a chance..."
25
Benedict Cumberbatch

Benedict Timothy Carlton Cumberbatch is an English actor and film producer who has performed in film, television, theatre and radio.
This name makes me laugh.
PSearch List