Top 10 Celebrity Whovians
What is a Whovian you may ask? It's someone who is a fan of the popular British sci-fi show Doctor Who. These are the celebrities who love the show the most.

The Top Ten

1 Queen Elizabeth II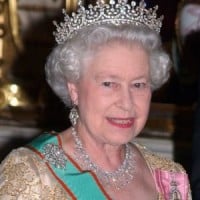 Elizabeth II is Queen of the United Kingdom and the other Commonwealth realms. Elizabeth was born in London as the first child of the Duke and Duchess of York, later King George VI and Queen Elizabeth, and she was educated privately at home.
2
Stephen Hawking

Stephen William Hawking (January 8, 1942 - March 14, 2018) was an English theoretical physicist, cosmologist, author and Director of Research at the Centre for Theoretical Cosmology within the University of Cambridge.
3
Benedict Cumberbatch

Benedict Timothy Carlton Cumberbatch is an English actor and film producer who has performed in film, television, theatre and radio.
4
Neil Gaiman

Neil Richard MacKinnon Gaiman is an English author of short fiction, novels, comic books, graphic novels, audio theatre, and films.
5
Steven Spielberg

Steven Allan Spielberg is an American director, producer, and screenwriter. He is considered one of the founding pioneers of the New Hollywood era, as well as being viewed as one of the most popular directors and producers in film history.
6
George Lucas

George Walton Lucas, Jr. is an American filmmaker and entrepreneur. He is best known as the creator of the Star Wars and Indiana Jones franchises, as well as the founder of Lucasfilm and Industrial Light & Magic.
7
Stephen Fry

Stephen John Fry is an English comedian, actor, writer, presenter and activist. After a troubled childhood and adolescence, during which he was expelled from two schools and spent three months in prison for credit card fraud, Fry secured a place at Queens' College, Cambridge, where he studied English ...read more.
8
Patrick Stewart

Sir Patrick Stewart is an English actor whose career has included roles on stage, television, and film.
9
Tom Hanks

Thomas Jeffrey "Tom" Hanks is an American actor and filmmaker. He is known for his roles in Splash, Big, Turner & Hooch, Philadelphia, Forrest Gump, Apollo 13, Saving Private Ryan, You've Got Mail, The Green Mile, the Toy Story Franchise, Cast Away, The Da Vinci Code, Captain Phillips, and Saving Mr. ...read more.
10
Richard Dawkins

Clinton Richard Dawkins is an English ethologist, evolutionary biologist and author. He is known for his books The Selfish Gene, The Extended Phenotype and The God Delusion. He is also known for coining the word "meme" in 1976, although the word is most commonly used to describe internet memes of today. ...read more.
The Contenders
11
David Tennant

David Tennant is a Scottish actor known for his roles as the Tenth Doctor in the British television series Doctor Who, Alec Hardy in Broadchurch, Giacomo Casanova in the TV serial Casanova, Kilgrave in Jessica Jones, and Barty Crouch, Jr. in the Harry Potter movie series.
Folks say that's why he joined the cast.
BAdd New Item