Top 10 Cities in the Middle East to Visit on Vacation
The Middle East, for tourists, was once an unexplored land. Countries only traded oil with the region and that was it. But, with the turn of the new millennium, Middle East has now become of the most popular tourist destinations in the world. Great cities like Dubai, Abu Dhabi, Jeddah, Riyadh, Jerusalem and Doha have emerged as popular tourist cities. Therefore, if you are looking for a unique vacation, you should come to the Middle East. There are many wonderful places here that you should not miss. Here are 10 of them.

The Top Ten

1 Dubai, U.A.E.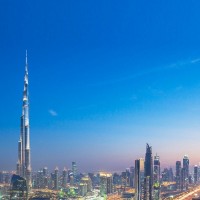 Possibly the greatest city in the world, Dubai is a dream destination for all international travellers. From logic-defying architectural marvels to unforgettable experiences, you can find it all in Dubai. Try to come here during DSF for a magnificent shopping experience. The must-see places in Dubai are Burj Khalifa, Palm Islands, Gold Souk, Dubai Mall, Mall of Emirates, Dubai Fountain, and Dubai Marina. You can also take a short tour of nearby city, Abu Dhabi and check out the wonderful Sheikh Zayed Grand Mosque and Yas Island. At Dubai, you are guaranteed to have the best vacation of your life.
2
Abu Dhabi, U.A.E.

Abu Dhabi is the capital and the second most populous city of the United Arab Emirates, and also capital of the Emirate of Abu Dhabi, the largest of the UAE's seven emirates.
Abu Dhabi, the capital of the United Arab Emirates, is one of the fastest growing cities in the world in regards to tourism. It has world-class hotels, amazing attractions, luxurious lifestyles, and shopping havens. Abu Dhabi attractions like Ferrari World, Yas Marina Circuit, Corniche, Heritage Village, and Emirates Palace, are famous the world over. Just take any of the Abu Dhabi sightseeing tours, and you will get to see these awesome places. Abu Dhabi is one of the best cities in the Middle East, and definitely worth a visit.
3
Istanbul, Turkey

Istanbul, formerly known as Byzantium and Constantinople, is the most populous city in Turkey and the country's economic, cultural and historic center.
Istanbul is the only place in the world where you can experience the cultures of three continents. Istanbul lies between Europe and Asia, and has a strong Middle Eastern population, making it one of the most awesome places to visit. From massive malls, to localized markets, you get the best of both worlds in Istanbul. One of the biggest attractions of Istanbul is the cuisine. Turkish cuisine has huge following around the world, and every tourist who comes here, must indulge in a few Turkish delights.
4
Cairo, Egypt

Thanks to the Arab Spring, Cairo is now at peace, and is ripe to be explored by travellers. The main city, Cairo, retains the old-world charm with its traditional markets, old-style restaurants, warm people, and mismatching architecture. But it is also a fast developing city, capable of bestowing luxurious experiences on tourists. Explore the city on your own for an adventurous experience, but don't forget to visit the pyramids. They are prime feature of Cairo.
5
Tel Aviv, Israel

Tourism to Israel is on the rise. The country is at peace and has set out the red carpet for all international travellers. Jerusalem is the place for a historical and religious experience, but if you want a more modern, international experience, Tel Aviv is the place to be. The metro city has an enviable nightlife and stunning beaches. It also has attractions like Tel Aviv Museum of Art, Ramat Gan Safari, Azrieli Centre, Luna Park, and Bialik House.
It is full of life and is renewed and not so expensive
Palestine not Isreal, zionists
6
Jerusalem, Israel

Jerusalem is a city in the Middle East, located on a plateau in the Judaean Mountains between the Mediterranean and the Dead Sea.
Palestine not Israel, zionists
Palestine, not Israel.
7
Doha, Qatar

Doha is the financial and actual capital of Qatar. This awesome city has now become a global city, attracting tourists from all over the world. It can easily rival the popularity of Dubai. Doha has ultra luxurious hotels, beautiful beaches, awe-inspiring shopping malls, souks, desert adventures, and world famous golf courses. The attractions you should visit here are Musuem of Islamic Art, The Pearl, Al Wajbah Fort, Doha Corniche, Aspire Park, and the Doha Zoo.
8
Riyadh, Saudi Arabia

Though a strict Islamic nation, Saudi Arabia, is now a growing tourist destination as well. They are reducing their dependency on oil, and focusing on tourism. The capital, Riyadh is the financial and tourism capital as well. Tourists can get luxurious stays and enjoy attractions like King Abdulaziz Historical Fort, Riyadh Zoo, King Abdullah Park, Al Khaimah Theme Park, Namar Dam Lake, etc. It is the perfect place to enjoy the best of what Saudi Arabia has to offer.
9
Manama, Bahrain

Manama, for centuries, has been an important trade stop in the Middle East. This has resulted in the city becoming rich in history, trade and culture. Therefore, if you are planning on holidaying here, do check out the Al Fateh Grand Mosque, Bahrain National Museum, King Fahd Causeway, Amwaj Islands, Adhari Theme Park, and Water Garden. It will be one of your best vacations.
10
Beirut, Lebanon

History, culture, traditions, Beirut is the place for experiencing a unique holiday. The city has recovered from the ravages of war, and is ready to welcome the world with its unique hospitality. You can explore many ancient architecture, monuments, religious and cultural destinations. However, if you want something different, Beirut also has nightlife destinations, beaches, clubs, fine-dining restaurants, and luxury hotels. Beirut is a growing, and now is the right time to explore.
The Contenders
11
Muscat, Oman

12 Antalya, Turkey
13
Amman, Jordan

14
Tehran, Iran

BAdd New Item